ALU Senior Superlatives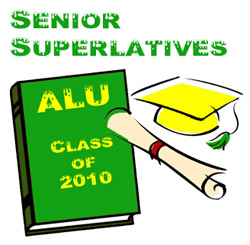 The results are in and the ALU Senior Superlatives – Class of 2010 have been determined.  Thank you to everyone who voted in this first annual poll.  What an amazing turnout.  This was so much fun for me to do and I hope you enjoyed participating as well.  The vote turned out some predictable and surprising winners.

Of course this isn't just about awarding our favorite nail brands we also have a giveaway winner to announce.  See all the results after the jump!