Celebrities, models and the fashion elite donned their punk-inspired best last night at the Met Gala, a fundraiser for the Costume Institute at the Metropolitan Museum of Art. The annual party celebrates the theme of the spring exhibit and this year it's PUNK: Chaos to Couture, opening to the public May 9th.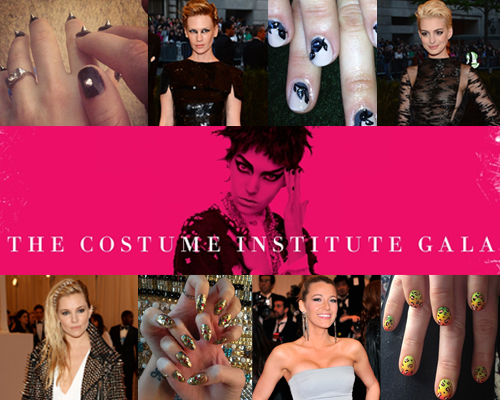 The exhibit examines punk's influence on high fashion, so if any event was going to bring the nail art, hardcore, it would be this one. Considered the "Oscars of Fashion", the Met Gala was definitely not lacking in nail drama. Some of the world's most sought after manicurists brought their A-game last night. Let's take a look!

Blake Lively, in Gucci, wearing floral bling nails created by Celebrity Manicurist Elle, using Red Carpet Manicure.
Celebrity Manicurist Pattie Yankee gave us a preview of Katy Perry's look when she sent out a shot of the tips she created to go with Katy's Joan of Arc theme. I spoke with Pattie to get the breakdown on how she created these little works of art.
Starting with a base of her eponymous Patricia Nail Lacquer in Diadem, a metallic gold, on her Inspire Almond full coverage pre-glued tips, she burnished CND Additives in Antique Bronze into the dry polish before sealing with CND Shellac Top Coat. She then layered two different types of foil, a silver with rainbow spots and a gold, on the nail to give it a stained glass effect, sealing it with another layer of Shellac Top Coat. Finally she set antique rubies and gold studs into the top gel. She was able to knock out the whole set in an hour and a half.
Wearing a dress straight off the Dolce and Gabbana Fall 2013 runway, Katy tweeted that she was "channeling the OG queen of PUNK, JOAN of ARC!"
Emmy Rossum, wearing a dress by Donna Karen, worked with butter LONDON Global Colour Ambassador Katie Hughes to create a lace and crystal nail look with Yummy Mummy at its base. Katie created elegant yet edgy nail art for Emmy using extra pieces of lace – the same fabric from which her dress was created – supplied by Donna Karan. The designer also supplied Emmy with individual crystals, also used on her dress, to help enhance her nail look, adding a bit of punk rocker edge.
Julianne Hough, wearing a Topshop dress of spider web embroidered tulle, tweeted out shots of what looks to be a jet black manicure accented with gems and pearls on two nails. Though what's interesting is that the image from the day of (right) shows the polish looking more rubbery. Get the look at home using a satin top coat over black polish or wearing Cult Nails Fetish or Nails Inc Leather Effect in Noho (which also comes in the Bling It On – Rebel nail art kit).
UPDATE: Julianne worked with Celebrity Manicurist Tracy Clemens, represented by Opus Beauty, who used Chanel Black Satin and Chanel Top Coat on her nails. On the two accent nails she applied Martha Stewart craft beads from JoAnn and black nail art fibers to give it a rubbery texture. She purchased the fibers at a nail supply and they look like large matte bar glitter pieces.
Anne Hathaway worked with Celebrity Manicurist Alicia Torello to create a rainbow gradient leopard print nail to go with her bleach blonde hair and barely there Valentino gown. The look is very similar to one OPI created for Z Spoke by Zach Posen.
Sienna Miller went all out wearing studded nails to compliment her studded Burberry jacket. Deborah Lippmann created the look using Fade To Black on her tips and toes, adding gold cones to her fingers and a metallic skull to her big toe.
Rosie Huntington-Whiteley worked with Celebrity Manicurist Bernadette Thompson who created this light gold tipped gradient nail.
Olivia Wilde, who is so stunning it's ridiculous, kept it low key with a graphic black & white French by Deborah Lippmann who used Amazing Grace as a base with just a sliver of Fade To Black at the tip to give it edge. It actually mimics the eye look Celebrity Makeup Artist Melanie Inglessis created, using double lines of black and white, with Revlon PhotoReady Kajal Intense Eyeliner.
Nicole Richie certainly didn't hold back. The woman of the coveted beach waves, flipped the hair script by dying her mane a powdery grey. Regardless of what's going on above the brows, the woman knows how to take a nail picture. Spotted on her Instagram, she rocked a heart shaped moon manicure in burgundy and gold.
Perhaps Nicole's nails were inspired by her friend and fellow fashionista Kelly Osbourne. If you watch Fashion Police on the regular, as I do, you know Miss Kelly O loves herself a heart shaped stiletto tip and she didn't fail to bring that to the party last night.
Last night Jennifer Lopez turned to her longtime manicurist, Elle, for a textural black manicure. With a matte black base and a glossy tip, she kept her nail art subtle yet perfectly on-trend. With the recent release of the OPI Matte Top Coat, matte is making a bit of a comeback. Expect to see more matte & glossy nail art looks on the horizon.
January Jones loves to buck against the 60s Betty Draper style she wears on set and last night was no exception. Looking straight out of a Mad Max movie, I was surprised to see her wear such an art deco nail style. Celebrity Manicurist Ashlie Johnson created the look using Chanel Dragon and Black Satin.
Coco Rocha was all slinky and sexy in her feathered, animal print Emanuel Ungaro gown. She accented the look with what looks to be gold jeweled tips with a black base. You can get a similar look with Nail Veils, a semi-precious gold nail jewelry. Pattie Yankee recently used the product on nails for Katy Perry's fragrance launch (see pic) and they look amazing. Plus, they're reusable.
Finally, Chanel Iman turned to Beyonce's nail guru, Celebrity Manicurist Lisa Logan for a graphic (do you see a pattern?) black and white nail design using Red Carpet Manicure gel polish. The pattern paired perfectly with her J. Mendel gown (view on Just Jared).
Which nail looks from the Met Gala were a hit and which were a miss? Will you attempt to re-create any of them at home? If you're in NYC or planning to visit, do you plan to stop by the Costume Institute to see the exhibit?