When it comes to polka dots on nails, I tend to be pretty straightforward in my looks. Partly because it's easy (and I'm no nail art savant) and partly because I've just never had the creative vision to come up with something totally unique. I blame my left-sided brain. I'm much better at riffing (not ripping) off what others have come up with, which is why PinspiratioNAIL was born.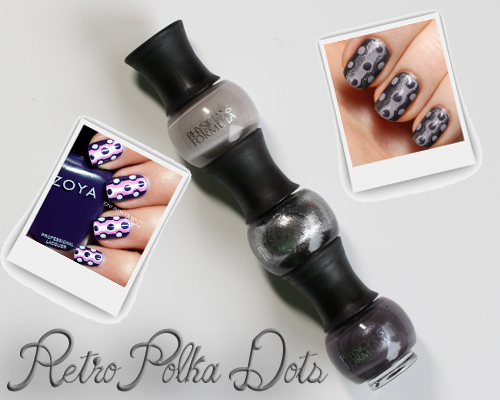 I keep playing with the idea of dots inside dots, dots layered over dots but a lot of my practice designs have come off flat. Then I came across this graphic, retro-inspired design from My Awesome Beauty and my motivation kicked in. Having recently received the new Physician's Formula Endless Color Custom Nail Trios, to test, it seemed like the perfect time to give this three color design a try.

The Pinspiration: The base color of this design by My Awesome Beauty is one of my fave Zoya colors, Pinta, so that immediately caught my eye. But more than that, I love how the use of dots and stripes creates somewhat of an optical illusion. Just a few well placed dots also gives the impression that this design is much complicated than it actually is. Given my limited nail art talents, I'm all about trying something that looks like I have skills beyond my means.

Retro Polka Dots How-to
What you need: Two different size dotting tools, striping tape/painters tape/Scotch tape and three nail polish shades of your choosing.
I used a thin artist curve painter's tape & dotting tools I bought on Amazon, and the new Physician's Formula Endless Color Three Shades of Grey nail polish trio. I originally thought about using contrasting colors but in testing a few combinations, I loved the more subtle look of the grey trio. The formula of the polish is really nice and pigmented. Super easy to apply in spite of the tiny brush and handle size. Plus, they are 5-Free and Gluten-Free.
Technique: 1) Apply two coats of your base color and let dry. 2) Add a stripe of the second color down the middle. 3) Add a thin stripe of your third color in the very center of the nail. 4) Place three dots down the center of the nail, using the third color. Make sure the dots are wider than the smallest stripe. 5) Place two dots along the line between the first and second color on each side of the nail, using the first color. 6) Using the smaller dotting tool, place dots of color inside the previous dots using the opposite color (first color on third, third color on first).
Notes: 1) I free-handed the silver stripe but you can use tape. The process just takes longer. 2) I used Seche Ultra-V UV Top Coat to dry the first stripe faster. 3) Tap the tape against your palm to reduce the tackiness and prevent pulling the polish. 4) If your lines aren't perfect, the dots should camouflage that (mine did!) 5) Wait as long as possible before adding top coat to avoid streaking the dots (a mistake I made).
The Finished Product – It didn't turn out nearly as well as my Pinspiration but I'm quite happy with the overall look. I need some more practice with dotting. While some dots dry nice and flat, some never seem to smooth out and that left me with smaller dots in certain areas.

The Physician's Formula Endless Color Custom Nail Trios are available now at mass retailers nationwide including Target.com and ULTA.com. Suggested retail is $10.95/ea for a total of .45oz/trio.
Also, Physician's Formula has launched the Make It Yours Manicure Contest with a grand prize of a trip to NYC to attend New York Fashion Week! From now through June 15, 2013, post a three-hued manicure using one of the eight Endless Color Custom Nail Polish Trios on a social media outlet AND the Physician's Formula Facebook page using the #PFBeautyBuzz hastag and you could be off to NYC. If one of you win, please tell me so we can meet at the tents! For full details and the official rules, please visit PhysiciansFormula.com/MakeItYoursContest.
Finally, follow my PinspiratioNAIL board on Pinterest and leave a comment on the look you would like to see me try next.
So are you loving these retro-inspired dots? Is this a look you'll try? Have you used the new Endless Color trios yet? If not, do you plan to try them?
Disclosure: Product samples were provided by reps for Physician's Formula. All other products were purchased by me. For more info view my Disclosure Policy.