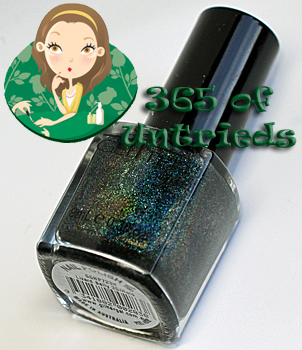 365 of Untrieds is my personal challenge to weed through the polishes in the ALU stash that I've been wanting to try but just haven't gotten around to.Untried Day #121 – What has been my recurring nail polish wish ever since ALU began??? Long time readers may remember my pleading here, here and here for an EMERALD GREEN HOLO. While my wish hasn't exactly been realized, Glitter Gal has come as close as I've found.

Glitter Gal Lizard Belly isn't emerald green but it's a true holographic nail polish, not just holo glitter. It may not be from an easily accessible brand but at least we can get our hands on it in the US. So while it may not be a total dream come true it still makes my heart flutter.

Formula & Application: Glitter Gal nail polish does not list its ingredients on the bottle or the website but Overall Beauty states that it is 3-Free. If you have any ingredient or allergy concerns, I would suggest contacting the company.  The tiny bottles look like they are sample sized at .3oz but they come with a nice, long full size brush. The bristles are dense but flexible so they easily fan out to provide a perfect three stroke application.
The polish is really well pigmented. To the point that you barely need two coats to get it opaque. I love how smooth and easy to apply the formula is. Some holos apply streaky, which is why Nfu Oh has their special Aqua Base, but the Glitter Gal holo is perfect. It flowed on very thin and even over all three of the base coats I tested it on; CND Stickey, Gelous & Nfu Oh Aqua Base. It dried glossy and flawless every time.

Glitter Gal Lizard Belly is a blackened teal green with holographic shimmer that creates a prismatic rainbow effect on the nail. It's not quite as holo as the lighter Glitter Gal Blue I previously reviewed but it's on par with darker holos like OPI My Private Jet. The first natural light shot really doesn't do the holo justice as you can still see the rainbow pattern even outside of direct sunlight.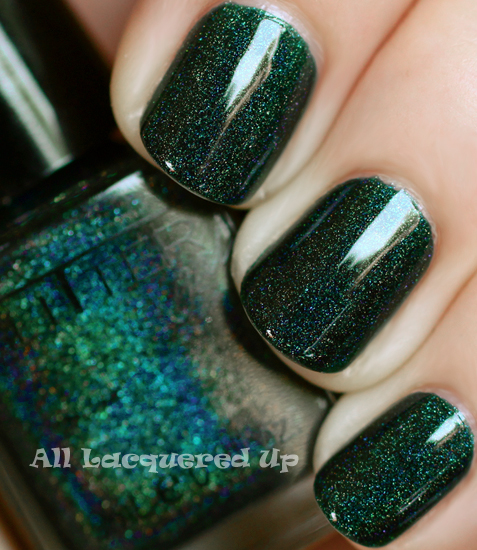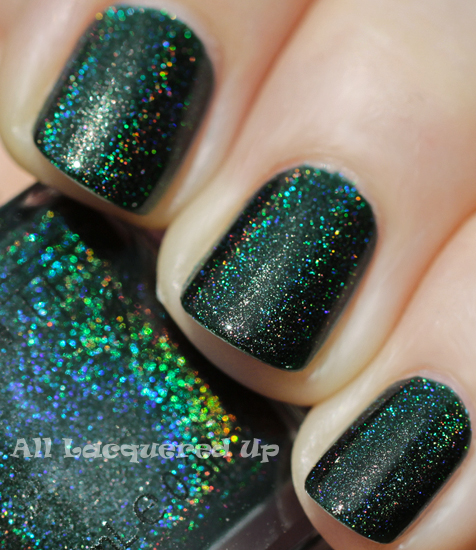 Bottom Line: I put on Lizard Belly last Friday and I can't stop staring at it. I keep taking it off my one hand so I can swatch and then I put it back on. It's magical. The deep teal is perfect for fall and very on trend and the holo isn't over-the-top. As much as I love holographic polishes, the super holos, like the Sally Hansen Magicals, can feel a bit too young. If you love holos and have been looking for a dark, true (or lineaer) holographic nail polish, Lizard Belly will not let you down.
365 of Untrieds Stash/Share Verdict: Just try and take it from me. STASH!
Glitter Gal Lizard Belly is available in the US at Llrowe and Overall Beauty. Glitter Gal nail polishes retail for $14-14.95/ea, depending on the retailer, for a .3oz/9ml bottle.
Are you dying over Lizard Belly? Do you agree that we still need an emerald green holo or am I too greedy? Do you plan to pick up this shade or any other Glitter Gal nail polishes? Who has the black holo? Is it as fabulous as it looks?
Disclosure: A product sample was provided by Llarowe. For more info view my Disclosure Policy.