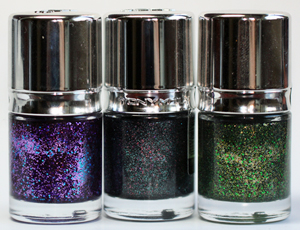 I know a lot of you requested reviews of the Fall collections and I'm working on them, I promise, but I could not wait to tell you about these incredible glitter polishes from TONYMOLY.

A few weeks ago I saw a shot of a gorgeous green glitter go by on my Tumblr dashboard and it was labeled as Tony Moly Galaxy. A little eBay search brought me to these treasures from the South Korean brand TONYMOLY, which means "a place to put style into packaging." I couldn't resist those little glitter bombs so I ordered a few to try out and WOW are they glitztastic.

Formula & Application: I have no clue about the ingredients in TONYMOLY nail polish except that their website claims that it, "does not contain harmful ingredients, so it is safe to use!" Take that as you will. I suspect that means it's 3-Free but you never know. The round 10ml bottles remind me of Nails Inc with a more stylized cap that has the brand name embossed in it.
The round brushes are pretty average in length and width with flexible bristles that put down a lot of product without much effort or dragging.
All three glitters have semi-opaque bases that allow you to achieve full coverage in two coats. They dry with a lot of texture so to say they are masters at the art of top coat suckage would be an understatement. They drink up thick top coats like Seche Vite, which I rarely use, so be prepared to use at least two layers of top coat. I applied a coat of Gelous to act as spackle underneath Out The Door top coat and still ended up with some bumpiness.

Tonymoly GT04, aka Neptune, is a lush verdant green glitter that has a smoky forest base packed with a range of gold and green micro-glitters and larger green sequins. Something about this polish reminds me of these little dolls I had a child called Glitter Girls. Each one came in a different jewel-toned lamé gown and there was one called Jade that came to mind when I saw Neptune. Speaking of Glitter Girls, anyone remember Glamour Gals? I was obsessed with them because the line included a cruise ship!
Tonymoly GT02, aka Earth, has a blue tinged graphite base with light blue and grey micro-glitter and larger pink hexagonal glitter, though the pieces aren't as large as the ones in Neptune and Jupiter. Can't you just imagine this as the asphalt in a sparkly world like Oz. Like maybe in the seedy back alleys or industrial downtown.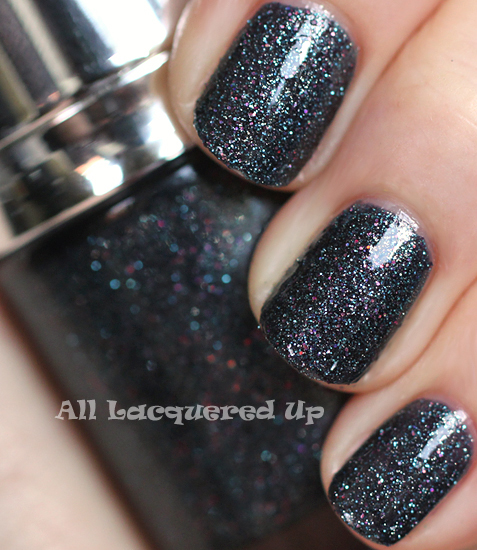 Tonymoly GT05, aka Jupiter, is a bright purple glitter with flecks of blue, purple, pink and red running throughout. The larger blue sequins and smaller purple hexagonal glitter really are the stars of this show which the pink and red particles add depth.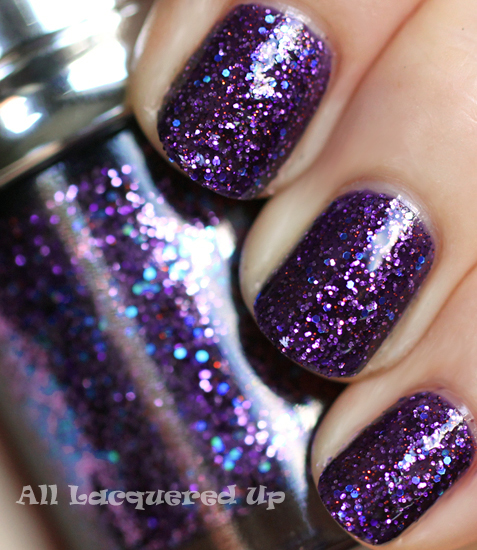 Bottom Line: Earth and Neptune are both phenomenal colors. I love the vibrancy of Neptune and the unique, gritty charm of Earth. Though for some reason Jupiter comes off as if it's trying too hard. Like it's too much glitter or a bit immature or something. I wanted to love it but, on my nails, it felt like overkill. Per usual, be prepared for a messy removal no matter which method you choose (foil, felt, etc). It's the nature of glitters. My glitter removal tip – add a layer of top coat or clear polish prior to removing. It will help soften the layers beneath and speed up the process.
I found Tonymoly Galaxy glitter nail polishes on eBay. HSC Imports is the seller I purchased from. The nail polishes retail for $9.99/ea for a 10ml bottle with free shipping to the US. Mine arrived in a little over a week.
Have you heard of or tried TONYMOLY nail polishes before? Thoughts on the Galaxy line polishes? Do you plan to pick any of these up? If you have experience with other lines from the brand, what are your "must have" shades?
Disclosure: I purchased these nail polishes. For more info view my Disclosure Policy.