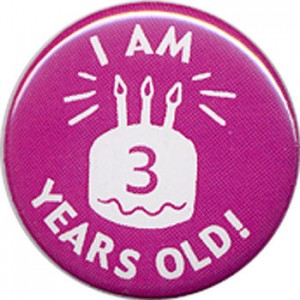 Happy New Year Fanatics!!  I hope you had a wonderful holiday season and brought in the new year with a lot of fun and style.  I know I'm so excited to put 2009 behind me and move forward into 2010.  One thing worth celebrating… All Lacquered Up's 3rd Anniversary!
Can you believe it's been 3 years already?  I certainly can't.  When I started this blog it was such a random thing.  I could never have dreamed what this would all turn into.  I was amazed to find out anyone was even reading it.
I seriously feel so blessed to have all of you come back, time and again, to hear what I have to say about polish and share my passion with me.  I'm thankful for the amazing opportunities ALU has brought me and the joy I get from being able to blog about what I love.  Thank you for coming on this journey with me and all your support.
So as I prepare to blow out the candles on my virtual cake, I'd like to make a polish wish for 2010.  Three years gets me three wishes, right?  Here is what I'd love to see…
1. Please for the love of all that is polish, someone make us an Emerald Green HOLO!!
2. Don't let the green nail trend slow down anytime soon.  I'm in heaven and I don't want to come down.  Thank you to all the brands that continue to amaze me with their greens.  What have you got to amaze us next??
3. China Glaze old buddy, old pal, old friend… can you find it in your hearts to give me what I've been asking for?  A black glass-flecked polish?  I know we've discussed this in the past and we're all waiting with bated breath.
Now let's hear your polish wishes for 2010.  What is desperately missing from your stash?  What kind of collections do you want to see?  Do you have a fave ALU post from the past three years?  Join me in the celebration with your comments!