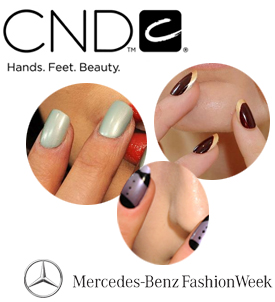 CND turned it out on Day 2 of New York Fashion Week working with heavy hitting, nail loving designers Jason Wu and Ruffian.  They continue to step up to their game with Ruffian's signature moon manicure, topping themselves with a new twist on the look.

Today's manicures were tuxedo formal, gilded burgundy, minty green, and brushed copper. Long, almond shaped nails at Ruffian and Jason Wu elongated fingers and made models look even slimmer than normal! From head to nail, runway looks were dressed up and extravagant.

The looks were so varied and strong that it made choosing a favorite quite a challenge. Read on to see if I succumbed to the power green or if nail art ruled the day.
At Costello Tagliapietra, CND's Angi Wingle crafted muted mint green manicures with custom blended Brilliant White, Bicycle Yellow, Green Scene, and Silver Chrome completed with Super Matte Top Coat for a satin finish. Paired with retro blown back hair, fiery red lips and offbeat red, green and yellow outfits on the runway.
I died a little inside when I saw this color. Just when I thought I was over mint green, this manicure made me fall in love with it all over again. I remember when Chanel Jade launched, I wore it in front of CND's Jan Arnold and asked if you could recreate the color using Colour & Effects.  While this mix isn't a Jade dupe, it's a fresh take on the shade with its satin finish and cool, sand-washed tone.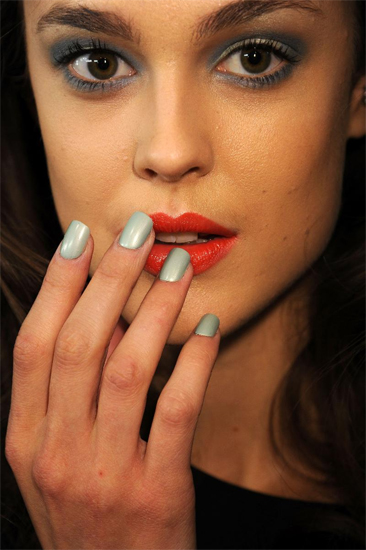 Jason Wu's majestic, baroque nails were out in full force - CND's Roxanne Valinoti created gilded burgundy manicures using Dark Ruby layered with Bloodline, and gilded with Gold Chrome smile lines. These manicures matched slicked back ponytails with a flash of gold leaf. Even Versailles could not contain this beauty look!
As Jan Arnold so accurately described them, the nails at Jason Wu look "expensive." The gold exaggerated lines on the oval nail look like they were created with gold leaf, not polish.  In a way it feels like a 180 of the Ruffian manicure with the gold crescent moon from their Fall 2010 show.  FYI, word is that CND and Jason Wu will be teaming up for another limited edition nail polish collection.  They will begin working on the colors in the coming weeks with a release sometime in 2012.  The CND Jason Wu collection from the Spring '11 shows is set to release this May.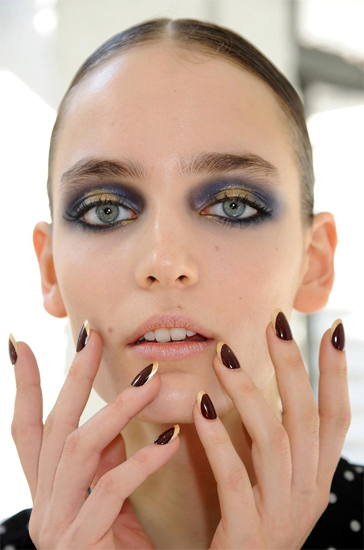 At Ruffian, CND's Kristina Estabrooks made luxurious tuxedo manicures fit for a black tie runway using Asphalt as a base, topped with Ice Blue Shimmer, Violet Shimmer, detailed with Blackjack, and finished with Super Shiney Top Coat for polished perfection. This masculine/feminine contrast accessorized a menswear-influenced collection.
The inspiration at Ruffian was referred to as the "Ginger Rogers walk of shame." To complete the look, designers wanted a really dressed up nail that mixed feminine and masculine. The elongated nail shape and iridescent base color brought a girly touch to the meticulous hand-painted tuxedo design.  Each set of nails took the CND team three hours to polish!!  Can you even??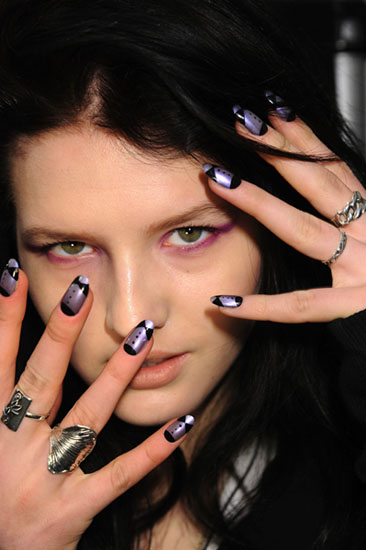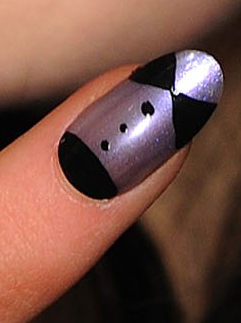 I don't stand a chance of ever being able to paint such an intricate design, let alone a moon at the base of my nail, but I'm all about layering the two shimmers over Asphalt to recreate that base color.  Hands down this is the look that made my jaw drop and caused me to tweet, "SHUT IT DOWN! WANT!"  Yes, I've adapted one of Gordon Ramsey's phrases from Hell's Kitchen as a proclamation of things I love rather than a failed night in the kitchen.  I even feign a bad British accent when I say it.
For your chance to win one bottle each of Asphalt, Ice Blue Shimmer, Violet Shimmer and Blackjack leave a comment telling me your favorite look from Day 2.  I know, it's hard to choose.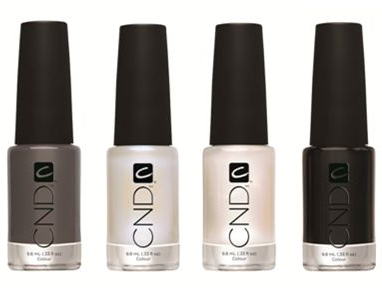 Entries will be accepted until Midnight EST. Leave a comment and make sure you include your email address in the comment form, but not the actual body of the comment (for privacy reasons).