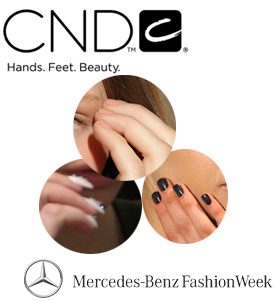 Thursday was the first official day of Mercedes-Benz Fashion Week and CND worked with designers Jenni Kayne, Irina Shabayeva and Wayne. The looks of the day were grown-up grunge, chocolate velvet, and textured tough.

From a multi-layered neutral to a mattified vamp to architectural nail art, there was quite a diverse range of nail styles to choose from.  See which design was my fave of the day and win the products used to create it.

At Wayne, Wanda Ruiz created a velvety chocolate manicure (that was good enough to eat!) using Raisin in the Sun topped with Super Matte. Paired with a wine-stained purple lip and pale matte makeup, crimped hair and urban armored silhouettes for a modern day Victorian look.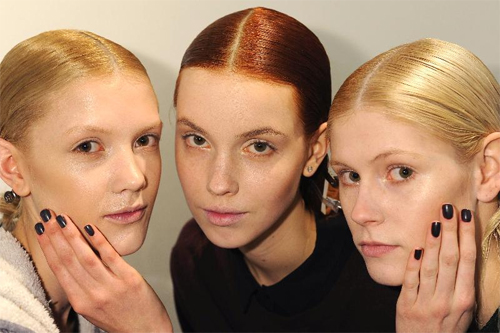 At Irina Shabayeva, Roxanne Valinoti created Sci-fi, Spanish influenced manicures with Fire & Ice contrast using texturized jet black and retro bright white shades.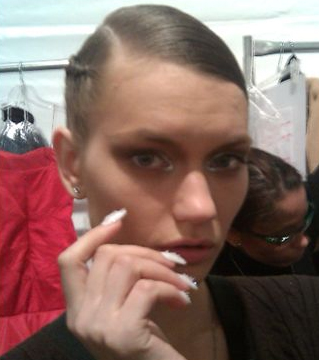 For Jenni Kayne, Angi Wingle created a blushing taupe manicure using one coat of nude opaque Desert Suede, layered with Copper Shimmer, washed out with a coat of semi-sheer patina Rose Water and topped with Super Matte. This grown-up grunge nail accentuated poppy magenta lips and stick-straight locks.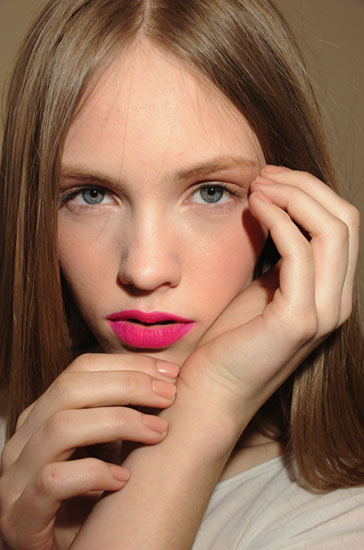 Even though I'm not necessarily a neutral girl, something about the combination of colors at Jenni Kayne speaks to me. I think it's the Copper Shimmer.  It looks super flattering and is definitely a combo I want to try at home.  Even though we're talking fall fashions, wouldn't it make for a fresh spring pedicure?
For your chance to win one bottle each of Desert Suede, Copper Shimmer, Rose Water and Super Matte leave a comment telling me your favorite look from Day 1 (you don't have to agree to win).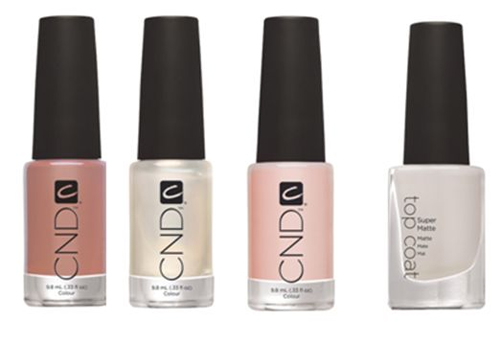 Entries will be accepted until Midnight EST. Leave a comment and make sure you include your email address in the comment form, but not the actual body of the comment (for privacy reasons).
***This giveaway has ended but please continue to comment on your favorite nail look. Thank you to everyone who entered.***