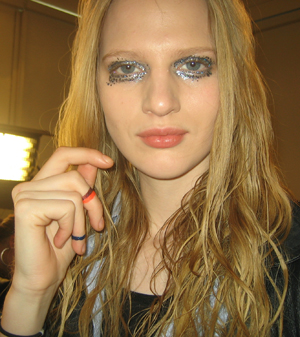 Last season we saw nails elevated from accessories to full on jewelry at Diego Binetti. This season at Vena Cava, butter LONDON's Nonie Creme is pushing the boundaries, bringing nail polish to a whole new territory; skin.  That's right, she's taking over "real estate" from the skin and by creating jewelry with nail polish applied directly on fingers.

Nail art savant Melissa from The Daily Nail has extended her designs on to the skin in the past but this is the first time I've seen the actual nails ignored entirely.  Nonie applied "finger bands" of color to two fingers on each model, some single, some double, and a simple coat of clear Hard Wear top coat to the nails.

To replicate the look follow Nonie's tips: Start with clean, dry skin.  Swipe with remover.  Start below the first knuckle.  Only paint a few fingers or else it will look too tribal. Allow 15 minutes to dry and expect 24 hours of wear.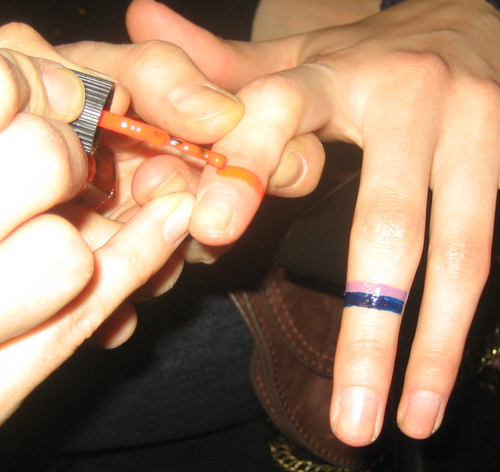 Get the Vena Cava look using butter LONDON Royal Navy, Scoundrel, Tramp Stamp, and Union Jack Black. The orange, Flouro Orange, is not yet in production.  butter LONDON polishes retail for $14/ea and are available online at butterLONDON.com and Beauty.com.
My question to you is… is this look runway only or something that could be worn in the everyday world?  Would you apply nail polish on your skin on purpose?  What do you think of the "finger bands" look?