When Katy Perry posted "Glove tip lace nails anyone?" on Twitter yesterday along with this pic I knew that Celebrity Manicurist Kimmie Kyees had to be involved and I was right.  We've seen lace used to cover the entire nail before but this is something new. Kimmie shared that these nails were created for a photo shoot but she couldn't reveal which one so be on the lookout as Kimmie is hoping they make the cover!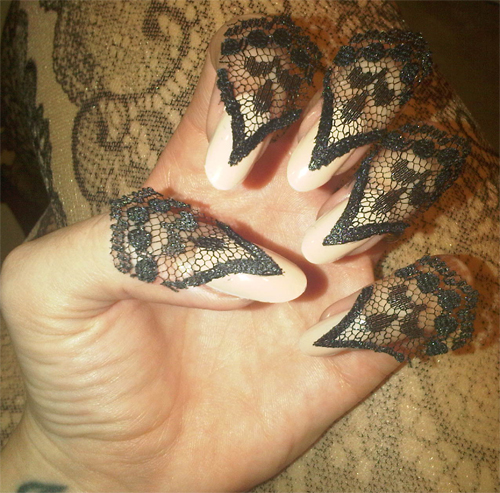 Get The Look: "She wanted beige so I used nail tips from Broadway Nails and polished them in China Glaze polishes; Modern Elegance topped Nude. What an amazing shade that combination created."
"I took out my lace and noticed the V shape. I decided to cut along the V's and place it in the polish from the cuticles towards the free edge. Leaving the lace on the end came to me after I placed it. I tried the tips on myself and loved the effect. When I showed [the people from the magazine] what they looked like on, they were relived and impressed! Luckily Katy and the rest of the glam squad agreed it looked fantastic. Katy said she loved them!"
China Glaze Modern Elegance is a discontinued color from the Urban Chic/Platinum series but I did find it on eBay and Victoria Nail Supply.  China Glaze Nude also looks to be dc'd but it's available on eBay and VNS as well.
What do you think of this look on Katy?  I'm thinking it could be something fun to try for a Halloween costume, like a gothic bride or something.  Would you wear this nails and for what occasion?  Have you tried incorporating lace into your nail style?