I read some comments referring to Amanda Seyfried's Armani Prive Oscar gown resembling bubble wrap but I loved it.  She always looks beautiful on the red carpet even if her style choices skew a little older sometimes.  I mean, that's a LOT of dress.  I can only imagine how much it weighs.
Regardless of how you feel about her dress you've got to give her props for wearing a mushroom-y taupe like Chanel  Particuliere, one of spring's hottest nail shades.  Makeup Artist Monika Blunder used Chanel products to create Amanda's makeup look so I can only assume that she wore Particuliere on her nails.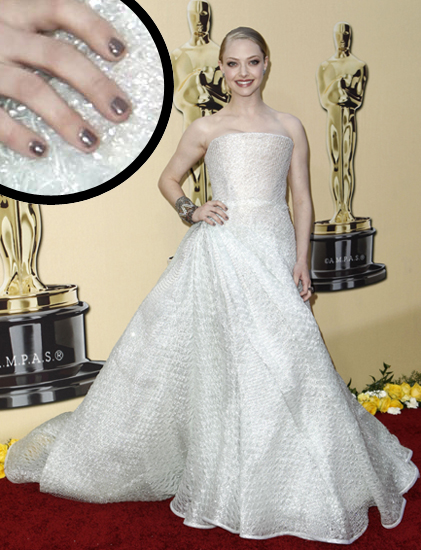 Get the look for less with Sally Hansen Complete Salon Manicure in Commander In Chic and butter London Fash Pack.
What do you think of Amanda's look for the Oscars?  What nail color would you have chosen for her?
image credit: Celebutopia