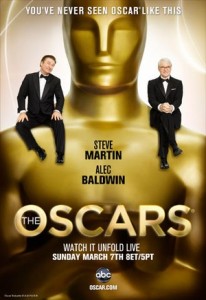 The 82nd Annual Academy Awards aired last night and it seems like the entire Twitterverse was watching with me. It was so much fun reading everyone's reactions to the red carpet, show, winners, etc in real time. The Boyfriend could care less about award shows and I'm not the type to attend Oscar parties with a bunch of chatty friends because I like to catch every moment so Twitter is my perfect companion for the night.
Unfortunately, since celebs play it safe on the red carpet nowadays the Oscars doesn't really lend itself to major nail watching but there were a few fun nail moments.
E!'s pre pre-show included a nail segment with Deborah Lippmann where she created the world's most expensive manicure.  Using her own Diamonds & Pearls polish as a base, she applied $100,000 worth of actual diamonds to her model's nails.  Using stones borrowed from jeweler Suzy B, she placed each individual diamond using her Addicted to Speed topcoat.  Am I the only who would be afraid to wear such a manicure?  I just know I'd lose a diamond or two thanks to my natural klutziness.
I'll share my other fave nail moments in separate posts but before I do, let's talk about the show itself.  I've always been a fan of Steve Martin and Alec Baldwin but their pairing didn't do anything for me.  In fact, I think NPH totally stole the show and should host next year.  That guy is hosting gold!
Also, did anyone else find the awards completely predictable?  With the exception of The Hurt Locker winning for Best Picture, I accurately called the rest of the big award winners.  After Kathryn Bigelow won the DGA Award for Best Director my gut told me she'd beat James Cameron and I'm SO glad she did.  The Hurt Locker was really good and so deserving.  I've been a fan of Jeremy Renner since he played Jeffrey Dahmer and I'm so happy to see him getting the recognition he deserves.  An Oscar is in that boy's future, I can feel it.
Finally, I know I'm not the only one who welled up with tears during the John Hughes tribute.  His films touched so many of us and will forever be tied with our formative years.  His work defines what it was to be a teen in the 80s and his comic genius will live on forever.  Seeing some of the Brat Pack-ers on stage was really sweet though Judd Nelson looked  ROUGH.  Wow!  If only Rob Lowe and Emilio Estevez had been there.
What were your fave parts of last night's Oscar moments? Did you see any nails that stood out?