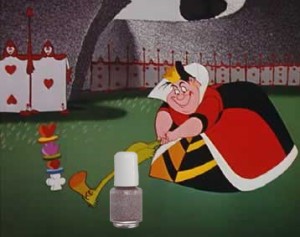 It's time for another frankenpolish inspired by the OPI Alice In Wonderland collection.  I was so happy with how my Cheshire Cat franken turned out that I just had to try to make my idea of a white polish with red glitter come to life.

With the Queen of Hearts as my muse, I mixed up what I'm calling "Playing With The Queen of Hearts".  The song was running through my head while I was mixing/applying it so it seemed a perfect fit.  Though I'm not sure I'm entirely in love with the color so I'd love your thoughts.  Check it out after the jump!

After realizing how much polish I used to mix up my last franken I hunted down some baby polish bottles to make the process less wasteful.  I can't be dumping half a bottle of my fave polishes out just for a mix, especially discontinued ones.  I purchased my bottles from The Supply Source for $5/dozen.
I had hoped to find a red glitter polish with a clear base in my stash but my bottle of Color Club Art of Seduction has found a new home.  So while I was ordering polish bottles, I picked up some red glitter from The Supply Source as well.  I mixed their Red Micro Glitter with Orly Gogo, a sparkly white.
I wanted a shimmery/glittery white because I thought it would suspend the glitter better and I was right.  Even after sitting a few days, the glitter is still pretty well dispersed.
This is my first attempt which I didn't feel was glittery enough.  I can't really say how much I used because I don't have a measuring tool that will fit in such a little opening.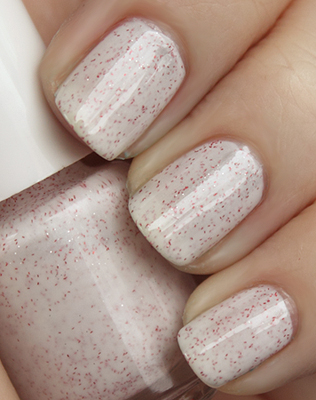 After adding some more glitter, the red is definitely more apparent though I'm still not sure I love it.  It reminds me of this white chocolate bar I had years back. It had red speckles throughout the chocolate that looked a lot like this.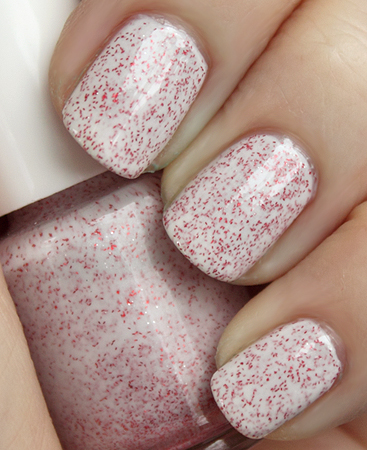 In sunlight and artificial light, the glow of the glitter makes it a bit better but I'm still not thrilled.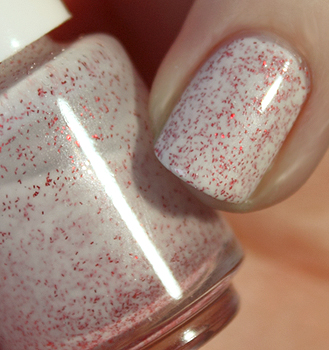 What do you think? I'm wondering if chunkier glitter would have been better. Maybe I should hunt down some actual heart shaped glitter, like those Maybellines. What would you suggest to make this a better mix?