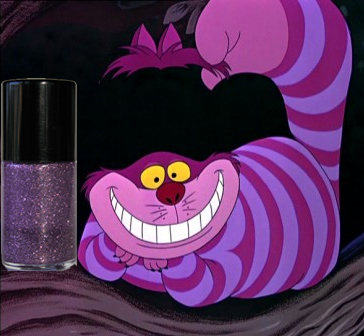 After I posted my swatches of the OPI Alice in Wonderland collection, I couldn't get the thought of a Cheshire Cat inspired polish out of my head.

You may have missed that in the comments section but I suggested a pink and purple glitter to represent the Cheshire Cat.  I know in the upcoming film the cat won't be colored like the Disney animated version but it still sounded like a fun concept.  So over the weekend I dug through my stash and came up with my Cheshire Cat franken to accompany the collection.  Check it out!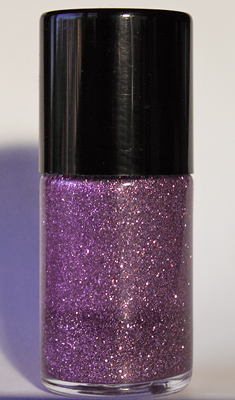 If you're unfamiliar with the custom blending (aka frankenpolish) concept, check out my post Customization: Frankenpolish & The Art of Layering or head on over to Dr. Frankenpolish for her detailed instructions.
For this mix I wanted two glitter polishes with clear bases.  I didn't want any sort of pigment mucking up the mix.  I also wanted to use a lighter purple, similar to the Cheshire Cat.  In my collection, the colors that fit my concept best are Color Club Tru Passion and butter London Rosie Lee.  The violet hue of Tru Passion and warm rose tone of Rosie Lee made my ideal color blend.
To create my Cheshire Cat Franken mix:
1/3 bottle Color Club Tru Passion
30 drops of butter London Rosie Lee
Note: My bottle of Tru Passion has thickened considerably.  I must have left the cap partially open at some point.  Even adding a LOT of thinner it was still pretty goopy so my application was a little off.  Don't judge any finish issues or bald spots on the polish.
The look I wantes was a mid-tone violet peppered with hints of pink and I think this mix captured that.  In person the pink flecks pop more, I just had a hard time showing that.  Because these are pretty chunky glitters I added two layers of top coat to make my tips glossy and smooth but I'm really happy with the final result.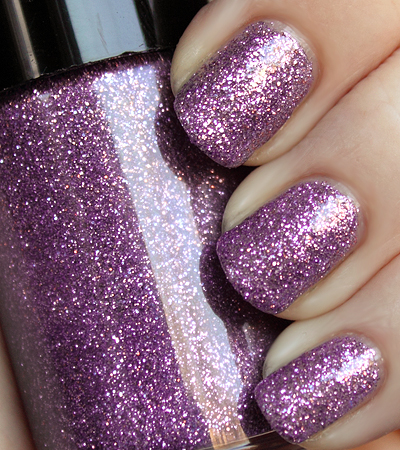 This picture was shot under artificial light and I think it shows the pink glitter a bit better.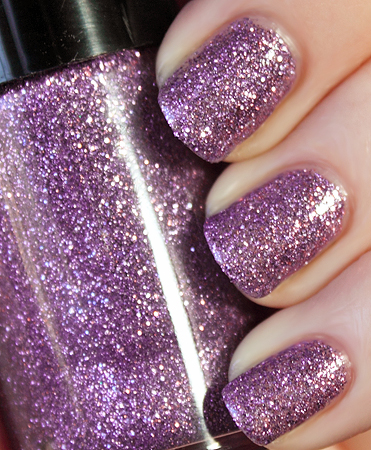 If you want to re-create this polish at home, you can purchase butter London Rosie Lee from butterLondon.com or Beauty.com for $14 and Color Club Tru Passion is available at Head2ToeBeauty.com and 8ty8Beauty.com for $2.50 and I've also seen it on eBay.
What do you think of my franken?  Did I do the Cheshire Cat justice?  What would you mix to represent this mischievous feline?
Disclosure: The products used to make this franken were furnished to me by representatives for butter London and Color Club.  For further information view my Disclosure Policy.