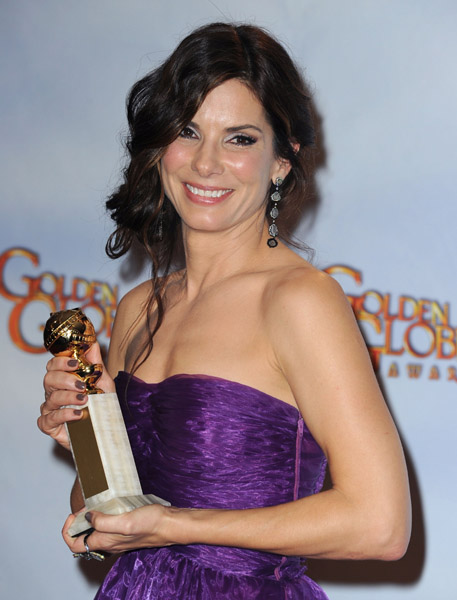 This really is Sandra Bullock's year.  Not only was she a double nominee at tonight's Golden Globes but she WON for The Blind Side.  I have yet to catch the film but just the trailer makes me tear up.  I may have to wait for it to hit DVD so I can ball like a fool in the privacy of my own home.
Most people probably noticed her vibrant purple gown but I narrowed right in on her greige putty-ish tips.  I immediately thought Chanel Particulière. Come to find out Angela Levin did Sandra's makeup using Chanel products. I don't have confirmation on the exact nail color but if I was a betting woman, I'd put my money on Particulière. Here's the scoop on the rest of Sandra's look from Angela:
"When I walked into Sandra's room, I saw that she was in an incredibly relaxed, happy and free spirited mood. I wanted her makeup to reflect her serene state of mind!"
"I prepped Sandra's skin with CHANEL Hydramax + Active Cream. Her eyes were a mixture of CHANEL shadows – Silky Eyeshadow Duo in Orient-Express, and Soft Touch Eyeshadow in Trace. I then lined the eyes with CHANEL Long Lasting Eyeliner in Violine, a deep, soft purple shade. On her cheeks, I used CHANEL Tweed Blush Duo in Tweed Rose.   Finally, on her lips she wore CHANEL Rouge Coco Lip Colour in Beige Felin.
What do you think of Sandra's look? Do you agree with my Particulière prediction? If not, what's your guess?