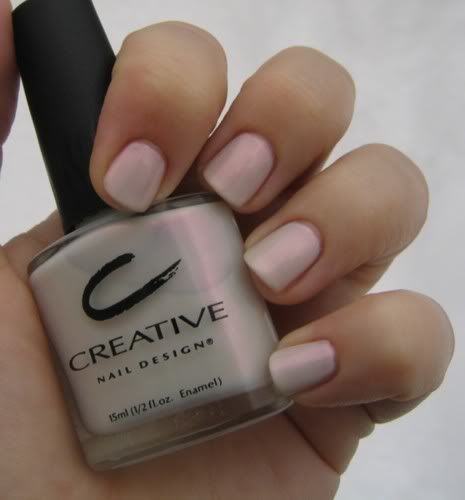 I'm continuing with my "Dare Week." I was dared to do a white creme but I don't own any of those so I chose Creative Hyper Fresh from their new Optix collection for spring.
As much as I initially hated the color on me, I'm warming up to it by day 2. I think the
opalescence
is the saving grace. It's just so weird to look down and see such a light color on my nails. It's so not me and everyone I know has told me so. Especially my significant other. He likes my tips with brights, reds and
vampy
colors.
The only real downside of this polish is in the application. It was very streaky and somewhat
goopy
. It took me 3 coats to get the color even and then I still wasn't happy with the end result. I can see problems with my
mani
that I'm sure aren't noticeable to the general observer. This not at all what I've come to expect from Creative. I hope the rest of this line is different. Maybe I just got a bad bottle or didn't roll it long enough.
I've been seeing a lot of mixed reactions to the
Optix
line. Some are embracing the pastels and 80′s vibe of it. One person mentioned the Golden Girls and I immediately flashed on those pastel ensembles Don Johnson donned on Miami Vice. I know he's worn all of the colors in this collection at least once during its' run.
The others aren't necessarily having negative reactions to the collection, more of a "
Meh
." I think for a lot of serious polish fiends, like myself, we're at the point of only wanting truly unique colors. When your collection gets above the 100 mark, it's understandable to not want yet another pink shimmer or red creme.
I can honestly say that I don't have a polish in my collection that looks anything like Aqua Jet or Cosmic Coral. Blue Nirvana is could be Creative
Jiggy's
twin except that Blue Nirvana is much more opaque. For me, that's a wonderful thing. I've always love the color of
Jiggy
but it's sheerness turns me off.
So, after having a couple days to see the
collection
, what are your thoughts? What do you think of Hyper Fresh on me? Be honest!