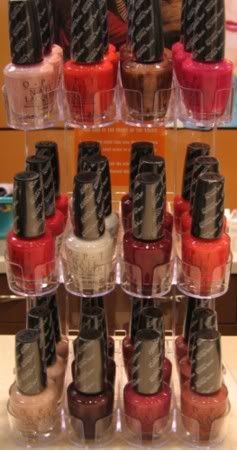 I have to be at least a little bit crazy. I don't doubt that the employee at my local Trade Secret thinks so. I decided to stop by tonight because I heard that some stores, not necessarily Trade Secrets, already have the OPI Australian collection for sale.
I walked in and much to my dismay, no Australian collection. They did have the new Essies out and some of the OPI Brights are on clearance but no Aussies. I decided to ask about the collection, in case they had received it but not put it out. Sure enough, it was sitting back in the salon area all ready for the February 7th launch. I asked if I could take pictures of them and even though she looked completely confused by the request, she pulled out the display and let me snap some shots. I told her I was writing an online article but all she wanted to know is if she'd get in trouble.
A few customers came in while I was taking pictures so I apologize for the poor quality. I didn't want to monopolize the counter and block the register so I did the best I could in fluorescent lighting. I can only imagine what those ladies thought when they walked in the store and saw some loon taking pictures of polish.
Here are some close ups of each row with labels.