Uncategorized
Ever since UK nail queen Sophy Robson posted a sneak peek at the CHANEL Les Khakis De Chanel collection colors, I've been DYING to get some sort of official word regarding their launch. What Sophy originally dubbed the "camouflage collection" is a set of three military shades debuting as a limited edition launch for Fashion's Night Out on September 10th!
Visit the Chanel Boutique on Spring Street to get a complimentary manicure with one of the Les Khakis De Chanel shades or stop by the Madison Avenue boutique which will be selling the collection as well.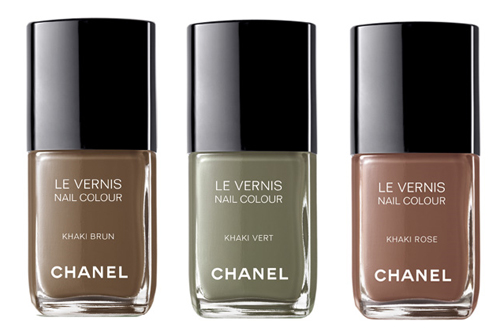 In celebration of Vogue's Fashion's Night Out, Peter Philips, Global Creative Director of CHANEL Makeup, has created LES KHAKIS DE CHANEL, a collection of three Le Vernis Nail Colours. Ultra sophisticated shades Khaki Rose, Khaki Brun and Khaki Vert can be worn alone or combined for an urban chic camouflage effect.
The Les Khakis De Chanel collection launches on September 10th, 2010.  It will be available at CHANEL boutiques, CHANEL.com and select department stores for $25.00/bottle.
You KNOW I'm all over Khaki Vert but I'm excited to see how they'll look paired together.  I'm already thinking up some fun way to wear all three while I'm in NYC for FNO.  Which colors are you excited to see?  Will any of my NYC Fanatics be out and about for FNO? Do you think these colors will get the same attention as last year's FNO color Jade?