Red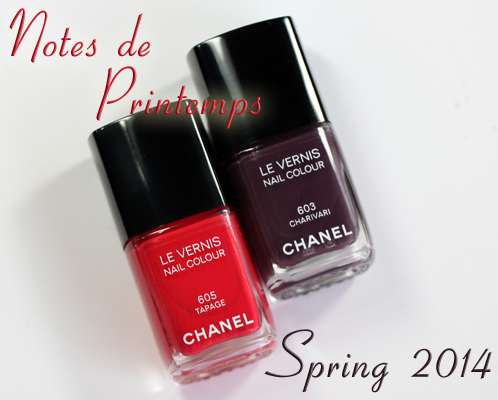 In what seems like another world, a long, long time ago, I was somewhat of an accomplished musician (aka band geek). I have stacks of music that I leave in a visible place, as a promise to practice in hopes of joining a community orchestra, someday. I really miss playing.
Which is why the musical theme of Chanel's Notes de Printemps (Notes of Spring) Spring 2014 collection resonated with me. Playful pinks and purples are at the core of the collection and that theme comes through in the two new shades of Chanel Le Vernis, Charivari (pandemonium) and Tapage (noise).
Continue Reading »
This fact has been shared in every mention of American Heart Month and it bears repeating, Heart Disease is the #1 killer of women.
That's why, today, I painted my nails red in support of Go Red For Women's 10th annual Wear Red Day. As part of the #GoRedChallenge, I'm wearing Essie Lacquered Up with an accent nail of Essie Blanc and Maybelline Color Show Wild At Heart (apropos, no?) from the Street Art collection.
The pin I'm holding is from the Hearth Truth Red Dress NYFW show a few years back. The annual event took place last night at Lincoln Center. You can get this year's version from Shop.Heart.Org.
In addition to wearing red today, let's all make a promise to become better educated about heart disease and get a blood pressure check. It's one simple step towards a heart healthier you. Learn more at GoRedForWomen.org.
Disclosure: Product samples were provided by reps for Essie and Maybelline. For more info view my
Disclosure Policy
.
Bobbi Brown is giving us old school glam with her Holiday 2013 "Old Hollywood" collection. As I've said before, this season's nail polish trends are going the more traditional route with metallics and reds dominating the scene.
Clearly Bobbi got the memo and then some as she's giving us holographic glitter realness with her new shade, Chrome. Who ever thought you'd see the words Bobbi Brown and holographic glitter in the same sentence? I mean, what??
Continue Reading »