Micro-glitter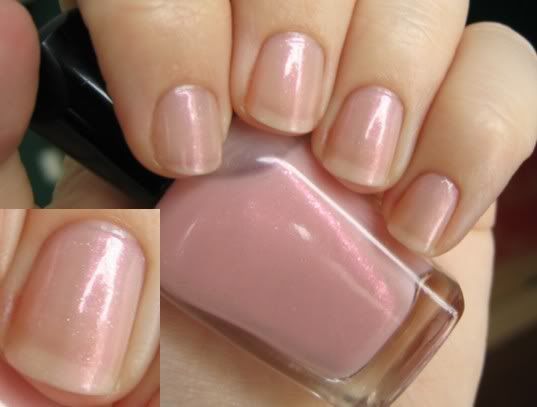 Ding, ding, ding we have a winner!! Finally a sheer I not only like but love. Zoya Bailey is a perfect pink sheer with silver micro-glitter and pearly shimmer.
The application was smooth and even. Zoya's formula is slightly thick but it spreads well with no streaking. I was a bit rushed this morning when I applied it but that didn't affect the outcome. Even in person, my mani looks as close to flawless as I've seen my tips in a while.
With my "Dare Week" coming to a close, I realize that I enjoyed this challenge much more than I expected. Even though my first pick wasn't a winner, it lead me to here. I now have a color that I can slap on when my nails are bare and I don't have time to deal with applying my usual bright/dark colors.
In honor of the Columbus Blue Jackets hockey team, I decided to go BLUE! I'm going to see them play the Detroit Red Wings tonight at Nationwide Arena and wanted to show my team support. Don't tell the Blue Jackets but I'm really a Red Wings fan at heart.
So, I love the color and the silver micro-glitter but there's something about the formula used in the We Adorn You collection that's not working for me. I had this same problem with Soft Sienna Silks from this collection. It doesn't apply as evenly as my other China Glaze polishes. And application, in addition to color range, is one of the things I love most about China Glaze.
Drinkin' My Blues Away from the Spring '06 Tequila Toes collection is very similar to this color. But, unlike Eyes Like Sapphires, it has that jelly, glaze-like consistency that I've come to know and love about China Glaze polishes. I also got some bubbling from this color and I don't know if it's my technique or the polish that caused it.
On a side note, it is freezing here in Ohio. The snow is coming down and I'm not looking forward to driving to Columbus this afternoon. In the middle of all this weather there's me, outside with my camera taking pictures of my hands, trying to avoid getting snow on the lens. The lengths I go to for a good pic. I can only imagine what my neighbors think. I wonder if I'm the crazy neighbor lady that everyone talks about. Oh my, I hope that's not me.
So, what's on your nails today? Is it a keeper?