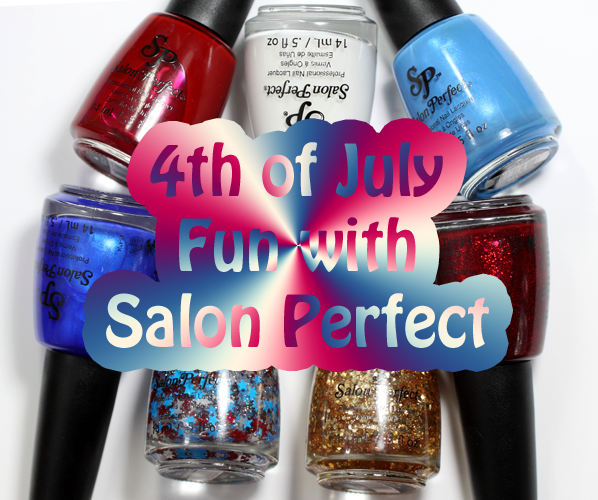 My favorite holiday of the year is just a few days away and I can't wait. I LOVE the 4th of July. A day filled with beautiful weather, food, fun and fireworks. What more can you ask for? And the fact that no one has to shop for presents in order to celebrate it, even better!
To get in the spirit, I turned to the Salon Perfect Paint The Town Red, White and Blue collection. 15 shades of red, white, blue, silver, gold and glitter. Add in the Independence Day-themed nail decal kits and striping tape kits and you have endless manicure possibilities.


What I Used
For this look, I created a different look on each nail so I could give you as many manicure options as possible. You can wear them all together or separately for a fun July 4th look.
Polishes (top row): Salon Perfect Paint The Town Red, Salon Perfect Sugar Cube, Salon Perfect Wild Blue Yonder.
(bottom row):  Salon Perfect Blue Ribbon, Salon Perfect Star Spangled, Salon Perfect Fool's Gold, Salon Perfect He's With Me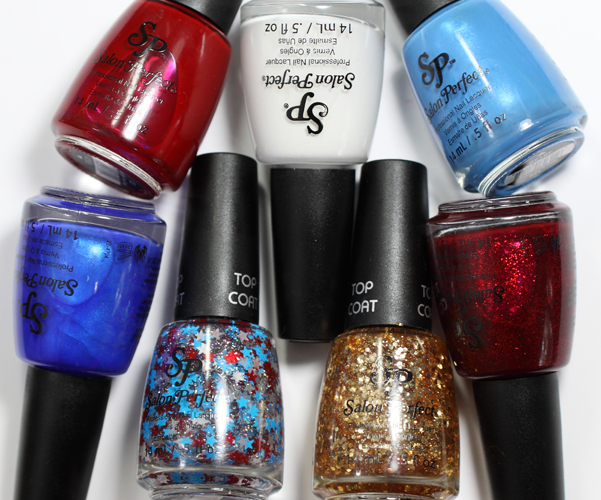 I also used some decals from the Firecracker Nail Decal Kit and Star Struck Nail Decal Kit.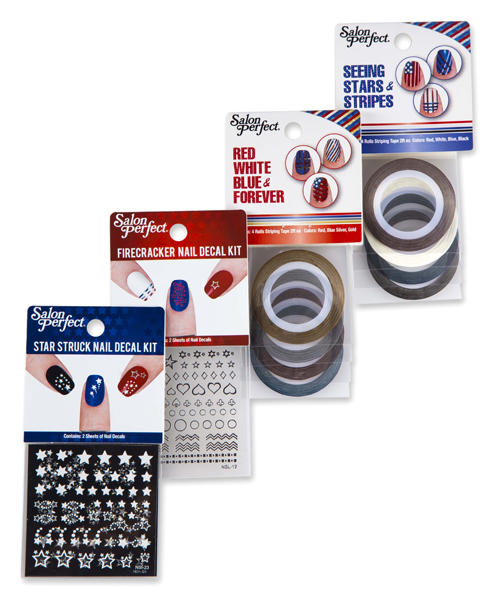 Let's break down each nail, shall we?
Thumb: Three coats of the China Glaze Ruby Pumps-esque shade, He's With Me, topped with a silver star and chevron pattern from the Firecracker Nail Decal Kit. The instructions say to seal with top coat but I found that made for a chunkier look.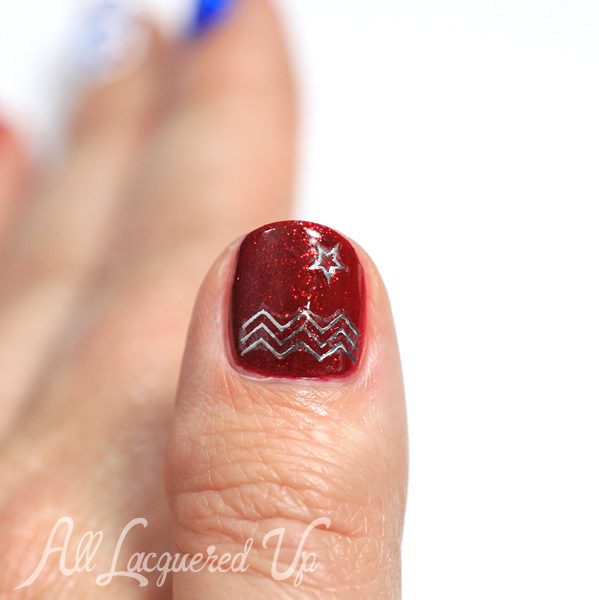 Index: Three coats of shimmery, cobalt Blue Ribbon, topped with Star Spangled, a scattered holo glitter packed with metallic stars. I was able to get the stars on with the brush but it took some effort. You could dump some out and use a toothpick.
Middle: I created a multi-sized dotticure using three coats of Sugar Cube as a base. Over it, I used Wild Blue Yonder and He's With Me for the dots. Salon Perfect has a nail art brush/dotting tool set that I used for this look.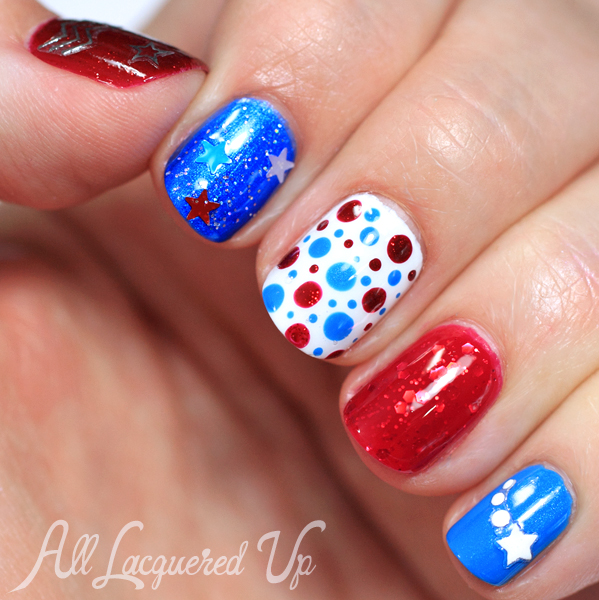 Ring: I created a jelly sandwich by layering the Fool's Gold glitter between layers of Paint The Town Red. Three THIN coats of each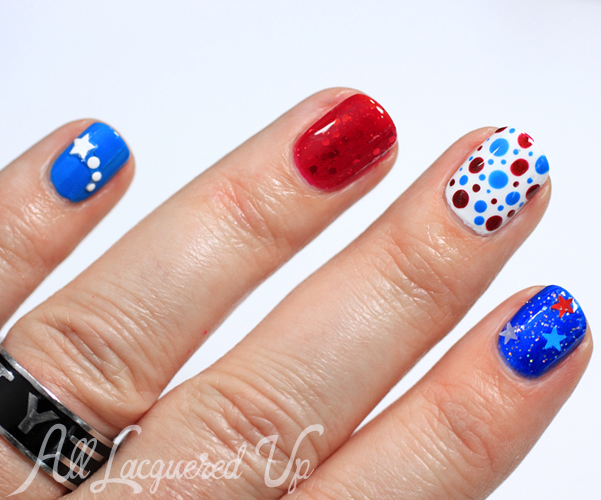 Pinkie: I applied three coats of Wild Blue Yonder, a denim blue with bright blue shimmer, and added a white star decal from the Star Struck Nail Decal Kit. Again, I did not seal it in with top coat as I prefer the look without.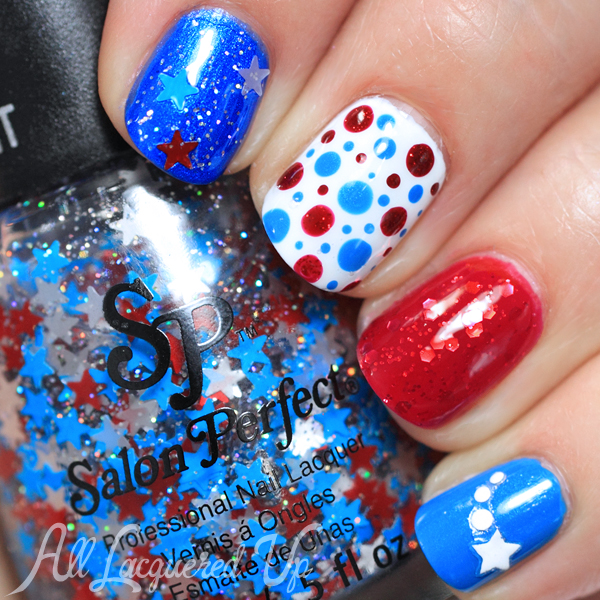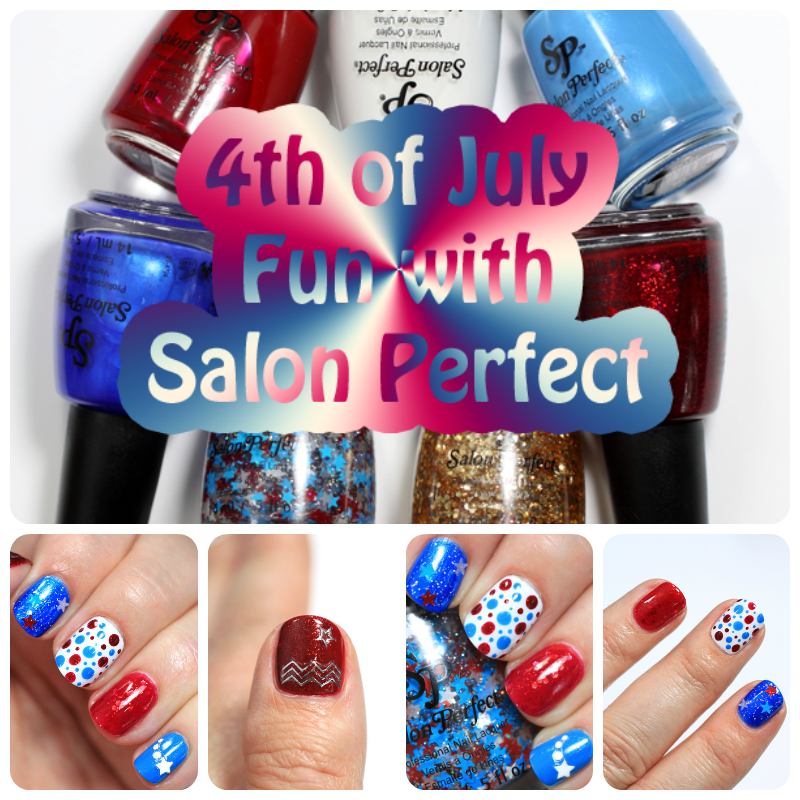 What I like about this manicure is that I was able create such diverse looks on each nail with minimal tools required.
Salon Perfect's Paint The Town Red, White and Blue collection consists of some core and limited edition shades and you should be able to find them on a special display with the nail art accessories at your local WalMart store. You can also purchase Salon Perfect nail polish on WalMart.com. Salon Perfect nail polish retails for $3.98/ea.
So have you planned your July 4th manicure yet? What will you be wearing on your nails this Friday?
If you're looking for more nail art ideas, check out my 9 Patriotic Nail Art looks from Memorial Day.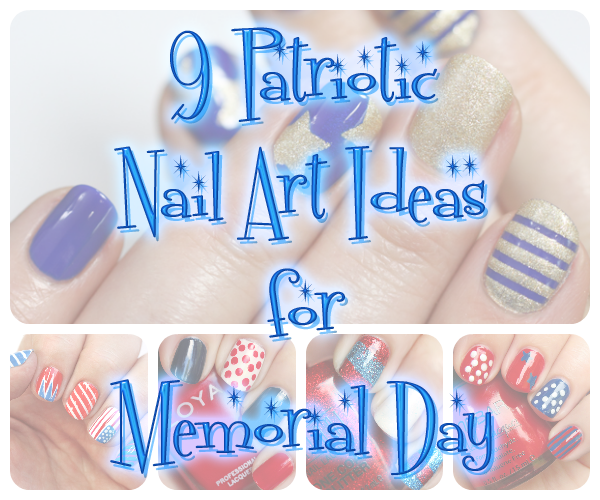 Disclosure: Product samples were provided by reps for Salon Perfect. Affiliate links appear in this post. When you purchase through an affiliate link, you help support this site. For more info view my
Disclosure Policy
.