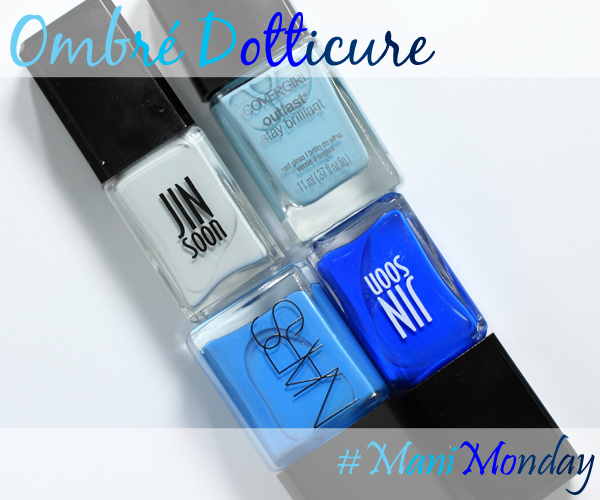 Happy #ManiMonday, all! I hope you had a wonderful weekend, celebrating the 4th if you live in the US. Just before the weekend's festivities began, I flew off to NYC for an event and needed a nail art look that was easy but packed a lot of visual impact so I created this bold Blue Ombré Dotticure.


Blue Ombré Dotticure
To create this look I started with a cool, neutral base. JINSoon Kookie White ($18, Nordstrom.com) is ideal as it's slightly greyed with a hint of blue undertone.
I then selected three blue nail polish shades that were distinct enough to stand out on their own yet blend well with the others. I used COVERGIRL Outlast in Skylight ($4.99, Target.com), NARS Ikiru, and JINSoon Cool Blue ($18, Sephora.com)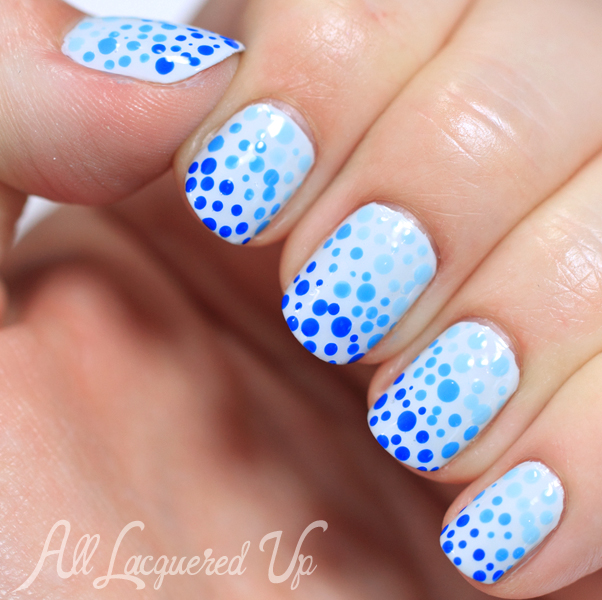 The beauty of a design like this is that the dots don't have to be uniform in size. I used just one small dotting tool but different levels of pressure to make the dots vary in size. I would place one dot on each side where I wanted that color to end and then randomly filled in the space below and between. It's similar to this Rainbow Dotticure I created last year.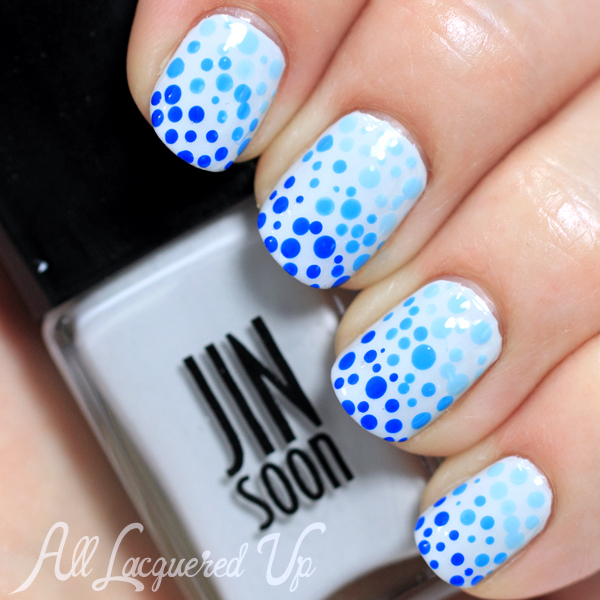 To keep my dots from smudging, I used a generous layer of HKGirl Top Coat ($6.99, Glisten & Glow).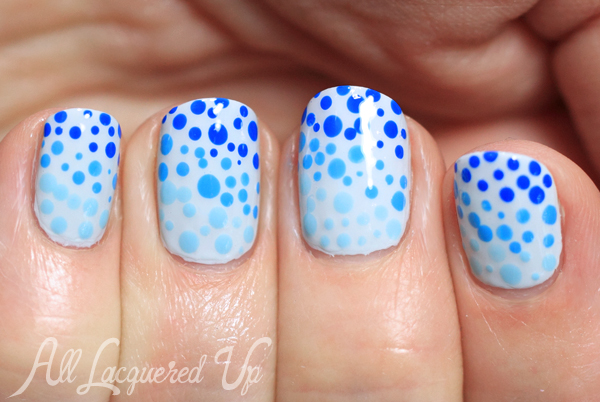 If you haven't heard, NARS has reformulated their nail polish line. It includes a new, flat paddle brush, slip-off caps and a thicker, more pigmented formula. Plus, a bunch of new colors and the return of some fan faves, like the Night Series sparklers. It rolls out to stores July 15th and I'll have a full review for you soon.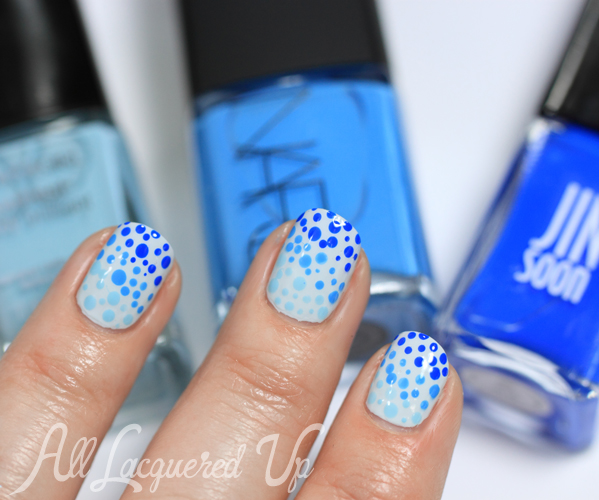 The reason for my trip to NYC was to serve as the nail expert for a SheKnows Experts "Summer Series" event at the TENOVERTEN nail salon in Soho.
In addition to lending my nail advice and manicure suggestions to the attendees, SheKnows adapted one of my Patriotic Nail Art designs to match their color theme and sent each guest home with matching TENOVERTEN nail polishes and my instructions to create the look at home.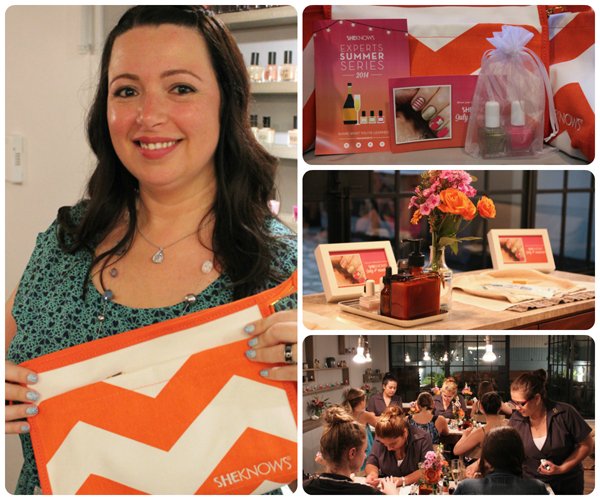 The ladies in attendance were more than game for something fun and new to wear for the holiday weekend. I even got one strict baby pink wearer to take a chance on a gold foil for her trip to Italy. You really can't go wrong with metallics for a vacation as they will match any outfit.
During the event, I also shared the 5 Nail Polish Colors You Need For Summer which you can read more about on SheKnows.com.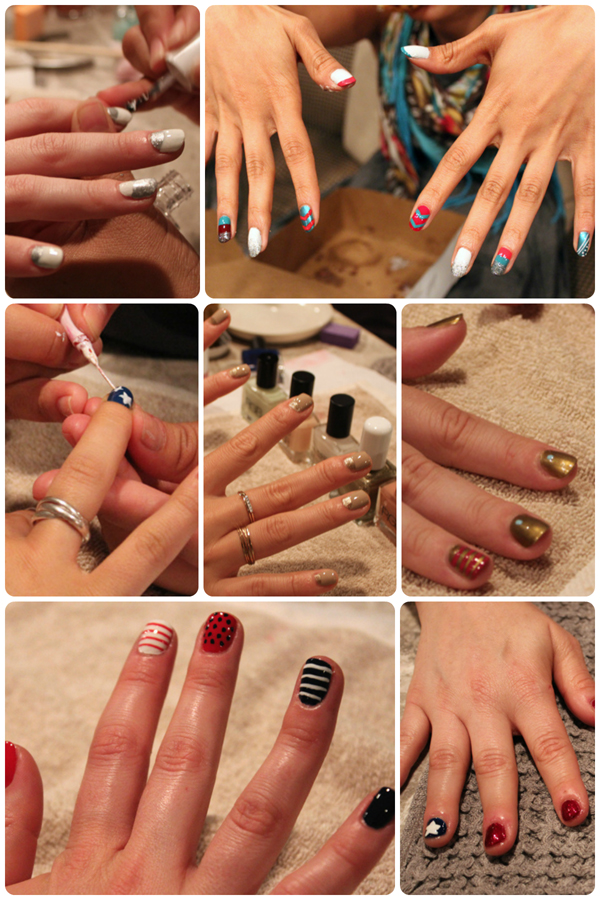 Have you tried an ombré dotticure before? Which what shades? What's on your nails for Mani Monday? Tag me, @AllLacqueredUp, on Instagram or Twitter so I can see!
Disclosure: Product samples were provided by reps for COVERGIRL, JINSoon and NARS. Affiliate links appear in this post. When you purchase through an affiliate link, you help support this site. For more info view my
Disclosure Policy
.