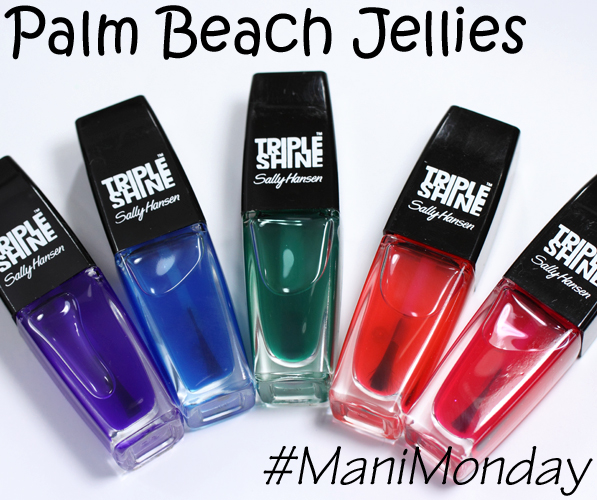 Just the mere mention of the word "jelly" to a nail polish fanatic can stir up a frenzy so naturally the Sally Hansen Palm Beach Jellies from the Triple Shine line have been getting quite a bit of buzz. I took five of the six lucite-esque jellies for a spin on this #ManiMonday, creating a festive spring look.


Formula & Application
Sally Hansen Triple Shine is 5-Free (Formaldehyde, Toluene, DPB, Formaldehyde Resin, Camphor). It comes in a tapered, tall rectangular bottle with a matching black shiny cap. The outer cap is removable, revealing a smooth, round inner cap that is tall and slightly tapered.
The brush looks and feels identical to the Complete Salon Manicure brush. It's flat and wide with a curved edge. The bristles are firm so they don't really fan out on the nail. I find that it's best to gently glide the brush along the surface with no real pressure. That delivers the most streak-free results.
There is also a Triple Shine Top Coat to accompany the line, something SinfulShine is lacking, and I suggest using it. To me, what's the point of making a "high shine" lacquer if you don't have a top coat to go with it? Then you're just relying on some other top coat, no?
The Palm Beach Jellies are have that watery, squishy texture we love about jellies. They're thin and easy to apply. The pigmentation is nowhere near as intense as the bottles would allude you to. When used over white I needed 2-3 coats. The purple and blue are the least pigmented of the six while the reds/pinks pack quite a colorful punch.

Because the Palm Beach Jellies are so sheer, and I hate the look of sheers on my nails, I decided to apply them all over white. I used Sally Hansen Xtreme Wear White On because it gives such great coverage with no streaking.
From thumb to pinkie:
Sally Hansen Water Melon – It looks like cherry jello in the bottle but on the nail it's cooler, more lilac pink.
Sally Hansen Vitamin D-light – I was expecting a tangerine or coral hue but over white it's actually a rosy pink.
Sally Hansen Sea Through – Looks teal green but comes out more minty.
Sally Hansen Ice Tint – This sky blue translates pretty well onto the nail once you apply enough coats. It's the least pigmented and needs 3-4 thin coats.
Sally Hansen Grape Jelly – Like Ice Tint, it's not that pigmented but this cool purple stays somewhat true to what the bottle promises, just lighter.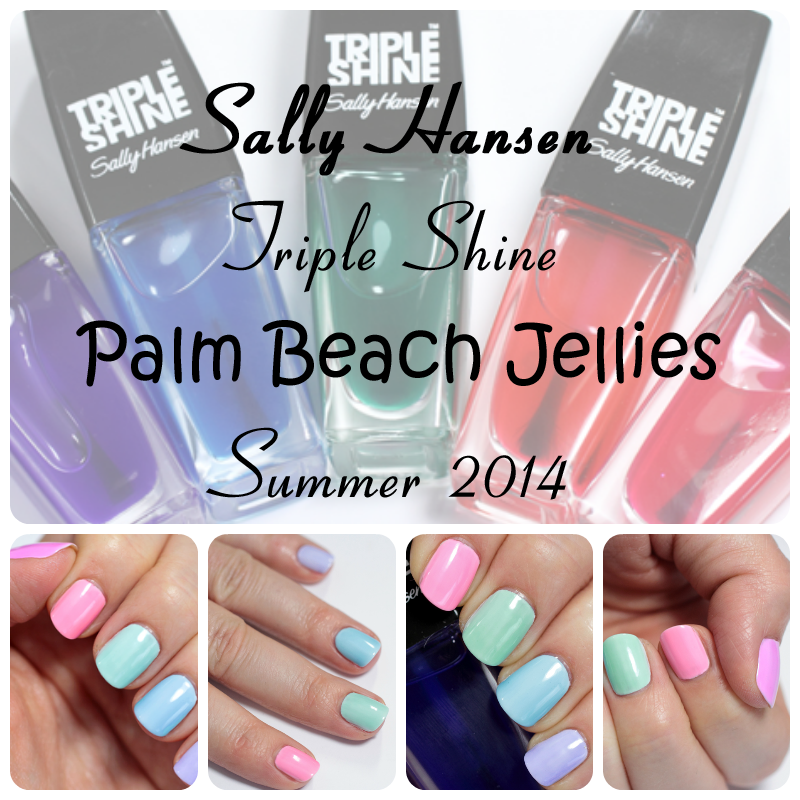 Bottom Line: Compared to fellow Coty-owned brand, OPI, the Sally Hansen Palm Beach Jellies are leaps and bounds beyond the OPI Sheer Tints. The thin texture and lack of bubbling, no matter how fast or thick I apply each coat, makes them winners in my book. They're not as pigmented as last summer's L'Oreal Miss Candy collection but if you love using jellies for nail art, you'll want to check these out.
The Sally Hansen Triple Shine Palm Beach Jellies are available now at drugstores and mass retailers nationwide. Triple Shine nail polish retails for $4.99/ea.
What are you wearing on this #ManiMonday? Share with me on Twitter or Instagram. Have you spotted the Palm Beach Jellies yet? Which colors do you plan to pick up?
Disclosure: Product samples were provided by reps for Sally Hansen. For more info view my
Disclosure Policy
.