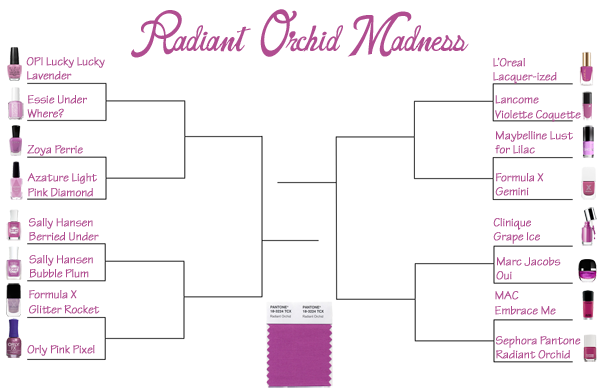 If you're in the same boat as me, your NCAA March Madness bracket was busted pretty early on. Wichita State took me down, I picked them to win, and I lost interest. Though I do applaud all the underdogs that made it so far (Dayton Flyers).
So, now with all that craziness behind me, it's time to focus on the real battle, a smack-down to determine the best Radiant Orchid nail polish. That's right, it's Radiant Orchid Madness.
Last year's Emerald Madness tournament was so much fun, I decided to bring it back. I've selected the 16 best representations of the Pantone Color of The Year and now it's up to all of you to determine the winner. Let's get started!

Determining The Sweet Sixteen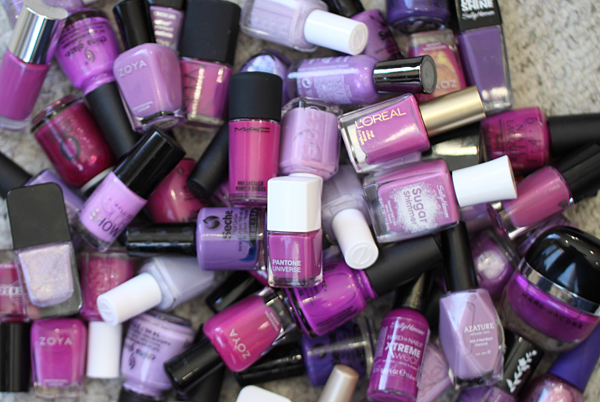 As it did last year, the process begins with a pile of polish to sort through. Now, Radiant Orchid is a very specific color with very few dead-on matches. And, obviously, everyone's interpretations of the color are varied as I received brand submissions ranging from grape to lilac. So, I took a little leeway with my shade selection.
Some colors are lighter, darker, more purple, more pink but all have the Radiant Orchid essence. And, at the end of the day, it's not about being a Radiant Orchid dupe, it's about you choosing the nail polish you like best.
Vote
Voting is now closed but here are the original 16 contenders.
| | |
| --- | --- |
| OPI Lucky Lucky Lavender | Essie Under Where? |
| | |
| Zoya Perrie | Azature Light Pink Diamond |
| | |
| Sally Hansen Sugar Shimmer Berried Under | Sally Hansen Sugar Coat Bubble Plum |
| | |
| Formula X Glitter Rocket | Orly FX Pink Pixel |
| | |
| L'Oreal Paris Lacquer-ized | Lancome Violette Coquette |
| | |
| Maybelline Color Show Lust For Lilac | Formula X Gemini |
| | |
| Clinique Grape Ice | Marc Jacobs Oui |
| | |
| MAC Embrace Me | Sephora + Pantone Universe Radiant Orchid |
| | |
You have from now until Sunday, April 6th to vote. Results and the next round of voting will be revealed on Monday, April 7th.
Encourage your friends to vote for your favorite colors using the hashtag #ROMadness or [TWEET THIS]
I hope you enjoy Radiant Orchid Madness and I can't wait to see which color will be crowned the Best Radiant Orchid Nail Polish!