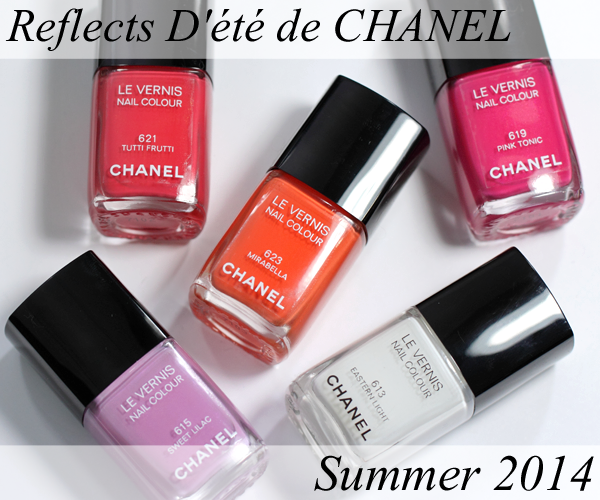 Mix. Match. Mismatch. The pairing possibilities are endless…the bolder, the better.
The overiding theme of Chanel's Summer 2014 Collection, Reflets D'Été de Chanel, is all about mixing rich, bold color. The four, new super saturated Chanel nail polish shades (Eastern Light is a re-promote) certainly lend themselves to the art of color combining.


Formula & Application
Chanel Le Vernis is 5-Free (free of DBP, Toluene, Formaldehyde, Formaldehyde Resin and Camphor). The signature square glass bottles are topped with a black square outer cap that is removed to reveal a stubby, round, ribbed inner cap. The brush is round, medium in length and width and reminds me of the old OPI brushes. It easily fans out and covers the nail without much resistance.
The consistency of the polishes in this collection is thin and pliable but packed with pigment, with the white being the one exception. The rest are all two coat confections that dry nice and glossy. Whites are notoriously difficult and Eastern Light certainly continues the tradition. It's streaky and not the best at self leveling. I needed three coats and still wasn't happy with the finish.

Chanel Eastern Light is back after first appearing last year. It is a pretty basic white creme.
Chanel Mirabella is a warm, nectarine orange creme that leans towards mango. Compared to past Chanel shades, Orange Fizz and LA Sunset, it's much darker and more orange, less peach.
Chanel Pink Tonic is a cool, hot pink creme. It falls in between other Chanel pinks in this range, Riviera and Pulsion.
Chanel Sweet Lilac is a pink-based, pale purple creme. It has that hidden Chanel shimmer you see in the bottle but simply adds depth on the nail. It's much lighter than Chanel Rodeo Drive.
Chanel Tutti Frutti is a fruit punch, pink-based coral creme. Like Sweet Lilac there's a subtle shimmer. It's a bit more apparent on the nail but you really have to look for it. Where Chanel Lilis was more of an orange/red coral, Tutti Frutti is on the opposite end of the coral spectrum.

Bottom Line: At first glance, this collection is one I would easily pass by. Five cremes, including one streaky, problem-child white doesn't read as overly unique. Especially after the shimmery route that Chanel went last summer.
I mean, I love a great creme and four of these are very well formulated but the colors aren't overly original. However, I'm struck by Tutti Frutti and it's definitely my standout of the summer shades. Eastern Light, on the other hand, gets a huge thumbs down. It should be permanently retired.
The Chanel Summer 2014 Nail Polish colors are available now is available now at Chanel counters nationwide and online at Chanel.com, Nordstrom.com and Macys.com. Chanel Le Vernis retails for $27/ea for a .4oz bottle.
Thoughts on these new Chanel shades? Were you happy to see Eastern Light come back? What are your favorite Chanel summer colors ever?
Disclosure: Product samples were provided by reps for Chanel. Affiliate links appear in this post. When you purchase through an affiliate link, you help support this site. For more info view my
Disclosure Policy
.