Fans of Zoya PixieDust have been champing at the bit for the Zoya Magical Pixie collection, ever since it was announced last month. For Spring 2014, Zoya is taking PixieDust to another level with the inclusion of holographic glitters. It's a full-on, textured glitter party!


Formula & Application
Zoya PixieDust nail polish is 5-Free (free of DBP, Toluene, Formaldehyde, Formaldehyde Resin and Camphor). Their signature Italian glass bottles have a tapered, matte black cap that rests comfortably between the thumb and index finger while polishing. The brush is short, round and medium in girth with flexible bristles that allow for ease of control.
The consistency of the Magical Pixies are nice and smooth on the first coat. The chunky glitter is well dispersed so you don't need to place it on. On subsequent coats, however, the large sequins made the layers go on a bit patchy so I dabbed a bit here and there to get even coverage. You could probably get away with two thicker coats but I used three medium coats instead.
As with previous PixieDust releases, they dry with a sparkling, matte, sand texture that is intended to be worn without top coat. Unlike past PixieDust shades, the addition of the large glitter sequins results in a rougher, chunkier texture that looks a bit heavy on the nail. Like an amped up version of OPI Get Your Number. Also, the chunky glitter means removal is a tad more strenuous than your average PixieDust.

Zoya PixieDust Cosmo is a silver based texture with multi-sized, hexagonal, holographic glitters. The same holo sequins appear in all three shades.
Zoya PixieDust Lux is described as a rose quartz and that's pretty dead on for this cool-toned pink texture. Though, due to the amount of silver & holo glitter inside, at certain angles it doesn't read as saturated on the nail as in the bottle.
Zoya PixieDust Vega is a light blue with leanings towards seafoam. This one completely retains its color depth on the nail.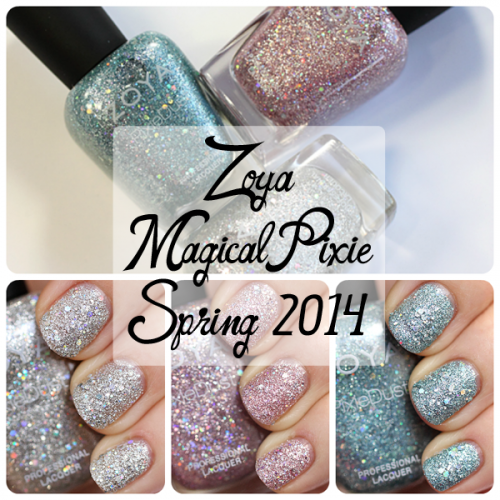 Bottom Line: As much as I'm a fan of the PixieDust line, and I'm a card-carrying fangirl, the chunkiness of the holo glitter is too much. I love how smooth the originals are in application and and wear. However, if you don't mind extreme textures, the holographic glitter is very cool in the light and the colors are very pretty for spring. For me, the overall feel, with the sand texture and the multi-sized sequins combined, is too tactile.
Zoya Magical Pixie is available now at salons and spas nationwide including ULTA stores and online at Zoya.com. Zoya PixieDust retails for $10/ea for a .5oz bottle.
Deal Alert: Get a Mini Magical Pixie Trio (.25oz bottles) now through 2/19/14 on Zoya.com FREE with any purchase of $30 or more. Use code: MAGIC at checkout. It's a great way to experience this collection without the full-size commitment. Spend $35+ and get free shipping.
What are your thoughts on the Magical Pixie shades? Do you like the addition of holo glitters? Which ones do you plan to buy?
Disclosure: Product samples were provided by reps for Zoya. For more info view my
Disclosure Policy
.