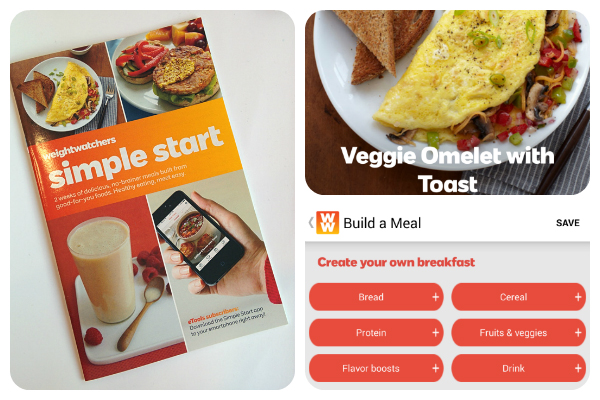 Remember my beauty resolution to be more diligent in my Weight Watchers tracking? Yeah, well, I was doing great up until the cruise. I even dropped a few pounds. Then, after a week of throwing caution to the wind, food-wise, a righteous bout of Norovirus and a week of being happy to actually eat again, it's time to get serious, people!
But, as anyone who has ever begun a healthy eating plan knows, getting started is the hardest part. You keep saying "I'll start tomorrow," when you don't feel like cooking and end up in line at Chipotle or your friend calls and wants to catch up over dinner at your favorite Indian restaurant. We've all been there. Well, today is really my tomorrow and I'm doing it with the new Weight Watchers Simple Start program.
Simple Start is a two week, point counting-free, intro course into the world of Weight Watchers. Even though I've been a paying member for over over 2 years, and know point values like the back of my hand, when the people at Weight Watchers asked me to give Simple Start a try, I couldn't say no. I truly believe in their philosophy as it has helped me achieve and maintain weight loss in the past.
Simple Start is based on the Simply Filling technique which focuses on Power Foods that fill you up without weighing you down. There's no tracking or portion sizes to worry about. You just eat until you feel full. The idea is that their "power foods" are so filling and healthy, you won't overeat. Plus, you get daily indulgences for things like wine, chocolate, cheese and popcorn (you know, the four basic food groups). I mean, this popcorn junkie can't go cold turkey.
So, for the next two weeks I'll be trying the Simple Start plan and documenting my progress on Instagram and Twitter with a final wrap-up here on the blog. I hope you'll follow along with encouragement and maybe my journey will inspire you to make healthier choices.
How many of you have been, or currently are, Weight Watchers members? What methods do you use to eat healthy?
Disclosure: Weight Watchers provided me with an online membership and smartphone for use with the program. All opinions are my own. For more info view my Disclosure Policy.