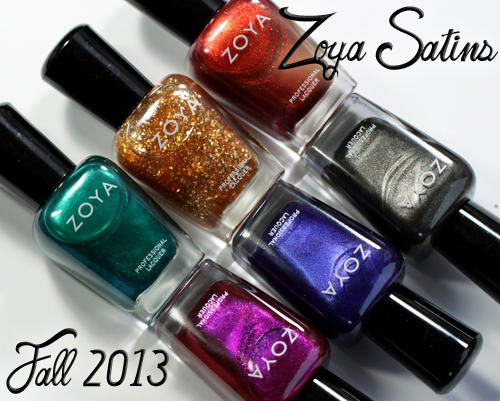 This Fall, Zoya is doing their part in removing the negative connotation I associate with satin. Maybe it's just me but, outside of the benefits of sleeping on a satin pillowcase (it helps maintain a blowout), I always think of satin as being cheesy, like an 80s prom dress. Let's face it, satin is a silk wannabe.
However, one look at the Zoya Satins collection for Fall 2013 and you know this is no shabby knock-off. It's pure, luxurious color!

Formula & Application: Zoya nail polish is 5-Free (free of Formaldehyde, Toluene, DBP, Formaldehyde Resin & Camphor). Their signature Italian glass bottles have a tapered, shiny black plastic cap that rests comfortably between the thumb and index finger while polishing. The brush is short, round and medium in girth with flexible bristles that allow for ease of control.
The Zoya polishes feel a bit thin and watery but they spread easily and have great pigmentation. Giovanna can look a bit brush-stroke-y if you're not careful but not obnoxiously so. With all of the polishes, except Maria Luisa (because it's a glitter top coat), I was able to achieve full coverage with two thin coats. As I shared in my Zoya Ivanka Wear Test, Zoya nail polishes wear best with the full Zoya Color Lock System or top coats that exclude Cellulose Acetate Butyrate.

Zoya Channing
is a coppery red metallic with an overall rusty feel to it. In the bottle you can see swirls of gold fleck but they kind of melt into the background on the nail.
Zoya Claudine
is a charcoal grey shimmer with silvery pearl. On the nail, it sparkles like a freshly sharpened graphite pencil.
Zoya Giovanna
is described as an emerald shade but I see it more as teal. Even more vivid in person, it's one of those shades you really have to see to truly appreciate. This one has the most pearl/metallic look to it of the bunch so, be a bit more precise in application.
Zoya Mason
 has this incredible "lit from within" glow to it. The red violet/fuchsia shimmer has an almost glass-fleck appearance to it with its tiny pink sparkles floating just under the surface like fireflies.
Zoya Neve
is a shimmering sapphire that leans towards indigo. You can see hints of purple sparkle that keep it from landing firmly on #TeamBlue. Anyone else see the name of this polish and wish there was more Neve Campbell on their TV screens? She deserves more than last year's guest stint on Grey's, no?
Finally, Zoya Maria Luisa
is warm, golden foil fleck top coat that can be layered over any of the shades, though it's not a great match for Claudine. Zoya shows a full coverage swatch on their site and I'd LOVE to know how many layers that took. I'm guessing at least 5 or 6, if not more. This is really a polish best used for layering.
I'm showing it below over Giovanna, Channing, Mason and Neve with Channing being my favorite pairing. It just feels so fall.

Bottom Line: It's not normally my speed but I'm all about Mason. There's something about the dimension in that color that I can't look away from. Neve is another special treat. I have an entire Helmer full of blues and yet, Neve stands out as a unique and drool-worthy hue. Finally, Channing gets a thumbs up for its perfect-for-fall warmth and coziness. It makes me want to wear fuzzy sweaters and check out the fall foliage.
The Zoya Satins collection is available on Zoya.com. Zoya nail polishes retail for $8/ea for a .5oz bottle. Don't forget, you can try before you buy with the Zoya Color Spoon program.
So, which of the Satins are calling your name? Is there a Maria Luisa layering combo you like best?
Disclosure: Product samples were provided by reps for Zoya. Affiliate links appear in this post. When you purchase through an affiliate link, you help support this site. For more info view my Disclosure Policy.