With all the new fall collections launching, I keep thinking that it won't be long before I'm pulling out boots and sweaters. I love fall weather but I hate the snow and cold that so quickly follows it. So, before I launch into reviewing everything that's new, I thought it would be fun to use this #ThrowbackThursday to look back at the Zoya Diva Fall 2012 collection.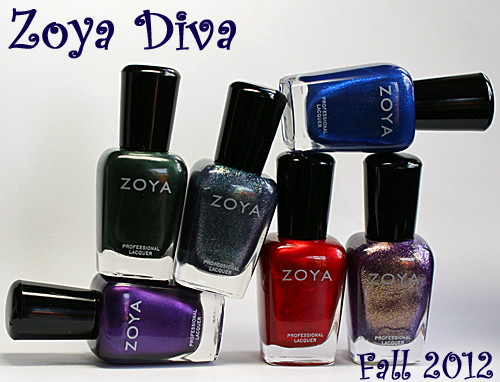 One of the many things I love about Zoya is that, for the most part, their seasonal collections aren't limited edition. They may not be readily available in stores but you can still find them on Zoya.com. Such is the case with the NYFW-inspired Diva collection. With purple and blue gaining traction as on-trend hues for Fall 2013, the collection is just as relevant this year.

Formula & Application: Zoya nail polish is 5-Free (free of Formaldehyde, Toluene, DBP, Formaldehyde Resin & Camphor). Their signature Italian glass bottles have a tapered, shiny black plastic cap that rests comfortably between the thumb and index finger while polishing. The brush is short, round and medium in girth with flexible bristles that allow for ease of control.
The Zoya polishes feel a bit thin and watery but they spread easily and have great pigmentation giving full coverage. For the most part I was able to get away with two thin coats but with the two foil metallics I used three. As I shared in my Zoya Ivanka Wear Test, Zoya nail polishes wear best with the full Zoya Color Lock System or top coats that exclude Cellulose Acetate Butyrate.

Zoya Daul is a foil and glass fleck metallic with a violet base and gold flecks. It reminds me of Zoya Faye but with a cooler base color.
Zoya Elisa is a rich cherry red shimmer. It's vivid with amazing depth and a lit-from-within quality.
Zoya FeiFei is a steely blue, foil metallic sparkler packed with a cornucopia of colored flecks. Everything ranging from pink to gold to green, giving it a slight duo-chrome feel. In some ways it's like an icier version of one of my all-time favorite Zoya shades, Zoya Crystal.
Zoya Ray is a blackened pine green shimmer. The silvery shimmer plays with the light and prevents it from feeling too moody.
Zoya Song is an electric sapphire with tiny, light blue, smooth flecks. It's absolutely captivating and even more gorgeous in person. The way the flecks swim in the base reminds me, a bit, of the jelly sandwich I created using the L'Oreal Miss Candy collection. This being a less chunky version, of course.
Zoya Suri is a vivid royal purple with a bit of warmth thanks to the reddish micro-shimmer. It's luscious and deep but not so dark that it loses its vibrancy.

Bottom Line: Every color in this collection is a winner in my book. Yes, even the red. They all bring something unique to the party and given the top notch formula and pigmentation, you can't go wrong picking up any of these shades.
The Zoya Diva collection is available on Zoya.com. Zoya nail polishes retail for $8/ea for a .5oz bottle. Don't forget, you can try before you buy with the Zoya Color Spoon program.
Which Zoya Diva shade is your favorite? Are there any colors you passed on last year that you're now considering?
Disclosure: Product samples were provided by Zoya. Affiliate links appear via the Zoya Share The Love program. For more info view my Disclosure Policy.