If any of the Zoya Stunning collection colors I reviewed yesterday piqued your interest, here's a deal that will make you pull the trigger on that order you're contemplating. It's Zoya's Summer Flashback BOGO.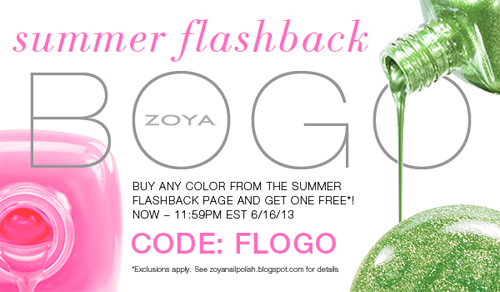 Unlike a lot of brands that release limited edition seasonal collections, one of the things I love about Zoya is that they keep their colors around. So all those fan faves, like the Zoya Sparkle & Zoya Ooh-La-La collections, are still around for Zoya newbies.
The Deal: From now through June 16th, 2013, buy any color on the Zoya Summer Flashback Sale page and get one free. Use code FLOGO to receive the discount. BONUS: Buy four shades, get four free and receive FREE GROUND SHIPPING.
For full details, including terms & conditions, visit the Zoya blog.
Which Flashback colors are you planning to scoop up? Are you using this sale to get backups of any of your faves? Share your haul in the comments!