Oh the weather outside is frightful, But the fire is so delightful,
And since we've no place to go, Let It Snow! Let It Snow! Let It Snow!
We've already had our first snowfall of the season here in the CLE and the last thing I want to do is encourage it to come trickling down. However, that didn't stop China Glaze, who is based in sunny California, from putting that earworm in my head.
For Holiday 2011, China Glaze introduces Let It Snow, a collection of twelve festive shades based on the season of giving.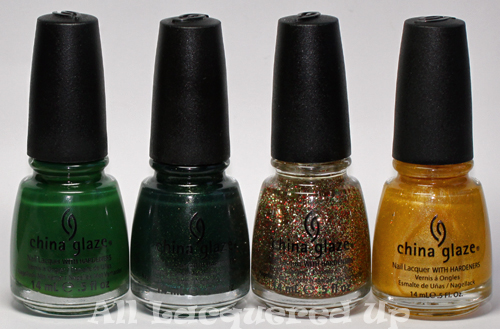 When I previewed Let It Snow during my trip to Cosmoprof, I noticed that the collection's display broke down the colors into three harmonious groups of four; Greens & Golds, Blue & Silvers and Reds. I decided to follow their lead and am starting with the Greens and Golds; Holly-Day, Glittering Garland, Twinkle Lights and Champagne Bubbles.

Formula & Application: China Glaze is a 3-Free brand with a round brush that is both medium in length and firmness with enough give to allow for ease of control. The cap is slightly tapered and made of smooth plastic that is comfortable to hold.
I am really impressed with the pigmentation in all four polishes. Even the glitter, with its clear base, is so dense that it wasn't hard to get coverage. Of course I still needed three coats but the other three all flowed on easily with two coats. The China Glaze formula has a pretty signature squishy feel that I find aids in application. It makes the polish easier to control. Sometimes that can mean pigment is lacking but not in this case. All the polishes were a pleasure to deal with for the most part (see Champagne Bubbles).

China Glaze Glittering Garland is a wonderful mix of glitter, jelly and glass fleck. The blackened forest base has that squishy texture you would expect from a jelly yet it's really pigmented. The combination of gold and green micro-glitter and glass fleck brighten up what could be a really dark polish. They play with the light showing a hint of sparkle no matter how low it is.
Of course the question is, how does it compare to my all-time favorite dazzling green, China Glaze Emerald Sparkle? For starters, GG has more yellow in its base, think evergreen vs forest, and the light green fleck in ES is replaced with gold giving an overall warmer appearance.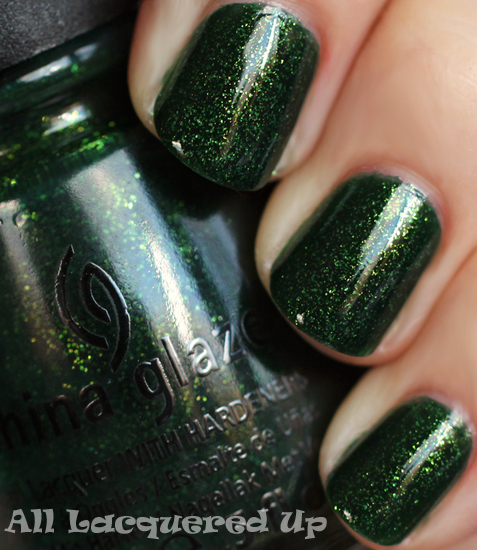 China Glaze Holly-Day looks like your average hunter green creme and, if you aren't a green connoisseur like me, for all intents and purposes it is. Though if you are in the market for a chic, glossy green that falls somewhere between Astroturf and almost-black, Holly-Day will hit the spot. The pigmentation and application are so spot on, it is a pleasure to apply.
Amazingly enough I didn't find a dupe for it in my stash though I came across two close calls. Holly-Day falls in line between Nubar Forest and RBL Recycle. A little darker than Forest, more yellow than Recycle. Considering the formula, price tag and accessibility of H-D, I would definitely opt for it over the other two.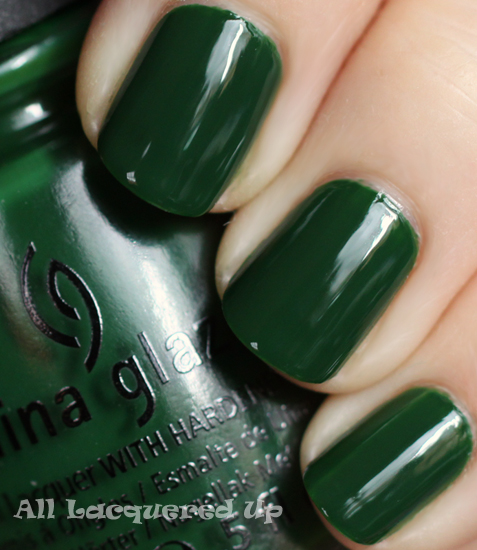 China Glaze Champagne Bubbles is not quite the pale hue that comes to mind when I think of champagne. It's a slightly burnished yellow gold frost/chrome peppered with silver flecks. The finish of the base can make avoiding brush strokes a bit more labor intensive but the silver particles help diffuse the situation. Application tip – apply the polish to the sides of the nail first (strokes 1 & 2) and finish with one clean stroke down the middle to blend.
My first thought upon seeing Champagne Bubbles was China Glaze Cowardly Lyin'. Not the updated 2009 version but the old school (pre-AII buyout) version. CB has the same frosty base as the original CL, maybe a touch more golden, though the glitz component makes the big difference. CB's silver flecks are a far cry different than the everything-is-illuminated gold glitter in CL.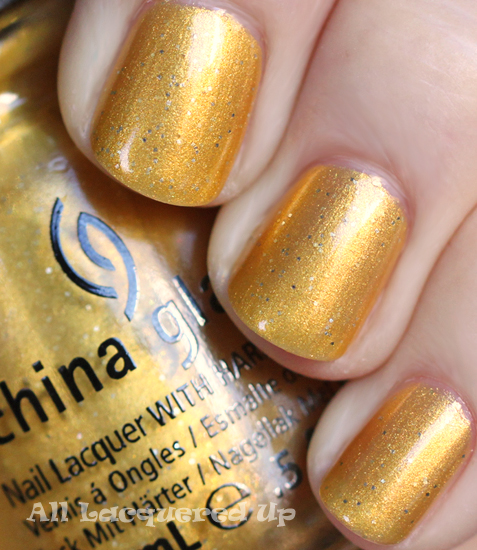 China Glaze Twinkle Lights really needs to be seen in incandescent light to be appreciated. It's like the glitter comes alive as it takes on a foil-esque appearance. The clear base is packed with metallic red, green and gold glitter particles. As I stated above, I used three thin coats to get good coverage without sacrificing wear time. I find that thick layers of glitter are prone to chipping.
Off the top of my head I can't think of a polish with this exact shape and color palate of glitter though I'm sure someone will come up with a dupe in the comments.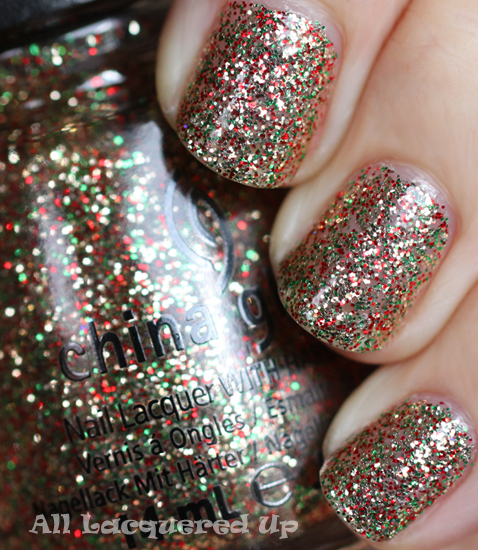 Bottom Line:While the colors aren't exactly ground breaking, the formula, pigmentation and application of all four polishes make them stash-worthy. I'm considering Holly-Day a backup for Recycle and Glittering Garland is the hands down winner of this group. Being that I have both version of Cowardly Lyin' I don't see a point, personally, in hanging on to Champagne Bubbles. I also have 5 Golden Rings which I prefer over any of them in spite of its sheerness. Twinkle Lights is a perfect holiday themed glitter and makes an excellent top coat.
The China Glaze Let It Snow Holiday 2011 collection is available now at salons and beauty supply stores nationwide including Sally Beauty and ULTA. Online shoppers can head to Head2ToeBeauty.com, TransDesign.com and ULTA.com. China Glaze nail polishes retail for $3-6.50/ea, depending on the retailer, for a .5oz bottle. Twelve gift sets are also available that include adorable gift items with different combinations of colors from the collection.
Thoughts on this first part of the collection? Which colors do you plan to pick up? Do you opt for traditional holiday colors like green, red, gold, etc? What is your favorite China Glaze Holiday collection/polish?
Disclosure: Product samples were provided by reps for China Glaze. For more info view my Disclosure Policy.