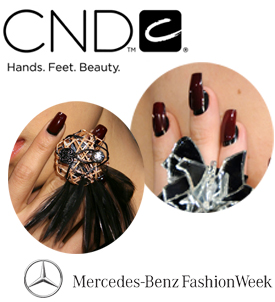 Day 3 of New York Fashion Week was my first official day of covering backstage. I started out bright and early at my can't miss show, Diego Binetti. I've gushed over and over again about how Diego "gets" nails and how each season the combination of his inspiration joined with the creativity of Jan Arnold and the entire CND team continues to amaze me. This season is no different.

I walked backstage and was greeted with a, "Are you ready to die?" and that was all I needed to hear. I knew it was on. Game. Set. Match. CND!

CND worked with two designers on Day 3, Diego Binetti and Altuzarra. At Altuzarra, the nails were left clean with a coat of Super Matte Top Coat to give them texture, like a piece of fabric. Now I get that nail color is not always the right choice for a designer and that healthy, well manicured nails can be as much of an accessory as a blood red tip but it does nothing for me.  Truth of the matter is, Binetti got my focus and nothing else could compete.
At Binetti, CND's Kristina Estabrooks created the ultimate in nail art – the ManiCUBE, a Cubism-inspired style with a Blackjack base on natural nails and "slim-lined" with tips coated in Bloodline over Raisin in the Sun. After the initial color was applied, manicures were embellished with 18 individual custom made adornments comprised of broken glass, fragmented mirrors, hardware nails, and dramatic noir feathers. The black swan to last season's innocent and sweet Cocktail Ring Nail, this look was elegant, edgy and breathtaking.
I discussed the "slim-line" technique last year after complaining about my wide nail beds to CND's Roxanne Valinoti.  In this interpretation of the technique, a slimmed down burgundy tip was placed over the black base color to elongate and thin the nails.  In addition to the slim-line nails each model was given a special nail art piece to wear but because each one was so unique, I'm going to cover them in a separate post.  For now, let's just drool over the nail porn and get on with today's giveaway.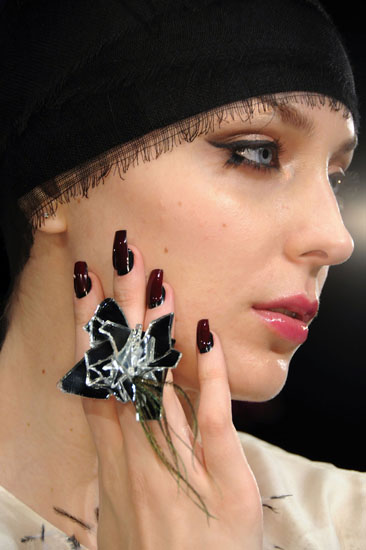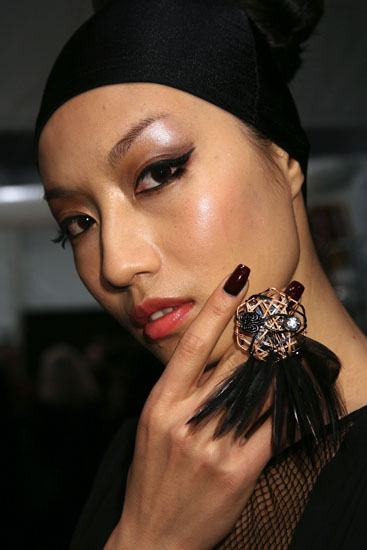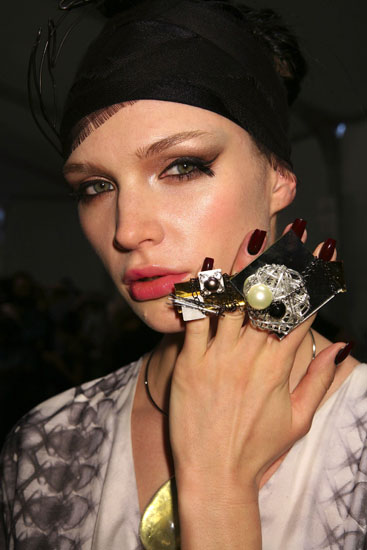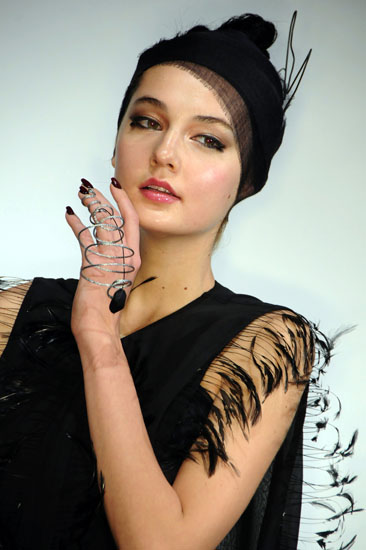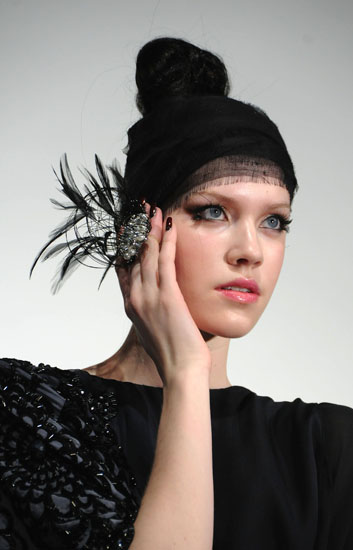 Since there aren't multiple looks for you to weigh in on, tell me which of the 5 nail art pieces is your favorite.  Also, I'd love to hear what you think of this type of "slim-line" nail.  Just leave a comment for your chance to win one bottle each of Blackjack, Raisin In The Sun and Bloodline.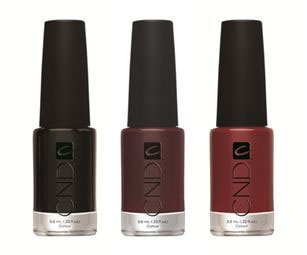 Entries will be accepted until Midnight EST. Leave a comment and make sure you include your email address in the comment form, but not the actual body of the comment (for privacy reasons).