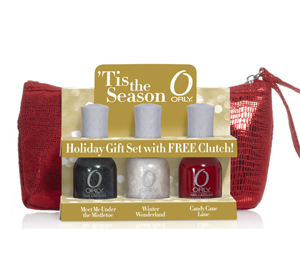 One of the things I always look forward to when the holiday collections come out are the gift sets. Whether it is sets of minis or a selection of colors paired with a fun gift item, I always get suckered in.

If a set includes a bag, a cute stuffed animal, a holiday themed tool, etc. you can pretty much bet I'm all over it. The Orly 'Tis The Season gift set is no exception.

Of the six polishes in the 'Tis The Season collection, Orly paired the traditional red creme, luscious green sparkler and white, icing-esque sheer with a metallic red clutch.

Formula & Application: Orly nail polishes are 4-Free (which includes Formaldehyde Resin) and comes with the fan fave rubberized cap. That signature easy-to-grip cap makes it easy to control the polish. The brush is long and thin with flexible bristles. I personally would like it if there were more bristles to get more coverage in each stroke.
Each polish in this set is a bit different so I will cover the application in the individual reviews.

Meet Me Under The Mistletoe has a blue tinged evergreen base packed with fish food flaky glitter that reflects as light green, emerald green and gold. The finish looks similar to the Orly Cosmic FX collection only without the duo-chrome effect. To keep all those glowing flaky glitter particles suspended, the formula is a bit on the sheer side so I needed three coats to get the color completely opaque.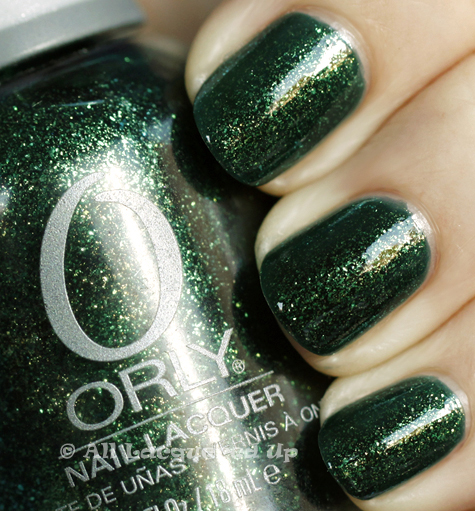 Candy Cane Lane is your average holiday red creme. It's a punchy, bold hue that has a touch of warmth in spite of its berry base. It's got a kind of jelly finish look to it rather than being creamy so it applies a bit sheer. I ended up using three coats and I have to say this one applied a little odd. It was hard to apply it perfectly, as evidenced below, so the third coat was necessary partially due to opacity but also due to application issues.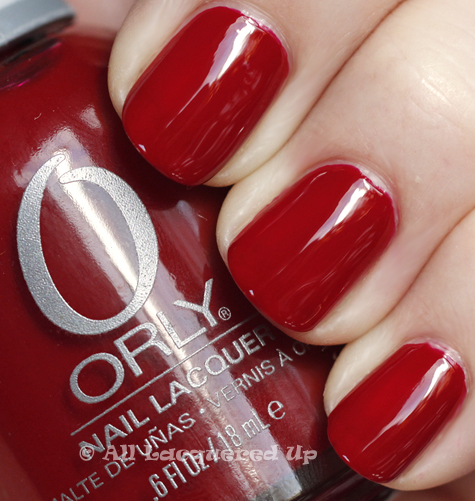 On its own Winter Wonderland does not thrill me. Sheers and I are not friends. I hate seeing my nails naked due to how detached my tips are and wearing a sheer just emphasizes that. I applied two coats in the swatch below and because the base is clear, unless your nails are hit by light, you don't see the silver flakes floating in the polish. This is definitely best used for layering.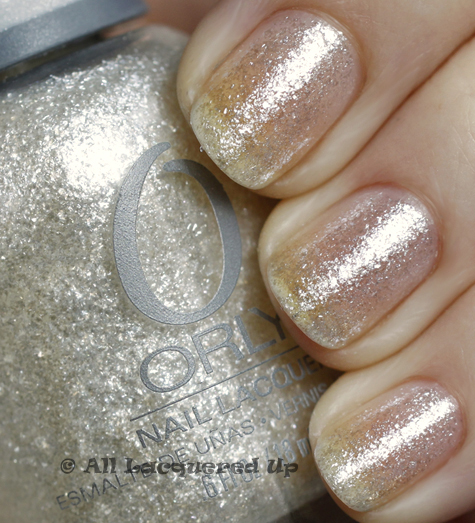 Throw a layer of Winter Wonderland over Candy Cane Lane and bring that ho hum red to life. It's like tinsel on a Christmas tree. Actually this is an odd reference but it makes me think of that movie How To Lose A Guy In 10 Days when Kate Hudson's character calls a blinged out dog collar, "a little frosting." With Winter Wonderland you can "frost yourself!"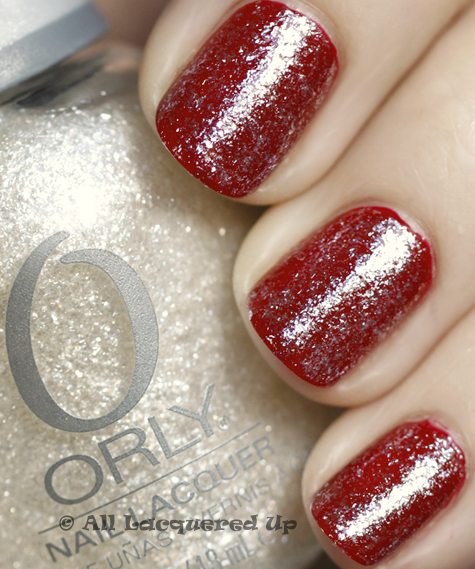 I wanted to see how Winter Wonderland would look over a green so I used Essie Going Incognito from the newly released Winter collection as a base. Doesn't it look like the first snowfall of the year, when the grass is still green? In this swatch I purposely applied WW thinner on the ring finger to show how heavy or light you can go with the effect.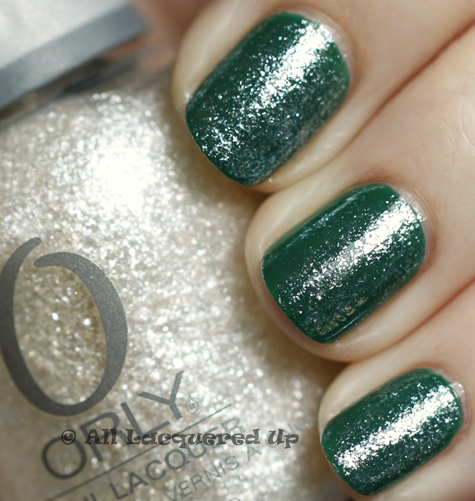 Bottom Line: As a gift set, it's a great stocking stuffer for the nail fanatic in your life. The clutch is adorable and would make a great makeup bag. It has a basic red that so many love at the holidays but includes a perfect way to kick that red up a notch. I love that of the six polishes in the Tis The Season collection Orly chose to include the green instead of playing it safe with another red or the gold.
The Orly 'Tis The Season Gift Set is available now along with the rest of the 'Tis The Season Collection. This set retails for $18 and individual Orly polishes retail for $6/ea for a .6oz bottle. Orly is carried at Sally Beauty Supply, ULTA, Regis and Trade Secret and can be found online at various e-tailers.
Who's loving this set? Even if you don't love every color in a gift set will the bonus items, like a clutch, get you to buy it anyway? Would you buy this set for a friend or loved one?
Disclosure: Product samples were provided by Orly. For more info view my Disclosure Policy.