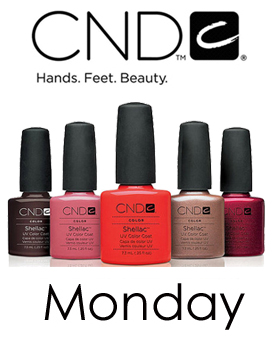 In this special edition of CND Monday, ALU's new contributor Christine shares her CND Shellac experience with us.

As I mentioned in my Cosmoprof Recap, Christine is a fellow polish fanatic who I met through the Specktra message boards.  Like me, she's all about nails, makeup and hair but what's funny is that as a chemical engineer she spends a lot of her day out in the field, surrounded by guys, wearing a hard hat and getting dirty!  Not very girlie.  But one thing Christine is known for at work is her crazy colored manicures.  She always has some fun color or nail art going on. While I still refuse to take the plunge into Konad-land she has fully embraced it.

Since I tried Shellac way back in February I thought it would be fun to get another perspective on the product now that it's fully launched.  Thankfully CND was able to accommodate us during Cosmoprof so Christine could get the full Shellac experience.  Here's her take:

Getting the opportunity to attend Cosmoprof with Michelle was in itself exciting. I had my own Press Pass! How cool is that? When Michelle told me she scheduled me an appointment to get Shellac'd at CND, I could not have been more thrilled! After all, I am your typical DIY nail polish fanatic. I change my polish so often, it doesn't pay to get regular manicures, but I was really looking forward to having a little pampering.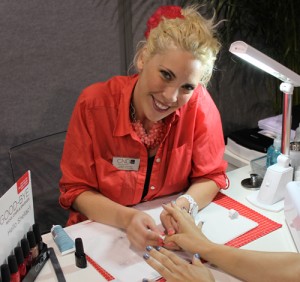 I sat down in the chair around noon, and was introduced to Torie Savickis, a CND Education Ambassador, who proceeded to discuss with me the color options for Shellac.

Now, the core line of Shellac polishes are your basic nudes, pinks, and reds, normally colors I don't wear. However, these polishes can be layered, which exponentially increases your color options. Torie suggested a pewter shade, which would be created by layering Fedora with Strawberry Smoothie over top. Then she asked if I wanted to mix it up a little by adding some glitter on the tips. Um, YES!!! This was getting better and better!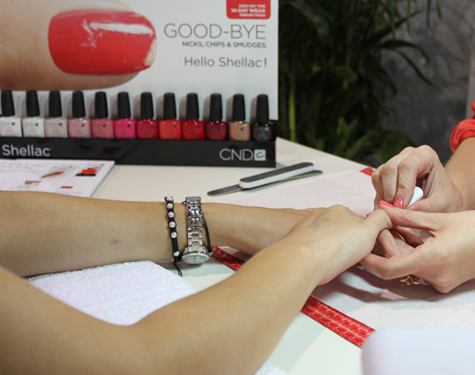 Torie proceeded to give me the most meticulous manicure of my life. Seriously, she went over my cuticles with the dexterity of a surgeon. My normally dry and flaky cuticles are embarrassing, but she somehow managed to get them looking like a magazine worthy photo.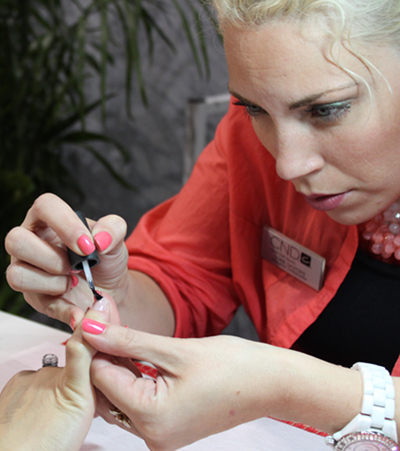 After all the nail prep work was finished, we started the polishing process. A base coat, followed by two coats of Fedora, plus one coat of Strawberry Smoothie were applied with painstaking, and I mean painstaking, care. If Torie wasn't happy with a coat of polish, she immediately swiped it off with remover and re-did it.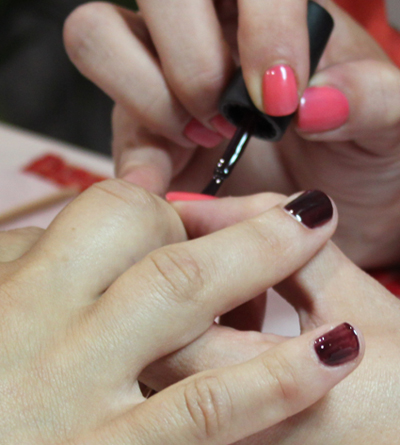 When I do my nails, I leave a fairly significant gap in between my cuticle and polish to avoid pooling and general sloppiness. Torie somehow managed to leave a nanoscopic gap between my cuticle and polish, virtually indiscernible. I was impressed to say the least.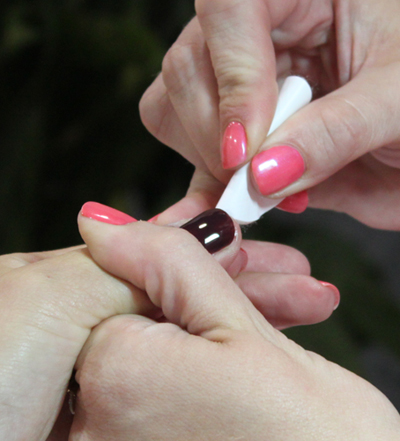 In between each coat of polish, you have to insert your hand into a UV light to let the polish cure. By the second coat of Fedora, my right thumb had issues and was not curing properly, so Torie had to completely re-do it from the beginning. The trick is to make sure your hand lies completely flat within the UV machine so the polish cures evenly on all sides. This isn't very ergonomic, as your thumb is not naturally on the same plane as your fingers. So to help, Torie advised me to hold my thumb up inside the UV machine. This seemed to work and we were able to move on.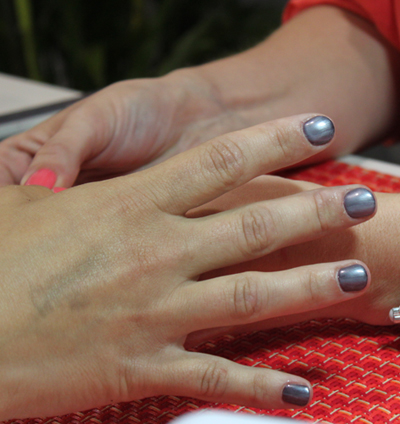 Now the fun part…the glitter. Torie wanted to add a little sparkle to my mani, and she added some cosmetic glitter, in a French-tip like manner. This isn't normal Shellac protocol, but we were having fun and experimenting. One topcoat would normally go over the polish, but since we had textured glitter, Torie applied about 3 topcoats, to ensure a smooth finish over the glitter.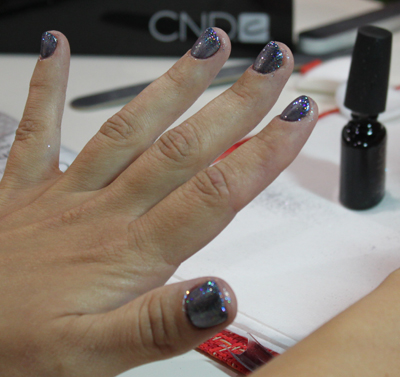 The finished product? After about 3 hours (we did a lot of chatting, plus the thumb mishap) I had sparkly pewter nails with holo-glitter tips. My nails are a bit thick, due to the fact that she added several topcoats to cover the glitter. I tried to peel the label off an apple the other day, and my nails were too thick to do it! I'm sure without the glitter and multiple topcoats, it wouldn't be an issue.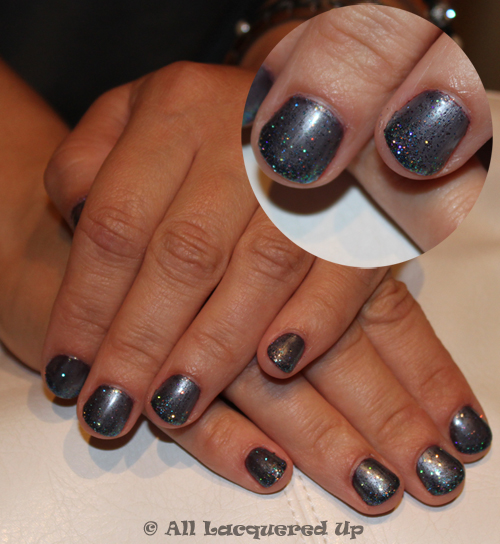 I have gotten so many compliments so far on my nails. In the sunlight, the color and effect are dazzling. I am so happy this is a long wearing product, because these nails are so fun, I would be devastated to have them chip early on. No worries though, it has been 8 days so far, and they are as glossy and flawless as the day Torie applied them.
For more info on CND Shellac and to find a salon offering the service visit CND.com.  Shellac service prices vary by location but the suggested price is 50% more than a traditional manicure service.
Fanatics in Chicagoland or Western Indiana can get Shellac'd by Torie at the Polished Pinky salon in Crown Point, IN.  Call 219.226.1550 for an appointment.
Tune in next Monday to read about how Shellac fared on Christine's nails after a few weeks of wear and what the removal process was like.
Have any of you had a Shellac manicure with layered colors? Share your manicurists creations with us. If you haven't tried Shellac yet because of the conservative color range, will a layering combo like this pewter color get you to change your mind?
Disclosure: Services were provided by CND free of charge for editorial consideration. For more info view my Disclosure Policy.