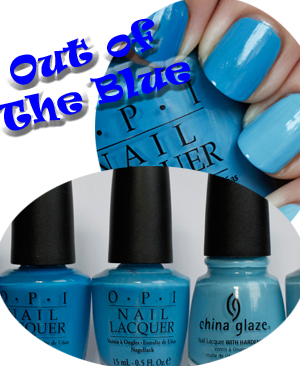 This weekend I'm headed to Sandusky, Ohio, home of the world's greatest amusement park, Cedar Point.  And I'm not just saying that because I worked there and it's in my home state. The park has been awarded that title nine times in a row.  With 17 roller coasters, it's a thrill seeker's nirvana.

The reason for my trip, a mini-reunion with some of my friends I used to work with back in the day.  Seriously, if you know any college students looking for a summer job, this is the place.  It's so much fun.  They recruit from all over the world and provide housing.  It's like college without all the books and classes.

Anywho, I wanted to do something fun with my nails and ever since I first tried an Ombre Multi-Colored Manicure, I've been meaning to do it again.  Only this time, instead of mixing my colors, I chose to use five existing shades to create the effect.

I spent a good thirty minutes hunting through my light blue polish drawer to find the right color combination.  I knew I wanted to keep it relatively light and bright so I decided to work from lightest to darkest.  OPI What's With The Cattitude? was an easy first choice and China Glaze Bahamian Escape was sitting right next to it in the drawer. It's like they knew what I was up to.  Choosing one Shrek color made it easy for me to pull OPI Ogre-The-Top-Blue but the last two shades were more of a challenge.
To help me decide, I swatched the colors on a piece of paper and started placing other shades next to the grouping until I found the right mix.  Some of the colors I considered; Orly Calypso Breeze, OPI Just Groovy, SpaRitual Crystal Eyes, Essie Shelter Island and Misa Pour Me Something Tall & Strong and OPI Dating A Royal.  None of them seemed to fit as well as OPI No Room For The Blues and Barry M Cobalt Blue.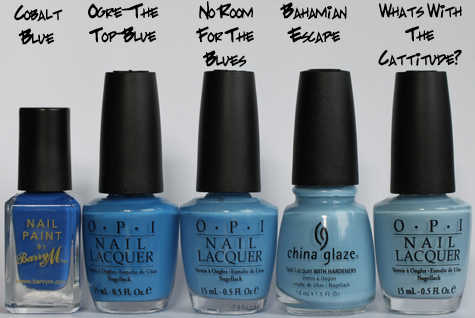 The overall effect is exactly what I wanted.  A bright, fun manicure with noticeable differences between each shade but nothing over-the-top.  Excuse the slight color variance of this pic.  I had to use my old point-n-shoot to fit my hand in front of the camera and the quality isn't as good as my DSLR.  Though how cute is my Hello Kitty ring?  I picked that up for $26 at the Sanrio store in the Fashion Show Mall in Vegas.  Score!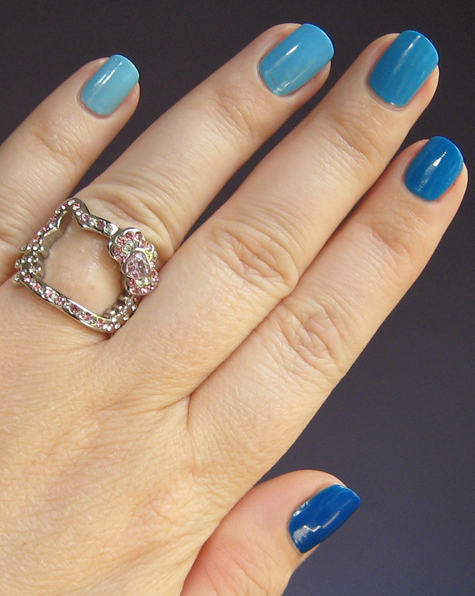 I seriously don't know how some girls can photograph all their fingers while holding a bottle of polish.  It feels so awkward and my thumb just doesn't bend that way. So here's the best closeup up I could contort my hand to take.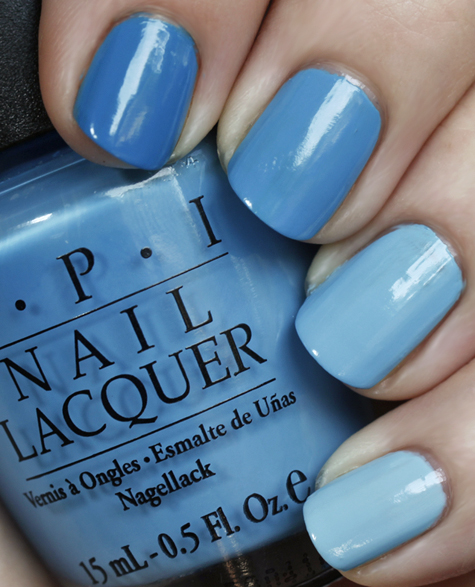 Are you feeling my multi-colored mani? What do you think of my color choices? Do you have a suggestion for a color that would have made it better?  Have any of you been to Cedar Point? Back me up on how incredible the park is.