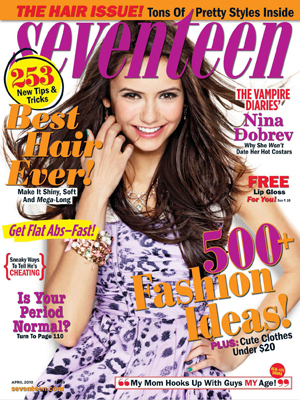 A few days ago Fanatic Ally contacted me asking about Nina Dobrev's nails in the April edition of Seventeen Magazine.  Since I'm not a subscriber (I'm a little beyond Seventeen's demo) I haven't seen the issue but I was able to find some pics online.  Needless to say, I pleasantly surprised to see a cover girl sporting GREEN nails!

The reason for Ally's email is that in the magazine, you can clearly see that Nina's nails were covered with chunky, random glitter yet the magazine recommended OPI Bling Dynasty to get the look.  Any of you who own Bling Dynasty know that it's a shimmering, opaque micro-glitter.  So how was Nina's look achieved?

Fortunately my pal Celebrity Manicurist Elle was the woman responsible for Nina's nail look so I gave her a ring to get the scoop.  Find out what she used after the jump!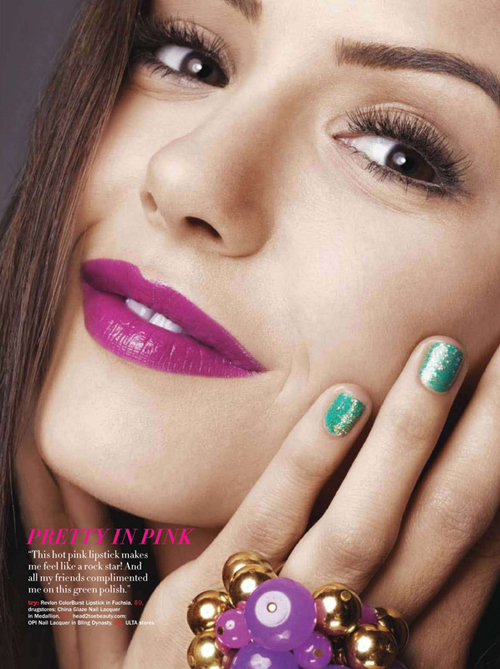 Elle sounded surprised when I asked if she did some type of nail art on Nina's nails.  You see at the time I had only spied a small version of the above image.  Thinking that Bling Dynasty was involved I assumed some sort of nail art technique was used.  Luckily Elle was able to set me straight letting me know that she used China Glaze Medallion, a gold glitter peppered with randomly shaped holographic particles.  She layered that over China Glaze Four Leaf Clover to create Nina's fun nail style.  I've shown the combo to you below with one coat of Medallion on my ring and pinkie nails and two coats on my middle finger.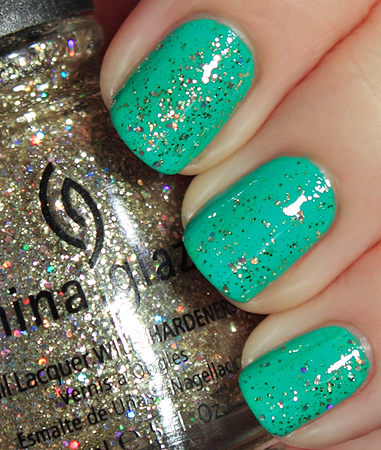 I took the pic above under artificial light to show how much it alters the color of Four Leaf Clover, similar to what you see on Nina in the magazine.  Below is my original swatch of Four Leaf Clover under natural light which still doesn't show off its vibrancy.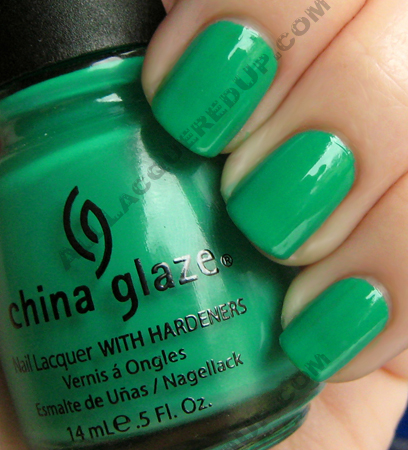 You can find China Glaze Four Leaf Clover and Medallion online at Head2ToeBeauty.com and TransDesign.com. China Glaze is also carried at Sally Beauty Supply but seasonal collection availability will vary by store.