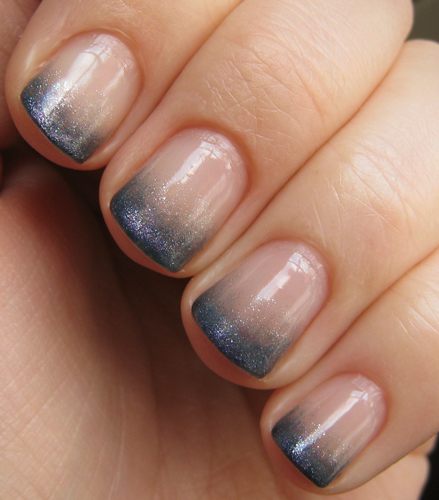 Last February I had my first experience with what is now becoming a major trend in nails; Soak-off UV Gel Nail Polish.  You see my pal Heather Park from SeoulDiva had been raving for months about this NYC salon Sakura and showing off her wicked cool nail art designs using the CalGel brand of soak-off polish.  Heather has managed to get more than a few of her friends hooked on Sakura including MAC Artist Keri B. who has posted some her designs on Twitter. You can read about my experience and see some more CalGel designs HERE.

Since that time Fanatics have emailed asking about CalGel and the other brands of soak-off polish on the market, including OPI's new Axxium product so I'm giving you the 411 on the whole soak-off phenomenon after the jump.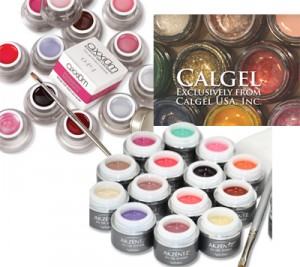 What is Soak-off Gel Polish?
Unlike a traditional nail polish, soak-off gel polish is painted on with a brush and each layer is "cured" under a UV light to dry. Soak-off Gels come in a wide array of colors and finishes and like our "frankenpolishes" they can be mixed to create new colors. The purple on my tips (above) was a custom blended shade.
What are the benefits?
Dry time – The UV light dries the polish within minutes which means no dry time, no smudging, no dents. Talk about the perfect winter pedicure choice
Long lasting – Soak-off Gel lasts from 2-3 weeks with no chipping.
Less damaging – Unlike traditional enhancements you don't have to fear the drills or filing down of your nails.
Works on natural nails – While you can add length if you choose, Soak-off Gel Polish can be used over a natural nail like traditional polish.
You can layer polish on top – If you want to change your color mid-manicure, you can. Paint right over Soak-Off Gel with regular nail polish and remove it with non-acetone remover.
What are the negatives?
Cost – Soak-off Gel Polish can only be applied by a professional and the service is more costly than a traditional manicure. If you are really skilled, you can buy a UV light and gel polish online but it's not a cheap set-up.
Removal – While Sakura offers fill-ins, if you want to change your color, you must completely remove the polish every time. You can either pay to have the polish professionally removed or do the soak-off process (or to the MUA nail board "foil method") at home. Soak a piece of cotton in acetone and then wrap the nail with aluminum foil. For me, even after soaking, I still had to file some of it off.
Nail growth shows – One of the reason's my pal Heather tends to wear CalGel designs with a clear base is because it makes nail growth less obvious. If you choose a dark, solid color, by week two, growth will be very apparent.
Time – Getting a Soak-off Gel manicure can take longer than a traditional manicure. Especially if you are getting a gradation, nail art or using a dark color. I've heard with the darker shades, you need quite a few coats to get it the right color.
Brands
Several brands make a soak-off product with a wide array of colors. The most talked about brands include Akzentz, Bio Sculpture Color Gel, CalGel, Dashing Diva Gelife, IBD, and OPI Axxium.  Akzentz, Bio Sculpture, CalGel and IBD come in a range of colors and finishes including glitter. Gelife is currently offering sheer, natural shades to enhance the nail's natural beauty but I hear they intend to offer additional colors.  Axxium comes in 26 colors based on existing OPI polish shades including You Don't Know Jacques, Russian Navy, I'm Not Really A Waitress, Lincoln Park After Dark and Bubble Bath.
Where can I get a Soak-off Gel Manicure?
I suggest contacting the companies to locate a salon near year using their products but make sure you investigate the salon and ask how long they've been using the product.  If you are interested in nail art or gradations, ask about their experience doing those as well and inquire about a website or online gallery of their work.
I emailed CalGel and found a salon on the west side of Cleveland and my salon John Robert's Salon & Spa just started offering OPI Axxium.  The last time I was there all the stylists I talked to who were wearing it, were really pleased.
And if you're in Rhode Island, I suggest you check out the Nail Gallery from Gel Essentialz and book an appointment with Gina Silvestro ASAP. My friend, Celebrity Manicurist Elle, told me about Gina and she creates some sick designs.
So how many of you are curious about Soak-off Gel Polish?  Have you tried it?  Tell us about your experience, including which brand you used, in the comments!