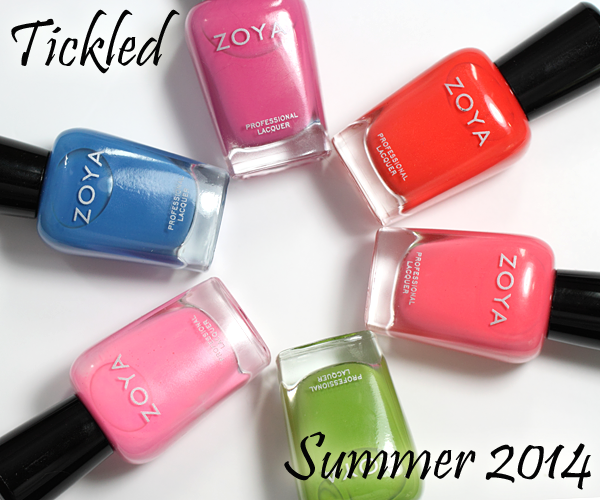 I'm a very ticklish person and I hate, sorry HATE, being tickled. Like, I may involuntarily kick you if you try. Something the boyfriend found out early in our relationship. Sorry, babe!
Though when Tickled means six creamy new nail polishes from Zoya, I'm all on board! As one of half of the Zoya Summer 2014 offerings, Tickled offers a great range of shades for everyone, from the more traditional to the avant garde.


Formula & Application
Zoya nail polish is 5-Free (Formaldehyde, Toluene, DBP, Formaldehyde Resin & Camphor). Their signature Italian glass bottles have a tapered, shiny black plastic cap that rests comfortably between the thumb and index finger while polishing. The brush is short, round and medium in girth with flexible bristles that allow for ease of control.
The consistency and pigmentation on all six shades is so strong that it made application an absolute pleasure. You know that feeling when a polish just flows so perfectly on the nail? Like it's so good you almost want to take it off and do it again? That's how these are. Two coats for a flawless, full coverage.
As I shared in my Zoya Ivanka Wear Test, Zoya nail polishes wear best with the full Zoya Color Lock System or top coats that exclude Cellulose Acetate Butyrate.

Zoya Kitridge is bubblegum pink on steroids. It's really vivid though not quite neon, so it dries glossy. Though I'm noticing that my bottle is showing patches of white, which is unusual. It's similar to Essie Boom Boom Room, though not as cool toned.
Zoya Ling is a hard blue to describe. I watched the Devil Wears Prada for the millionth time the other night and thought of Ling when the cerulean blue sweater that becomes the subject of Meryl Streep's tongue-lashing towards Anne Hathaway's character for calling fashion, "stuff," comes on screen.
Zoya Rocha is a poppy orange creme. A little sunburned but bold. It shows a bit of pearl in the bottle but it's the kind of understated shimmer that adds depth to a creme. Zoya Heidi is the closest Zoya shade to Rocha but it's not as rich or red.
Zoya Rooney is a hot pink creme. It's got a bit of warmth to it, instead of being a straight-up blue-based pink. It thought it might be a dupe for Zoya Lara but that one is actually darker and cooler, less rosy.
Zoya Tilda is as unique as the amazing actress who shares the same name. It's a yellow-based spring green creme that is unlike any other Zoya I own. The only shade that has a similar background is FingerPaints Mistful Thinking which is quite a bit lighter.
Zoya Wendy is decsribed as a "tickle pink" though, to me, it's a very pink-based coral. It has a lot of warmth to it and it's very bright. I keep thinking it looks like lipstick on the nail. I thought Zoya Elodie might be a good match but that is more of a true coral in comparison.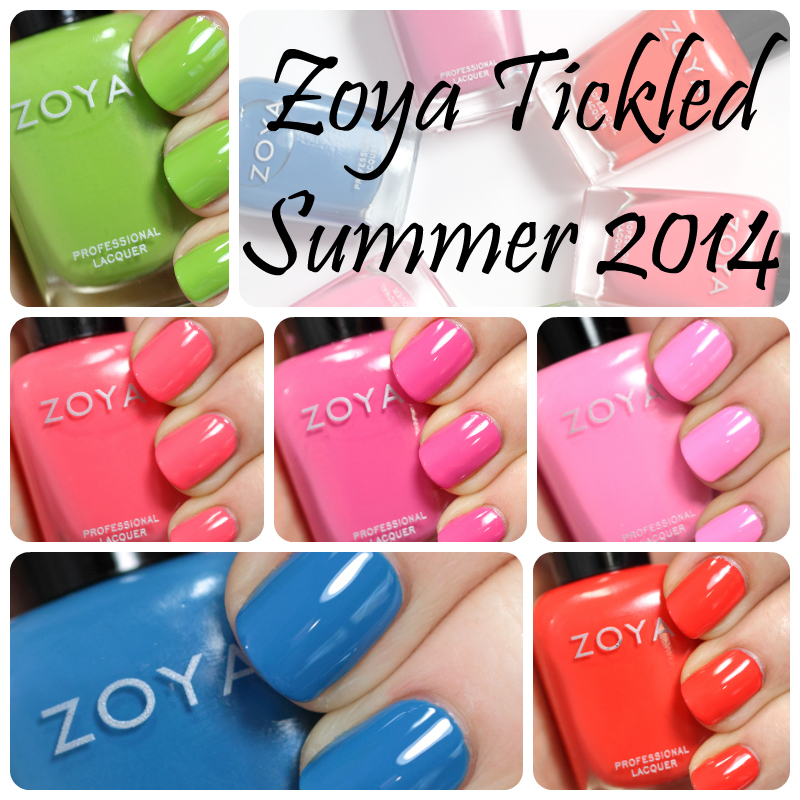 Bottom Line: I'm very much #TeamCreme this summer so Tickled really hits the spot. Ling became a fast favorite with Rocha not far behind. While I normally opt for cooler greens, Tilda doesn't cross over into "too yellow" territory. The added bonus of this collection is how great they look with their Bubbly collection counterparts on top. I still like sparkle on my toes so Ling and Muse is a combo I'll be wearing soon.
The Zoya Tickled collection is available now at salons nationwide, including ULTA stores and online at Zoya.com. Zoya nail polish retails for $9/ea.
Which Tickled shades strike your fancy? Do you prefer Bubbly or Tickled? Are you also on #TeamCreme this summer or is it all sparkle, all the time?
Disclosure: Product samples were provided by reps for Zoya. Affiliate links appear in this post. When you purchase through an affiliate link, you help support this site. For more info view my
Disclosure Policy
.