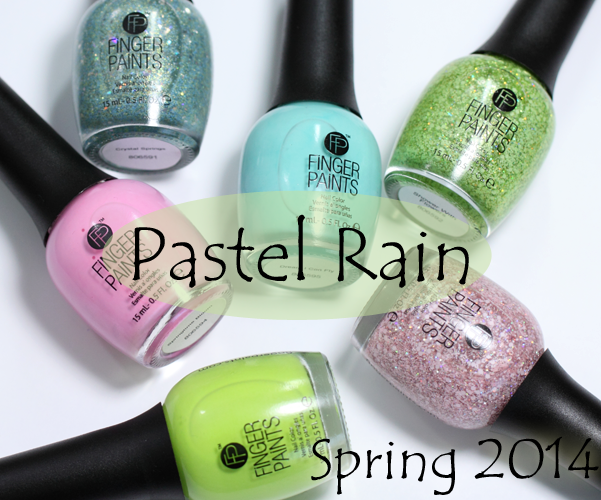 At the beginning of the year, the Sally Beauty-owned FingerPaints brand changed things up with a new logo, a new core collection of colors and a string of new limited edition collections. One of them, Pastel Rain is a set of three creamy bases with three matching glitter toppers, perfect for the spring.


Formula & Application
FingerPaints nail polish is 5-Free (Formaldehyde, Toluene, DBP, Formaldehyde Resin, Camphor) and produced exclusively for Sally Beauty. The FingerPaints bottle is unique in that it's kind of an oblong shape (remember The Oblongs) with a long, slender, slightly taped cap.
FingerPaints recently revamped their polish line, including the brush. The bottle now contains a long, flat, wide brush with flexible bristles that easily fans out without putting too much pressure on the nail.
The three cremes in this collection are kind of thick with pigment but they self level. The only issue I had is that I felt like I had to apply it thicker than usual to avoid streaks. That being said, I got full coverage with two coats. All three dried with a satin finish. The three glitters are all best used as top coats.

FingerPaints Dream I Can Fly is an aqua creme. It's a bit lighter but similar in hue as China Glaze Aquadelic.
FingerPaints Crystal Springs is a golden, pale blue glitter topper that contains light blue and gold round micro-glitter mixed with holographic shards.
FingerPaints Misful Thinking is a bright chartreuse green creme. It's not quite as yellow as OPI Did It On 'Em and lighter than Essie The More The Merrier but is in the same color family.
FingerPaints Shower with Flowers is a lime green glitter topper filled with various sizes of green hex glitter and bar glitter with small holographic round glitter pieces.
FingerPaints Springtime Bloom is a cool pink. It's not what I would consider a "bright" but it doesn't have that chalky pastel look either. It's somewhere in between.
FingerPaints A Pink of Pixie is similar to Shower with Flowers except the hex and bar glitters are a whisper pink shade.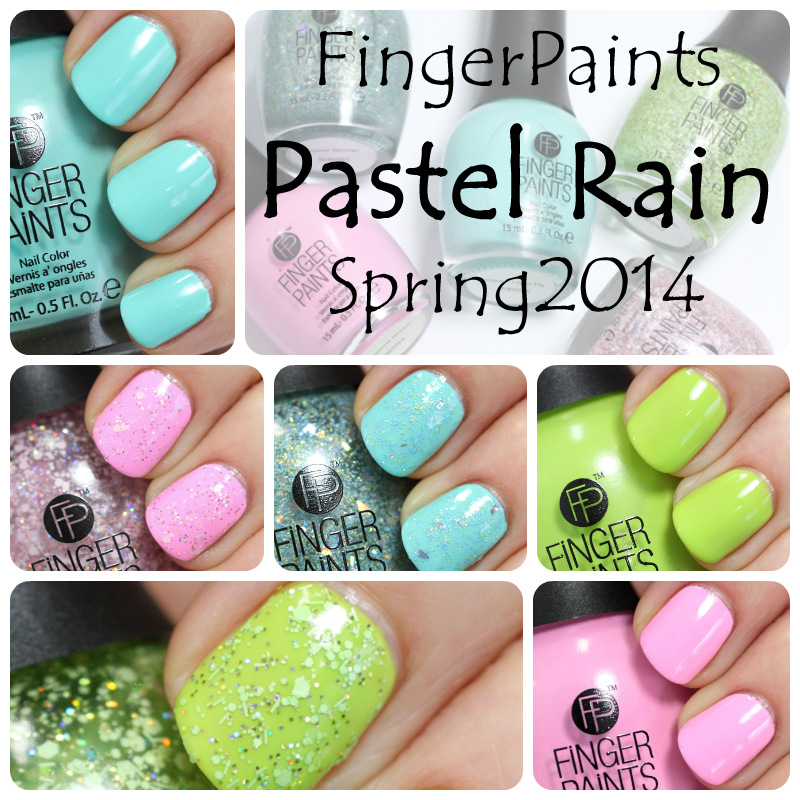 Bottom Line: The creme bases are well made and pretty but not overly unique. My favorite part are the glitter toppers. While these type of mixed media glitters originated in the indie world, I like that they've become so affordable and accessible thanks to brands like FingerPaints. I love the shards in Crystal Springs and even though I'm not a pink girl, I'm thinking A Pink of Pixie will look really fresh over a bright blue or navy.
FingerPaints Pastel Rain is available now at Sally Beauty stores nationwide and online at SallyBeauty.com. FingerPaints polishes normally retail for $5.99/ea but right now this collection is on sale at SallyBeauty.com for $3.99/ea and all six colors are in stock.
What do you think of the Pastel Rain collection? Which base/glitter combo is your favorite? What colors do you plan to pick up?
Disclosure: Product samples were provided by reps for FingerPaints. Affiliate links appear in this post. When you purchase through an affiliate link, you help support this site. For more info view my
Disclosure Policy
.