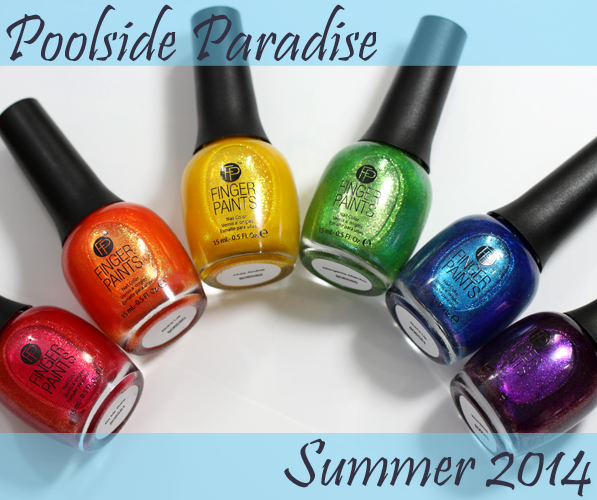 Get ready to taste the rainbow with the Skittles-worthy FingerPaints Poolside Paradise collection. Six rich, sparking foils in ROYGBIV-ready shades.


Formula & Application
FingerPaints nail polish is 5-Free (Formaldehyde, Toluene, DBP, Formaldehyde Resin, Camphor) and produced exclusively for Sally Beauty. The FingerPaints bottle is unique in that it's kind of an oblong shape (remember The Oblongs) with a long, slender, slightly taped cap.
FingerPaints recently revamped their polish line, including the brush. The bottle now contains a long, flat, wide brush with flexible bristles that easily fans out without putting too much pressure on the nail.
All six shades in this collection have that slightly squishy feel we associate with foil polishes. They are very easy to manipulate and control. The pigmentation is stong with most of the colors, only requiring two coats, though the orange and green needed three coats.

FingerPaints Aloha Lei is a juicy orange with golden foil flecks. It's warm, more tangerine than a true orange. I thought it might be a twin to butter LONDON Chuffed 2.0 but the base color is brighter and more vivid.
FingerPaints Be My Baby is a cool red foil that borders on pink. More like a magenta. It's a warmer version of Zoya Gilda.
FingerPaints Hula Aruba! is a sunny, lemon yellow foil. It's got an impressive pigmentation for a yellow and great color saturation. It reminds me of Color Club Daisy Does It though it's way more pigmented.
FingerPaints Margarita Mambo is a green apple hue with golden flecks. And, as you can see, with three coats it's still a bit sheer. It's more intense than Zoya Apple but still similar enough to not need both.
FingerPaints Surf's Up has a purple flash in the bottle that hides from the camera lens but shows  up, subtly, on the nail. This is a pretty straight-on dupe for butter LONDON Airy Fairy so if you loved that shade but not the price tag, here you go!
FingerPaints Wild Bikini is a warm grape shade with fuchsia foil flecks. It's very similar to butter LONDON Stroppy 2.0 (is there a pattern here?) though this has a higher sparkle factor.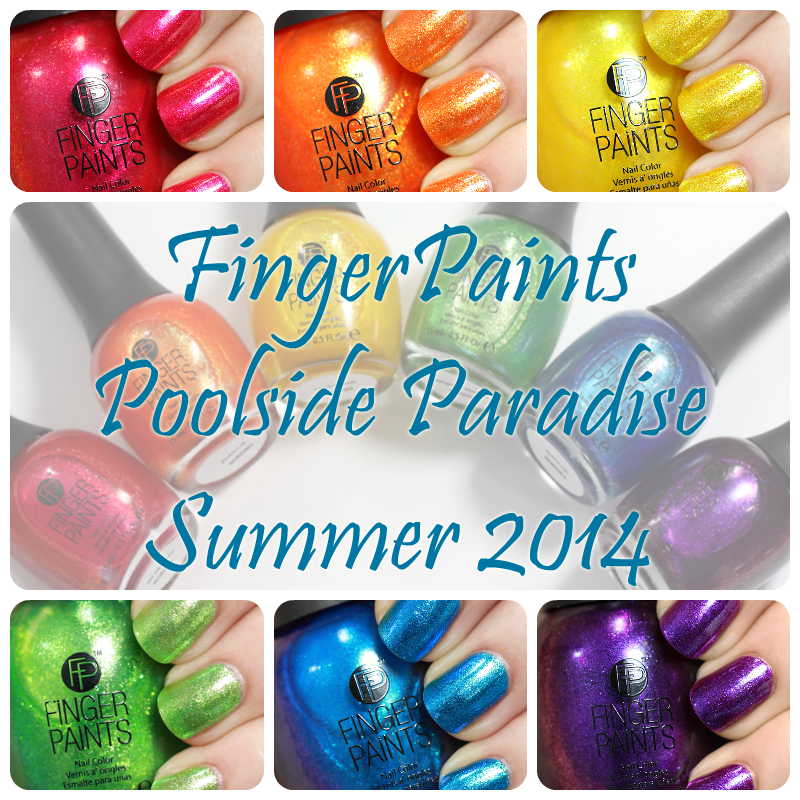 Bottom Line: I love a foil finish for my toes in the summer. Hell, I love foils any time of year and these are really well made. Foils can tend to be sheer, to suspend the flecks, so these impressed me. Yes, there are some dupes but most of them are more expensive so if you love the colors, I would get these. The only letdown is Margarita Mambo. As much as I love greens, the opacity issues earn it a pass for me.
The FingerPaints Summer 2014 Poolside Paradise collection is available exclusively at Sally Beauty stores and online at SallyBeauty.com. FingerPaints polishes normally retail for $5.99/ea but they're on sale for $4/ea right now.
Which of these colors do you plan to pick up? Have you tried FingerPaints since the logo and brush switch? Which brush do you prefer?
Disclosure: Product samples were provided by reps for Sally Beauty. Affiliate links appear in this post. When you purchase through an affiliate link, you help support this site. For more info view my
Disclosure Policy
.