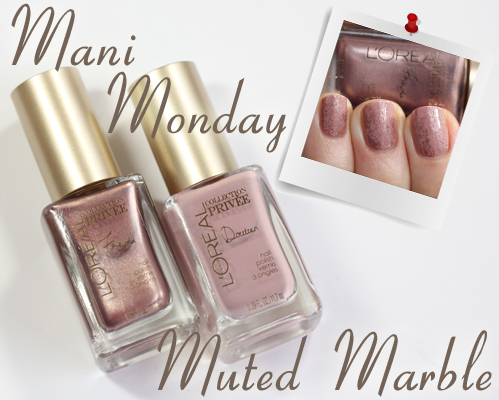 Regardless of what that silly rodent said yesterday, I'm refusing to give in to six more weeks of winter. Instead, after my vacation, I'm feeling refreshed and recharged and ready to dive into new spring colors.
After months of wearing dramatic darks and sparkly metallics, I'm yearning for something clean. But, you know I can't just wear a nude on its own, I need to jazz it up. I took the new L'Oreal Paris Collection Privée nudes for a spin to create a muted, metallic marble effect. How's that for alliteration?


Formula & Application
L'Oréal Paris Colour Riche Nail is 5-Free. The rectangular glass bottles are topped with a smooth, round cap that is the perfect length to hold comfortably between fingers without becoming cumbersome. The brush is flat, thin and long. It's not as wide as OPI's, which I find to be a plus. The bristles are flexible but dense so it doesn't fan out much. This is a bonus for slim nails.
This is going to sound totally fangirl-ish but both polishes were a pleasure, an actual pleasure to apply. Like I wanted to take off Frieda's Nude and apply it again because it goes on flawlessly. Is that odd? Anyway, in both cases, the consistency is thin and malleable, the pigmentation spot on and the finish nice and glossy. Color me smitten!

There are six shades in the L'Oreal Paris Collection Privee in the US. Each shade is named after a L'Oreal spokesperson and they were created with L'Oreal Paris Global Nail Expert Tom Bachik. I picked up Doutzen's Nude, as it looked like it would be most flattering for my skin tone, and Frieda's Nude for the gorgeous shimmer.
L'Oreal Paris Doutzen's Nude is a pink-tinged beige creme. It appears a bit darker on screen than it is in person. It's kind of my perfect nude. Not a "mannequin hands" type shade. Just clean and simple.
L'Oreal Paris Frieda's Nude is a shimmering metallic bronze with a hint of pink. The cool undertone keeps it from being too warm making it pretty universally flattering.
Note: Maybe it's just me but I feel like this color can look a bit mature on long nails. I was in need of a good filing after my trip but needed a polish change so I threw this on and, on my longer nails, it looked a bit dated.

Muted Metallic Marble Nail Art
I was scrolling through old pics recently and spied the Midnight Marble manicure I created last year and, remembering how much I love the whole plastic wrap marbling effect, I decided it was time to do it again.
I went for a more subtle look mixing Doutzen's Nude and Frieda's Nude but it's still just as beautiful.
Get The Look 
1. Polish nails with two coats of Doutzen's Nude.
2. Wait til fully dry.
3. Cut squares of plastic wrap and ball up creating a textured surface
4. Polish each nail with one coat of Frieda's Nude and immediately tap the plastic wrap ball on the surface to create the marble effect.
5. Repeat step 4 on each nail.
6. Seal with top coat once dry.

The L'Oreal Paris Collection Privée is available now in limited supply at drugstores and mass retailers nationwide and online at Walgreens.com. L'Oreal Paris Colour Riche Nail retails for $5.99/ea for a .39oz bottle.
So, what do you think of my muted metallic marble nails? Are you feeling these new nudes from L'Oreal? Which ones do you plan to pick up?
Disclosure: I purchased the polishes featured in this post. Affiliate links appear in this post. When you purchase through an affiliate link, you help support this site. For more info view my
Disclosure Policy
.