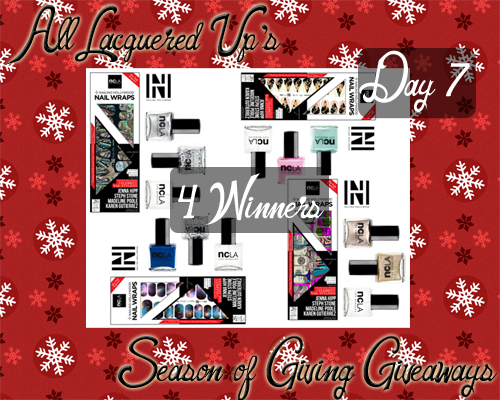 It's Day 7 of the Season of Giving Giveaways and today I have something from my friends at Nailbox, the new nail polish e-commerce site. They've teamed up with the nail art powerhouses at Celebrity Nail Stylist Agency, Nailing Hollywood, to create specialty kits using NCLA Nail Wraps and NCLA Nail Polish.
We'll have four winners today, with each one receiving a different Nailing Hollywood x NCLA package.
Prizes include: Aly En Vogue Cotton Candy Ombre Nail Art Kit, Seeing Signs Gold Crescent Mani Nail Art Kit, Flash Fête Nail Art Kit, Galaxy Glitter Ombre Nail Art Kit. Nail art kits valued at $50/ea.
Enter to win using the form below. Open to US residents only. Giveaway ends Saturday, December 21st, 2013 at 12:00 pm EST.
If you can't view the entry form, CLICK HERE.
Good luck!