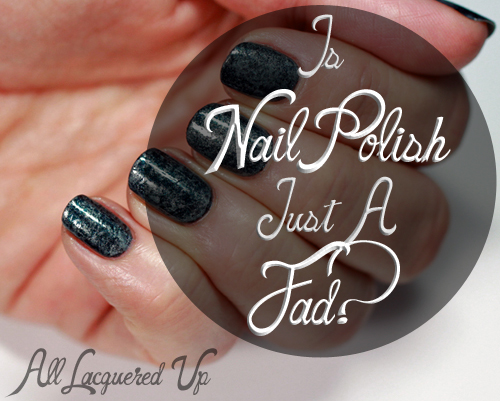 There was an interesting article on AdAge.com this week, citing that the nail polish market is plummeting, that lipstick is once again claiming the top spot in beauty and suggesting that nail polish is just a fad. So is it?
Granted, they mention that the biggest sales drop is in special effect polishes (Crackle, Matte, etc) rather than traditional nail polish but the massive overall growth seen in 2011 and 2012 is over. Since we are doing better economically, the fact that nail polish sales are declining would suggest that the "nail index" concept is true. And Google searches would agree as "lipstick" has superseded "nail polish" for the first time in years.
Of course, I'm not about to stop wearing nail polish anytime soon. And even though I've come around to the idea of nail art and enjoy my feeble attempts at it, I wouldn't cry if it went away. I mean, if the spring runways filled with pale, muted nails are any kind of indicator, nail art's glory days could be behind it.
Obviously, I'm a bit biased, as are most of you, being nail polish fanatics and all, but I'd love to hear your take on the article. Is this just the natural progression of business? A plateau and not a plummet? Will big brands stop creating new and innovative nail products to focus on a more profitable sector of the industry? What say you? 
image:
CVS Saran Wrap Manicure