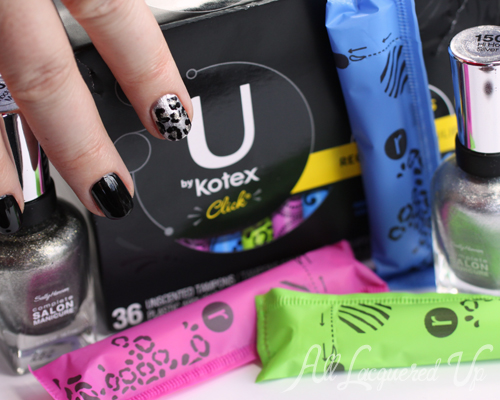 New Year's Eve is one of my favorite holidays of the year. It's a night of hope, reflection and excitement over what the coming year will bring. And whether I'm out on the town or hanging at home with friends, I always love to bring the bling when it comes my NYE nail situation.
This year, as part of a collaboration between U by Kotex, Sally Hansen and Target, I have a Metallic Leopard Nail Art Tutorial for you, inspired by the U by Kotex packaging.


I've been using Kotex for as long as I can remember and when the U by Kotex line came out, I thought, FINALLY, someone gets how ridiculous feminine care commercials are. I mean, what man thought that women running through a field would make douche fly off the shelves?
Even years later, the crazy cat lady in me still giggles every time I hear, "I want to hold really soft things, like my cat" and see that screeching white kitty.
So not only, does U by Kotex have an excellent sense of humor, they also have eye-catching packaging with bold colors and fun prints. It's the leopard print that inspired me to finally try my hand at leopard print nail art.

Get The Look
Maybe you're like me, intimidated by complicated looking nail art. Then I saw Sarah from Chalkboard Nails break down leopard print using a dotting tool (something I can handle), making it way more approachable.
Instead of a straight-up interpretation of the packaging, I wanted my leopard to be a metallic accent, grounded by a chic black manicure. What's more New Year's Eve than silver and black? Nothing!
What You Need: Sally Hansen Complete Salon Manicure in Hi Ho Silver and Shoot the Moon, Sally Hansen Xtreme Wear in Black Out, a Dotting Tool
.
Technique
Step 1 – Polish your chosen accent nail with Hi Ho Silver. Polish the rest with Black Out.
Step 2 – Dip the dotting tool in Shoot The Moon and create blobs by overlapping multiple dots. I used three to four dots per "leopard spot."
Step 3 – Dip the dotting tool in Black Out and place overlapping dots around the edges of the Shoot The Moon spots. Use irregular "C" patterns and open-ended crescent shapes to get the desired effect.
Application Tips
Pour the nail polish for dotting onto card stock or a paper plate and work quickly. It dries fast and will become stringy.
If you don't have a dotting tool, a pin, pencil or straightened paper clip can substitute.
Wait at least five minutes for the design to dry before applying top coat and float it over the top with barely any pressure to avoid dragging the design.

Right now, U by Kotex is offering a special deal, only at Target stores nationwide. Buy 3 U by Kotex products and receive a FREE Sally Hansen Complete Salon Manicure nail polish. Offer available in all Target stores 12/29/13-2/22/14.
What do you think of my metallic leopard nails? Is this a technique you will try at home? What are you wearing on your nails for New Year's Eve?
Disclosure: This post was sponsored by U by Kotex and Style Coalition. Product samples were provided by reps for Sally Hansen. For more info view my
Disclosure Policy
.