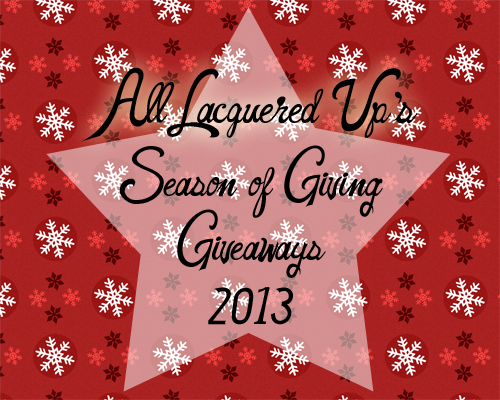 Exciting news, people! In honor of my mom's birthday tomorrow (December 12th) and to celebrate The Season of Giving, I am kicking off a week of giveaways.
You see, my mom is one of the most giving people I know. I swear, she should have been a social worker. That's just the type of person she is. Whether it's driving to the sketchiest parts of town to get one of her employees to work, or bringing food to a family that has nothing at the holidays or buying boatloads of presents to donate to Toys for Tots, she always puts others first, sacrificing herself for everyone in her path. It's that and her eternal optimism in people and in life that I truly admire.
So what about these giveaways I speak of? Starting on Thursday, December 12th, 2013, I will be hosting one giveaway a day, for seven days. Each giveaway will have a 48 hour entry period and multiple ways to enter. I've got some fun stuff lined up and it's not just nail polish. Some of the giveaways will be international, some will have multiple winners. So tune in each day and good luck!