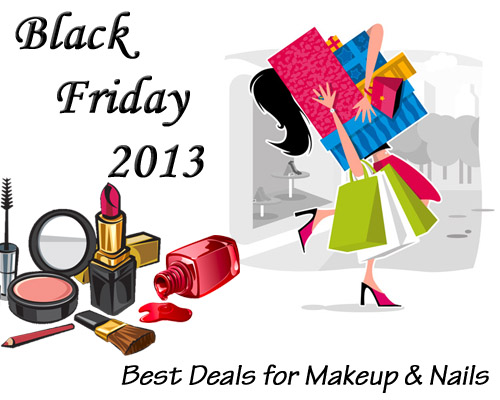 Two of the biggest shopping days of the year (Black Friday and Cyber Monday) are within our grasp but the sheer amount of deals out there are overwhelming, to say the least.
Raise your hand if you've ever camped out for a Black Friday Doorbuster. I'm totally guilty of sitting outside a Best Buy for a giant TV. Yep, I was that person.
This year I'm hoping to do most of my shopping from home so I've compiled a list of the best beauty Discounts, Doorbusters, Gifts With Purchase and more to share with you. Most are available online though a few may require fighting the masses.
Alterna
If you love the Alterna Caviar line as much as I do, this deal is for you. Get the 3 Steps to Flawless Hair Kit with shampoo, conditioner, and CC cream for only $10 (originally $26) exclusively at Sephora.com.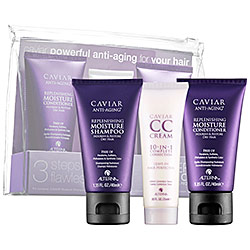 butter LONDON
Get the Fashion Size Duo With Slapper and  Knackered for just $10. They are also offering 20% OFF and 50% OFF all Last-Call items. Just use the code CYBER2013 at butterLONDON.com.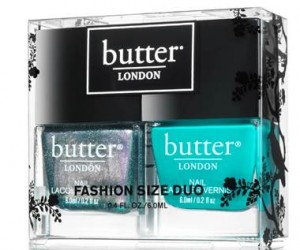 ELF
Buy 1, get one 50% off, plus get a $10 gift card! Offer valid 11/27 through 11/30 at EyesLipsFace.com with coupon code BLKFRI and a minimum $30 purchase. Plus you get FREE SHIPPING on purchases over $35, after discount.
LORAC
Voted by fans as their most loved LORAC eye shadow, the PRO Palette shade, Pewter, is being released on its own with a complimentary 3-in-1 Waterproof EyeLiner in Ultra Black. The set will retail for $10 (a $36 value) exclusively at Sephora.com.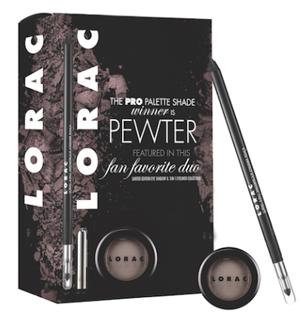 And at ULTA.com the LORAC The Stylist Palette in Solid Gold and Platinum will retail for $12/ea.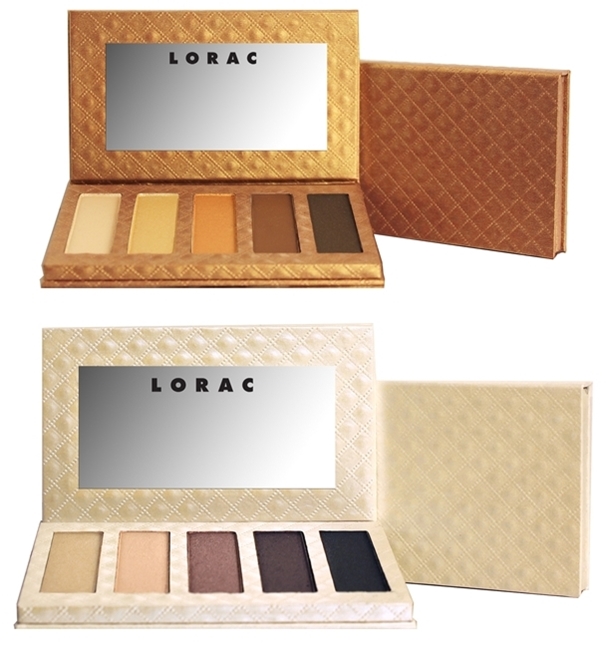 MAC
Last year it was Grey Friday nail polish, this year it's Hautecore black matte lipstick. The LE shade is being sold for one day only, online at MACCosmetics.com. $15/ea. If you're intimidated by black lipstick, check MAC Senior Artist Keri Blair's more subtle way to wear it.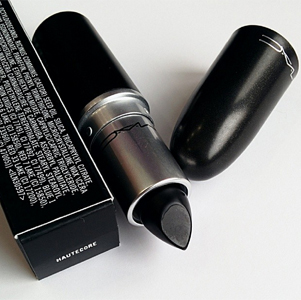 Michael's
I found this deal on Nouveau Cheap and just had to share. Melmers, the Michael's equivalent of the IKEA Helmer, will be on sale for 60% OFF. That's craziness!  So if you're short on nail polish storage, get your butt to Michael's and stock up.
Nordstrom
If you want to know where I'll be on Black Friday, it's Nordstrom. They have a RIDICULOUS list of Doorbusters and Gifts With Purchase this year and I want so so many of them. They're also available online at Nordstrom.com with FREE SHIPPING. Here's just a few worth checking out
Doorbusters
Ahava Mineral Hand Cream Duo $17.90 ($42 Value) includes two full size tubes of their mineral rich hand cream.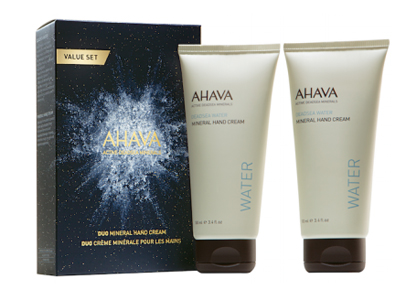 Kiehl's Best of Kiehl's Set $33 ($66 Value) includes: Crème de Corps body cream (4.2 oz.), Ultra facial cream (2.5 oz.), Hand salve (2.5 oz.), Deluxe sample Powerful Strength line-reducing concentrate.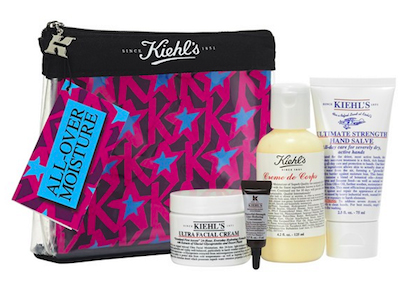 Nordstrom Beauty Grab Bag Palette $10 includes 12 eyeshadows, 4 lip glosses, 2 blushes and 1 applicator for a veritable feast of colors and textures to beautify your face.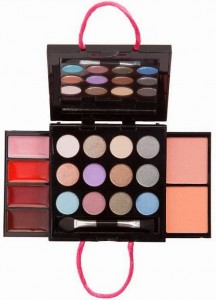 Gifts With Purchase
butter LONDON – Free LIPPY Liquid Lipstick in Come To Bed Red ($18 Value) with $25 purchase

Deborah Lippmann – Free Boom Boom Pow glitter nail polish ($20 Value) with an $35 purchase.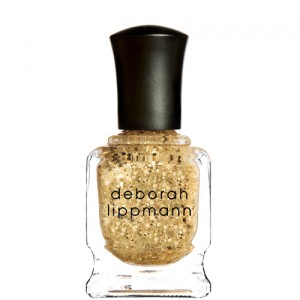 Estee Lauder - Receive Multi –Pressed Pure Color Eye-shadow Compact in Sugar Cube, Sugar Biscuit, and Ivy Envy, Pure Color Nail Laquer (0.17 oz) in Viper, Duel ended Sumptuous Bold Volume Lifting Mascara in Black (0.1 oz) and Pure Color Gloss in Magnificent Mauve (0.15 oz) with your $65 purchase. (Note: This one is worth it just for the polish!)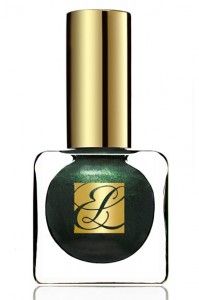 Stila – Free Smudge Crayon in Kitten ($22 Value) with $25 purchase. That's practically a BOGO!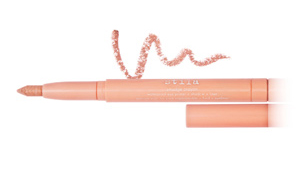 Sephora
Sephora has a bunch of $10 beauty deals, like the Alterna one above. These are the three that I ordered along with the Alterna set.
Formula X for Sephora Duo Pack Real Nail Polish Appliques $10 ($20 Value) – two cute holiday patterns made of REAL nail polish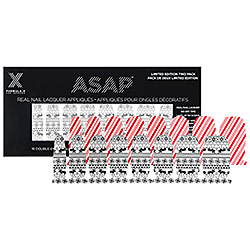 Josie Maran Argan Hand Healers $10 ($18 Value) – 20 x Bear Naked Nail Wipes and 1 oz Whipped Argan Oil Intensive Hand Cream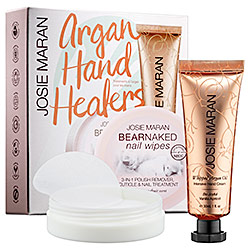 Stila Artful Eye Collector's Edition $10 ($54 Value) – There are three sets to choose from, each containing 5 eye shadows. I picked up Vol 1
Spa Sonic
If the Clarisonic is out of your budget, give the Spa Sonic a try. Get it for $33 at Target.com.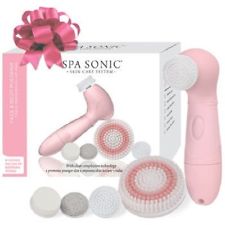 ULTA
ULTA is offering a number of beauty deals, including their blockbuster makeup kit. I love me a blockbuster and have indulged in the Sephora ones in the past. This one looks like a winner as well.
OPI Cheers to the Holidays, $7.50 ($12.95 value). Shades include: Incredibly Festive, Gift Tag You're It, Checking My List, RapiDry Top Coat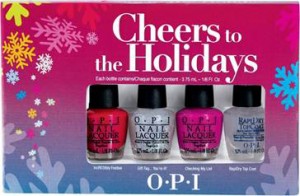 Red Carpet Manicure Pro 45 Starter Kit, $49.99 (Reg. $79.99) with all the tools you need for an at home gel manicure (prep, base/top coat, remover), including the LED light and one bottle of gel polish.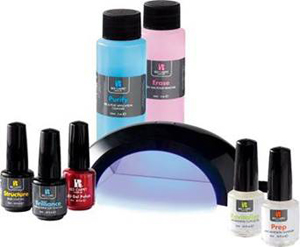 ULTA Starry Lights Light-Up Blockbuster, $16.99 ($200 value). Includes: 42 Eye Shadows, 12 Eye Liners, 6 Lip Gloss Shades, 3 Blush Shades, 2 Brow Pencils, 2 Mini Lipsticks, 1 Bronzer, 1 Interchangeable compact with 5 Interchangeable Eye Shadow Pans and 3 Lipstick Pans.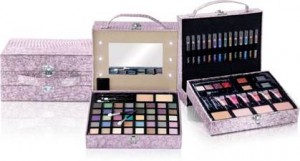 Zoya
With a $72 purchase on Zoya.com, receive a FREE "Cheers To All" 12-piece Dream Box + Mini Color Lock System + FREE SHIPPING with code DREAMBIG. Starts Thursday (11/28) at 6pm – Friday (11/29). While supplies last.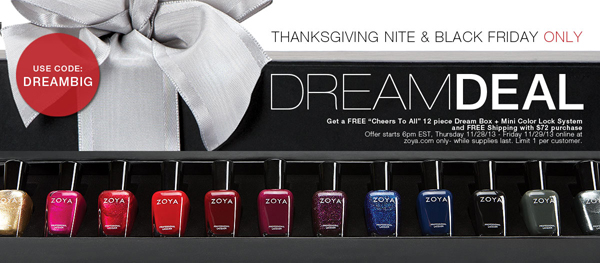 I hope this helps make your Black Friday beauty shopping a little easier. As always, check with the stores for availability and exact on sale times.
Which Black Friday deals to you plan to pick up? Do you tend to shop more for yourself on Black Friday or for others? Any deals I haven't mentioned that we should know about?
Disclosure: Affiliate links appear in this post. When you purchase through an affiliate link, you help support this site. For more info view my Disclosure Policy.