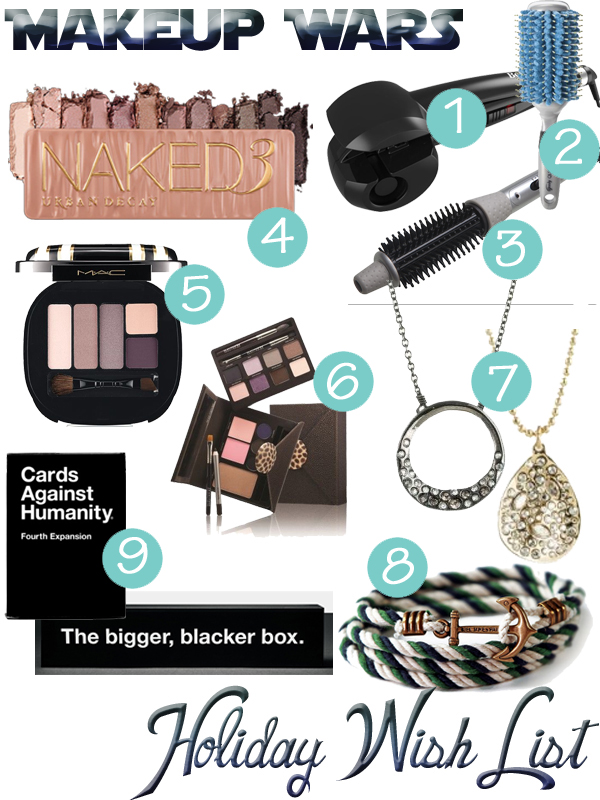 First, I can't get a grasp on the fact that Thanksgiving is this week. I've finally gotten used to writing 2013 and it's going to be 2014 before we know it. Argh!!
That being said, the holidays are just around the corner and I love putting together a Holiday Wish List as much as I did as a kid when I dogeared pages of the Sears Wish Book. To make things easier on the boyfriend, I even made him a secret Pinterest board to make his shopping a bit easier. Amazon Wish Lists are an amazing thing as well.
So what am I asking for this year?

Palettes, palettes and more palettes. Hair tools, shiny, sparkly things and random nonsense. I specifically left out nail related items as I'll be covering those in another post.
Hair
I can't get the Perfecter Fusion Styler (3) out of my brain and the constant deluge of informercials isn't helping. I'm also intrigued by the Goody QuickStyle (2) brushes that supposedly cut drying time in half and the BeLissPRO Curl Genius (1) looks like it could either be a hair tangling nightmare or magic.
Palettes
Urban Decay Naked 3 (4) just released and I'm OBSESSED with its rose gold goodness. It better come back in stock before Christmas. It just HAS too. I'm still lemming the MAC Stroke of Midnight: Cool Eyes (5) and Laura Mercier Luxe Colour Wardrobe (6) after posting about them on a past Top 10 Tuesday.
Jewelry
Over the past couple  years I've become a tremendous Alexis Bittar fan. His stonework is simply stunning and I have a wish list a mile long when it comes to his jewelry. However, the Hyperion Small Aura Pave Pendant (7) and Extra Small Drop Necklace (8) are at the top. Also, my nauti side has been eyeing this Kiel James Patrick  Anchor Rope Bracelet (8) since last summer.
Just For Fun
In case you haven't heard, Cards Against Humanity released a Fourth Expansion
 (9) of their wickedly fun party game. They also have the Bigger, Blacker Box to carry them all in. I know it's just a box but I still want it to hold all my cards in one place.

What's on your wish list for the upcoming holidays? Do any of my picks match yours?
Disclosure: Affiliate links appear in this post. When you purchase through an affiliate link, you help support this site. For more info view my Disclosure Policy.