As you know, the Rescue Beauty Lounge 50% Off Sale took place a couple weeks ago and I just happened to be in NYC at the time. Of course I was on a boat when the sale started and my cell phone was failing me big time. Thank goodness for my pal Carla from Product Girl who was able to place my order for me. Talk about a lifesaver! Anyway, my order arrived on Wednesday and since I was in the midst of organizing my charity beauty sale, I haven't had a chance to play with them until now.
Film Noir, Cherry Love, Starfish-Patrick and Ani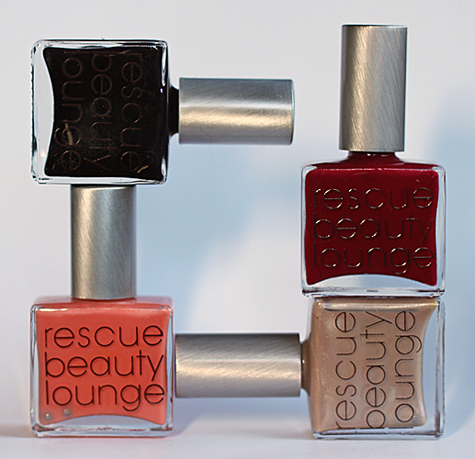 See what they look like on the nail and find out what Ji from RBL is up to next, after the jump!

Today is the last in a rare streak of gorgeous, sunny weather here in the CLE so I did a quick swatch of each polish so I could enjoy a bit of time outside before the gray gloom sets in.
I ended up using three coats of Ani (index) and Starfish-Patrick (middle) and two coats of Cherry Love (ring) and Film Noir (pinkie).  I know these aren't typically my type of colors but I already own the majority of the RBL lineup so I'm just filling out my collection.
Ani isn't quite what I was expecting. It looks a bit too old fashioned on me. I'm not really a beige-y gold girl to begin with but I wanted to give it a try because it looks so gorg in the bottle. I'm sure as soon ALU Mom sees this post she'll offer to take it off my hands so at least it will have a good home.
I had asked my pal Steff from Short N Chic about Starfish-Patrick before the sale, as I was on the fence about it, and she was so right, I NEED it in my life. I already adore the other two polishes from the Marc Jacobs inspired Spongebob collection so I should have just known I would love this one too. It's melon jelly perfection.
Cherry Love didn't apply as well as I would expect from RBL.  It went on in two coats but the formula was a bit thicker than normal.  Has anyone else noticed that as well or is mine a fluke? Maybe it just needs a good shake and rest period. I have another bottle here, I did a group order with Steff, but since it's not mine I'm not going to open it.  The color itself is really pretty.  A nice blue-based red creme.
Film Noir is a glossy, vampy purple that reminds me of OPI Lincoln Park After Dark.  It has that same feel on the base colors are very different.  I don't normally opt for "almost-black" polishes but when I do, I'll be sure to grab this.
News from RBL
RBL Blog – I spoke with Ji recently and she shared with me that she's going to be launching a blog soon.  Look for it to go live near the end of November or beginning of December.  She wanted to wait until the sale craziness was over.
Now don't go there expecting to see her pimping her product, this is not what her blog is about.  It's going to be about the things Ji loves and what's important in her life.  Cooking, restaurants, non-nail beauty products, politics, books, NYC etc.  It's an inside look at the woman who creates the colors we all love and adore.  Knowing what a foodie she is, I'm looking forward to reading about her favorite spots to nosh in the city.
Bring It Back – Of course that doesn't mean it will be all play and no work.  One of the first things Ji is going to do is give us a chance to bring back two discontinued colors.
Ji is the type of woman who likes to look forward, not back, thus her mention on Facebook of creating Version 2.0 of colors like Opaque Nude (Jane) and Black Russian (coming soon).  However, she realizes that we have a love for her discontinued creations so she will post a poll to vote for our fave colors bringing back the top two.  Last year she brought back Scrangie and No More War thanks to an overwhelming demand via Facebook and email so she's going to continue that tradition on her new blog.
So which two colors would you want to see come back to the RBL lineup?  Have you discovered a new RBL fave in your sale order?  Are there any colors you regret not buying and plan to pick up sometime soon?
btw, please go over to Steff's blog and send her some positive vibes and well wishes. She's been dealing with a lot lately and could use the nail community's support.
Disclosure: I purchased all the RBL polishes featured here.  For more info view my Disclosure Policy.