Last week I did something so unlike me.  I decided to go on a three day juice cleanse.  Now I'm not a fad diet person and I don't typically jump on the bandwagon when it comes to trends but this one sucked me in.  Why?  Well I've been hearing about this company called Blueprint Cleanse on various blogs for over a year now and I was curious but not enough to order.  I've often pondered the benefits of juicing, I used to love those Jack Lalanne informercials, but my lack of willpower kept me from finding out more.  It wasn't until I read about my pal Heather Park's journey with BPC that I finally took the plunge.

Heather wrote on her blog about a feeling of clarity and lightness.  She talked about how the cleanse changed her relationship with food and how it made her want to research becoming a raw foodist.  For a carnivore like her, that's a huge statement.  All these things intrigued me and became the final push I needed to place an order.  I realize that this isn't a typical post for me but so many people on Twitter and Facebook showed interest in hearing about my experience that I decided to share it here.  If you scroll past this post, you won't hurt my feelings but those of you who are curious, read on!

A little background
Due to a back injury when I was 23, I've been very limited in the types of exercise I can participate in.  Therefore my health and weight rely heavily on my ability to regulate my diet.  That means my head and stomach are in charge, two things that are diametrically opposed.  I never had a particularly healthy diet but thanks to staying active I had an average, athletic build.  Over the years my lack of cooking skills and motivation in the kitchen have contributed to added pounds.  So now I'm a bit more, um, wobbly than before.  In the past year I've incorporated more fresh fruits and veggies to my diet but I needed a kick in the butt to make a permanent change.  It was my hope that doing a cleanse would help jump start that.
About Blueprint Cleanse
The main point of a cleanse is to help detox your system and unlike a lot of cleanses I've read about, BPC is all juice, not days of water with lemon & cayenne pepper.  Blueprint Cleanse is a six juice per day cleanse that can be ordered in varying lengths and levels.  They sell cleanses in 1-3 day packages but you can also order a month unlimited.  The three levels can be thought of as beginner, intermediate and advanced and their website does a nice job of breaking down the type of person who should order each level.  Being that red meat was a regular staple in my diet, I chose the introductory level, Renovation.
Now let's not kid ourselves, a cleanse like this is EXPENSIVE.  Granted they're putting twenty pounds of produce into each day's juices and overnighting the shipment but this is definitely not for the budget conscious.  In fact, even though I've been curious to try this cleanse in the past the boyfriend was not on board with the cost.  It wasn't until I received a one day cleanse gift card at an event last February that he finally caved.  ps this is not the boyfriend being controlling. We share money and make decisions on spending together.
The Pre-Cleanse
BPC suggests you cut out meat, dairy, starchy carbs and caffeine a few days before starting the cleanse to prepare your body. They even warn against "adios to meat" dinners the night before your juice arrives saying you'll be an unhappy camper if you do.  That scared me enough to stick to it and since  I'm a big fan of green veggies and fruit anyway it wasn't hard for me to do.  Plus, I gave up caffeine years ago so I didn't experience any withdrawal symptoms.  For two days prior I ate spinach salads with avocado, watery fruits like watermelon and some lightly steamed veggies, drinking plenty of water and decaf green tea in between.  I was ready to get to cleansing.
The Cleanse
My BPC package arrived bright and early at 9am, all the juices packed with gel freezer bags to keep them cold.  I unpacked my 18 juices into the fridge and got to it.  BPC recommends starting your day with a glass of warm/hot water so I already had that in my system when the juices arrived.  Here's what a day on the Renovation level looks like.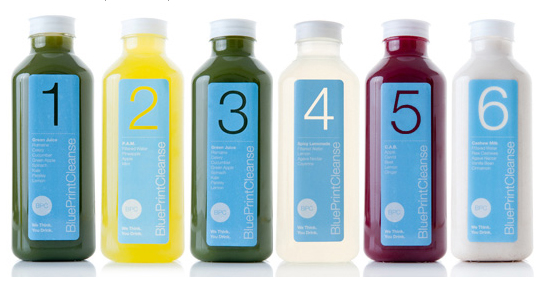 from l-r: green veggie juice, pineapple apple mint juice, green veggie juice, spicy lemonade, beet juice and cashew nut milk
You drink the juices in their numbered order leaving at least an hour between juices and drinking a glass of water or tea in between.  You should finish your last juice at least two hours before bedtime so your body can process it properly.
So what do they taste like? The main flavor in the green juice is cucumber even though there are other veggies and some fruit to sweeten it.  Even though I HATE cucumbers the taste wasn't horrible though I took Heather's advice and added some ginger to it.  That made such a difference plus it helps with digestion.  The pineapple and lemonade are the best tasting in my opinion.  Really delicious and a welcome break between the veggie juices.  The beet juice was downright horrid.  Tasted like dirt.  I've never had a beet before and I won't be trying them anytime soon thanks to that juice.  It took all my might to get it down.  The cashew nut milk is like dessert thanks to the vanilla bean, agave and cinnamon though the nuts give it texture which takes some getting used to.
Day One of the cleanse was a breeze for me.  I was so hydrated and full from fluid that I couldn't even think about eating.  I was actually really proud of myself for getting through it so easily and amazed at how satisfied I felt.
Day Two sucked big time. I felt like crap the entire day.  The green and beet juices were really hard to get down and even the cashew milk was a struggle.  I'm assuming this was the day my body went into full detox mode.  I drank a lot of ginger tea to help the nausea.  The worst part of day two was that it coincided with Cinco de Mayo (poor planning on my part) so I had to watch the boyfriend and my neighbors having margaritas and enjoying the Mexican chocolate brownies I made but couldn't eat.  Boo!
This is a bit TMI but at the recommendation of BPC I took an herbal laxative in conjunction with the cleanse to help flush my system.  They really prefer people get a colonic before, during and after but… um… yeah, that was NOT happening.  I will say taking the supplement aided in the overall process.
Day Three left me feeling a million times better though not 100%.  I think having my eye on the prize and seeing the number of juices in the fridge dwindling down made it all the better.  The green juices went back to tasting decent but the beet juice just got worse.  OMG I don't know how anyone purposely eats a beet.  My palate was just not built for them.  At the end of day three I felt this amazing sense of accomplishment but I never experienced that clarity my girl Heather experienced.
Post Cleanse
The post cleanse process is basically the pre-cleanse in reverse.  You slowly add back foods starting with watery fruits and veggies.  You have no idea how good a piece of cantaloupe tasted that morning.  For the next day and a half I lived on the same foods I was eating for the pre-cleanse and I started to feel pretty amazing.  Just healthier and more alert.  Maybe this is what Heather was talking about.
The real challenge was when I went out Saturday night.  I knew there would be beer and snacks around but the fear of how my body might react kept me from indulging, for the most part.  I did have a light beer and I'll tell you what, I paid for it.  I felt like ass the next morning because of it.  I also had one of the brownies I made for Cinco de Mayo the next day and that just about laid me out!  It's like my body was scolding me for eating crap.  When I went to dinner with my Mom for Mother's Day I chose a vegetarian meal and felt great again.
Of course I haven't been an angel this week and every time I've had something really bad, I've felt the effects.  So if nothing else, I'm eating better in order to escape the wrath of my own body.  I feel good keeping up my water intake and choosing fruits and veggies over meat and carbs.  I've been making myself grab a piece of fruit or a bag of red pepper slices before I let myself dig into a bag of pretzels and it's been working for me.
The Results
Overall I think doing the cleanse was beneficial.  I think it taught me a lot about what my body does and doesn't need.  It helped me learn the difference between satisfied and disgustingly full.  I did lose about five pounds on the cleanse but since weight loss wasn't my goal it ended up just being an added benefit.  Oh and my mother said my skin looked better, more radiant, and that could just be her blowing smoke but I'll count a better complexion as another plus to the cleanse.
Would I do it again?  Hmm. I'm honestly not sure.  I'm not rushing to do another cleanse but I don't regret this one in the slightest.  Feeling like total hell on day two was worth it for what I've learned about myself.  I'm sure there are people who think cleanses are bullshit and to be honest, I was one of them, so if you wave it off as overpriced nonsense you won't offend me.
So what about you?  Have you done any form of cleanse before?  Which one?  What did you think?  Would you ever try something like BPC?  Do you juice at home?  I'm really considering investing in a juicer now.
Disclosure: I received a gift card from Blueprint Cleanse at Robert Verdi's Luxe Lab for $75 and used it towards the purchase of a 3-Day Cleanse.  For more info view my Disclosure Policy.