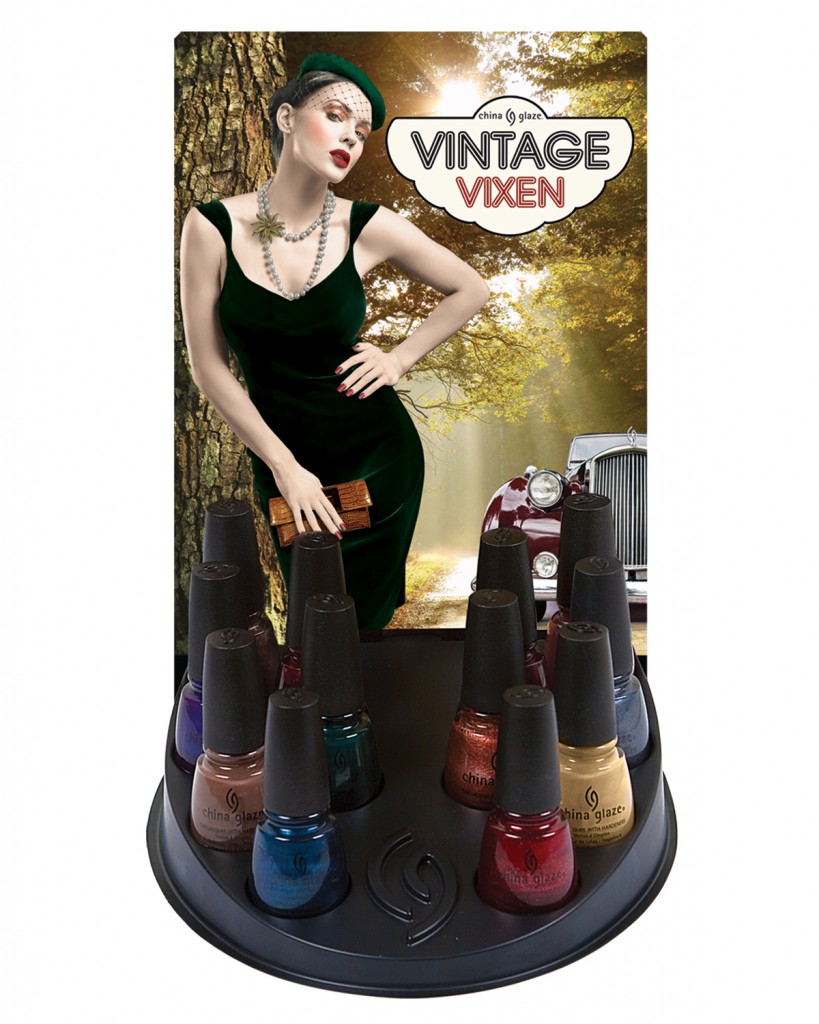 Fall??  Already??  I know, I know we're not even into summer yet but aren't we always looking on the horizon to see what's next?  It's time to unleash your inner Dita Von Teese with the 40s inspired Vintage Vixen Collection from China Glaze.

Sultry Fall Colors Entice The Fashionable Palette

For Fall 2010, the China Glaze Vintage Vixen Collection captures the vivid and saturated hues of the 1940's with this seductively complex palette. These classic shades of the season recreate the timeless tableau of movie land mystique, perfect red pouts and steamy nights where swing was the scene!

You know all it takes is a gorgeous green, blue or purple to get me interested but there's a lot more than that going on in this collection.  We're talking micro glitter in silver, copper and gold.  Have I got you intrigued?  Well then check out up close bottle images and color descriptions after the jump!
Step out with these multi-faceted jewel tones, rich reds, titillating taupes and smoldering sands. This collection delivers a high octane 40's era glamour with a sophisticated edge! The 12 colors in this collection include:
Goin' My Way – Brown frost with copper shimmer
Riveter Rouge – Deep red shimmer
Classic Camel – Khaki crème with gold micro glitter
Emerald Fitzgerald – Turquoise green frost with shimmer
Midnight Mission – Navy blue frost with silver micro glitter
First Class Ticket – Deep purple frost with shimmer
Jitterbug – Grey chrome with silver micro glitter
Bogie – Plum frost with shimmer
Hey Doll – Rose frost with shimmer
Foxy – Burgundy frost with shimmer
Ingrid – "Greige" crème with copper micro glitter
Swing Baby – Taupe frost with silver micro glitter
The China Glaze Vintage Vixen Collection launches in July 2010. You can find China Glaze at Sally Beauty Supply and online at Head2ToeBeauty.com.
What do you think of Vintage Vixen?  Is anyone else surprised that the sets don't seem to be divided into cool and warm categories?  Which shades are you most interested in seeing?
Oh and China Glaze has been giving sneak peeks at the collection on their Facebook Page, make sure you check it out and become a fan of ALU while you're there!